While many users prefer using the classic Windows operating systems, a large user base prefers Linux. The open-sourced OS provides plenty of features and unique functionality that the regular choices can't, and thus the user-friendly distros are being preferred a lot more. Furthermore, you can also use the Linux distro to perform all sorts of operations, and if you are searching for the best photo editor for Linux, it may require some research.
The fact that you won't be able to find the best photo editor for Linux is related to the lack of prominence of Linux operating systems. Although its popularity is consistently rising, it's far from an established choice. Therefore, finding the best photo editor for Linux that can match the features of Photoshop and Lightroom isn't particularly a convenient choice.
This article aims to provide you with a review with insight into essential features of the best photo editor for the Linux category. The essential trait to note is that most of the choices on our list are suitable for most Linux distros. Hence, the list is compiled with some multi-purpose choices.
Excited? So, let's get started
Best Photo Editor for Linux
GIMP
GNU Image Manipulation Program (GIMP) is ideal for regular users looking for the best photo editor for Linux. It will let you edit images with a lot of freedom, thus making it an excellent selection for versatile usage. GIMP is a cross-platform and open-sourced, and flexible editor that you can use on GNU and Linux. The software is also easy-to-use and provides many detailed options to edit images from many aspects.
GIMP can perform nearly all the features that you can use in Photoshop. Some of the most notable ones include painting tools such as pencil, brush, cline, etc. It also provides sub-pixel samplings for each paint tool to provide high-quality editing anti-aliasing. It also provides a blending tool and gradient editor.
GIMP also provides features for memory management, allowing the image size to fit with the available disk space. You can also open unlimited images simultaneously. The software also provides advanced manipulation features such as foreground and background extraction, channels and layers complete alpha channel support, and selection tools such as free, rectangle, ellipse, etc. You can also use it for animation purposes and file handling. Another feature of GIMP is that it comes with more than 100 plug-ins that you can download and increase its functionality.
Related: Best Linux Distro For Gaming
Standout features:
Easy-to-use software
Open-sourced editing software
Increase functionality using Plug-ins
---
Krita
Krita is another open-sourced image editor for Linux. It is a multi-purpose and versatile choice that features the best photo editor for Linux as an image editor and painting software. It is created by artists that want to provide an affordable platform with all the art tools. It aims to provide what you may require for work through a flexible, intuitive, and clean user interface. You can use it for various purposes, including texture, art, illustrations, comics, and matte painters.
Krita is an ideal choice for artists that allows you to create artworks and paintings from scratch. However, you can also use it to customize the existing photos as an image editor. Its most effective tools include vectors, brush tools, text, transitions, animations, asset manager, layers, and color management tools. Furthermore, if you aren't satisfied with its features, you can enhance the software's functionality and install Python-based plug-ins to add more features.
Related: Best File Manager For Linux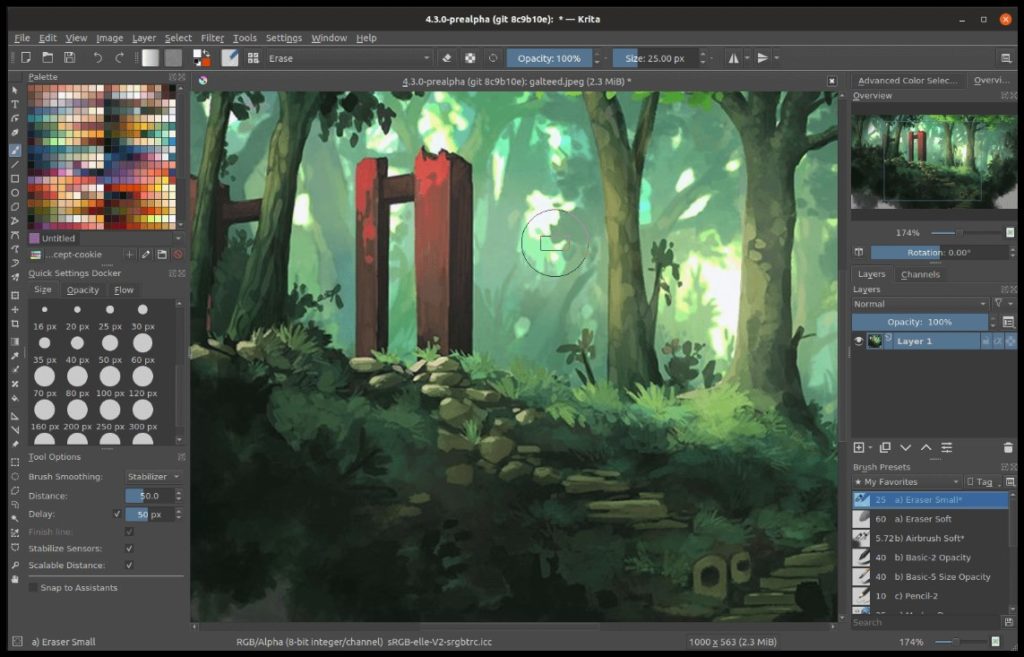 Standout features:
Tools for creating artwork
Excellent choice for photo editing
Install a Python-based plug-in to increase the functionality
---
Inkscape
If you are looking for the best photo editor for Linux that provides you with features to customize and create vector graphics, Inkscape is ideal. It is open-source and free software available for cross-platform and offers plenty of features that work efficiently on Linux/GNU. The software provides similar functionality to Adobe Illustrator, and you can use it for both technical illustrations and artistic creations.
The significant benefit of Inkscape is that you can use it for plenty of purposes. It includes Logos, cartoons, clip art, flowcharting, typography, and diagramming. Since the software's main purpose is to provide users with a comprehensive editing platform that allows the creation, editing, and creation of illustrations efficiently, its feature-rich interface ensures that it caters to all your requirements.
The user interface is also quite straightforward, and it provides you with all the tools and options on the home screen, so you don't spend a lot of effort looking for them. Furthermore, the app supports different file formats, including PNG, SVG, PS, AI, PDF, and EPS, and multi-lingual support. Furthermore, you can extend the features by installing add-ons to the software.
Standout features:
Ideal for vector portraits
Export files in various formats
Tools for the creation and management of objects
---
ShowFOTO
ShowFOTO is an open-source Linux image editor that you can download with the DigiKam photo management app suite. It is a standalone choice on our best photo editor for the Linux list and isn't ideally suited for more professional usage. The software is completely free to download and provides all the standard features for photo editing that you may require, thus making it a great choice for beginners and novice users.
ShowFOTO may not offer complex functionalities; however, it will allow you to customize photos with plenty of options. It may include filtering, effects, metadata editing, and more. It's also a lightweight choice that doesn't need many others to perform efficiently. You can download ShowFOTO on plenty of popular Linux distributions from its package manager, such as Ubuntu.
The software's user interface is another thing that won't require you to insert a lot of effort into it. All the options are pretty effortless to find and execute, and it will only take a few minutes to implement any editing session successfully.
Related: Best Email Client For Linux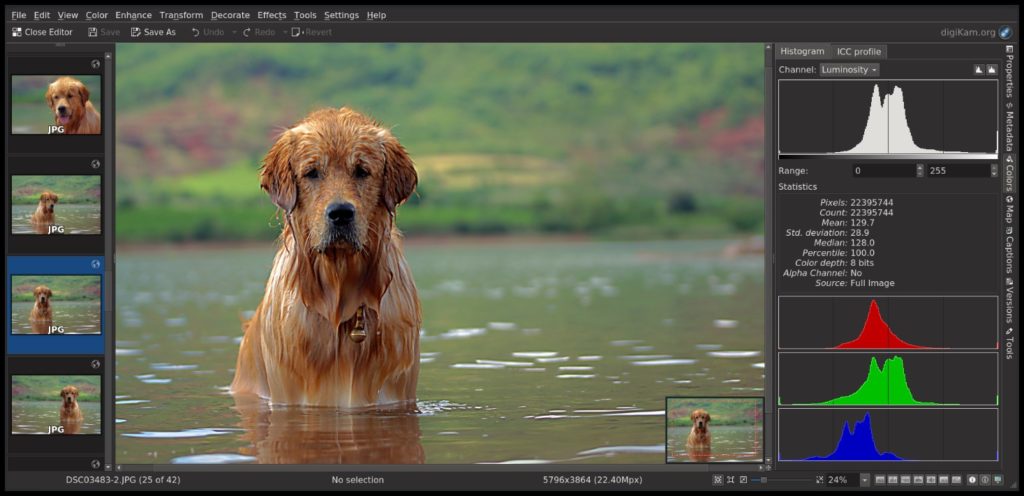 Standout features:
Lightweight choice
Ideal for beginners
Suitable for simple functionality
---
Pinta
Many users love drawing and painting on their devices; having the right application to assist you during the process is a major benefit. It provides you access to tools that make the process efficient and easy. Pinta is an ideal choice in the category as it's designed particularly for the purpose. Still, it goes beyond that and establishes itself as one of the best photo editors for Linux due to its editing features.
The software works quite similar to the Windows Paint.Net, and it's multi[urpose functionality makes it suitable to create something from scratch or edit the existing pictures. It's quite effortless to get your head around for usage. The software provides utilities to draw various shapes, fill and stroke the tools, overlay effects, filters, layers, etc. You can install Pinta from the Ubuntu package manager or download it on other distros from the package manager.
Standout features:
Excellent choice for drawing and painting
Efficient photo editor
Easy to use
---
RawTherapee
RawTherapee is a powerful and open-sourced photo editor for Linux that allows you to optimize the digital images for Linux. The software is a feature-rich choice that lets you create high-quality digital images from the RAW image files. You can modify these RAW files and efficiently save them in compressed formats.
The software is one of the best photo editors for Linux due to its diverse list of features and versatile functionality. It is compatible with different cameras and also provides the exposure control feature so you can edit the photos as you like. The tool also offers color adjustment features which means that you edit the photos and bring them to the color level you prefer.
RawTherapee also allows parallel editing, metadata editing, and more, and you can also use a secondary display while editing the photos. Its 32-bit (floating point) process engine, combined with the modern demosaicing algorithms and the advanced coloring and detailing editing, makes it one of the best choices on your Linux system.
Related: Best VPN For Linux
Standout features:
Powerful editing software
Create high-quality photos
Various Cameras compatibility
---
Fotoxx
Fotoxx is an open-sourced and entirely free Linux program that provides image editing and collection management features. The main aim of its creation is to provide serious editors and photographers with a powerful platform that is easy to use and quite fast, which makes Fotoxx rank as one of the best photo editors for Linux.
A significant benefit of Fotoxx is that it provides an efficient photo collection management system. The benefit of it is that it's a convenient and manageable way to navigate through the entire photo collection directory and subdirectories through a thumbnail browser. It makes the photo finding process quicker, and you can easily locate whatever you want.
Fotoxx provides plenty of editing tools, from basic to advanced, making it suitable for users. The software will allow you to edit photos with different problems, including false colors, blur, exposure, and even lights and fog, as you can bring them back to life with the tools. It's also standard compliant, which means that the pictures you create through the software can also be used for other apps. You can use a few clicks to transform the photos in any way you may like.
The software also provides the ability for photo transformations such as animations, and you can also retouch it in plenty of ways. The app also allows you to work the meta-data and a lot more.
Related: Best Antivirus For Linux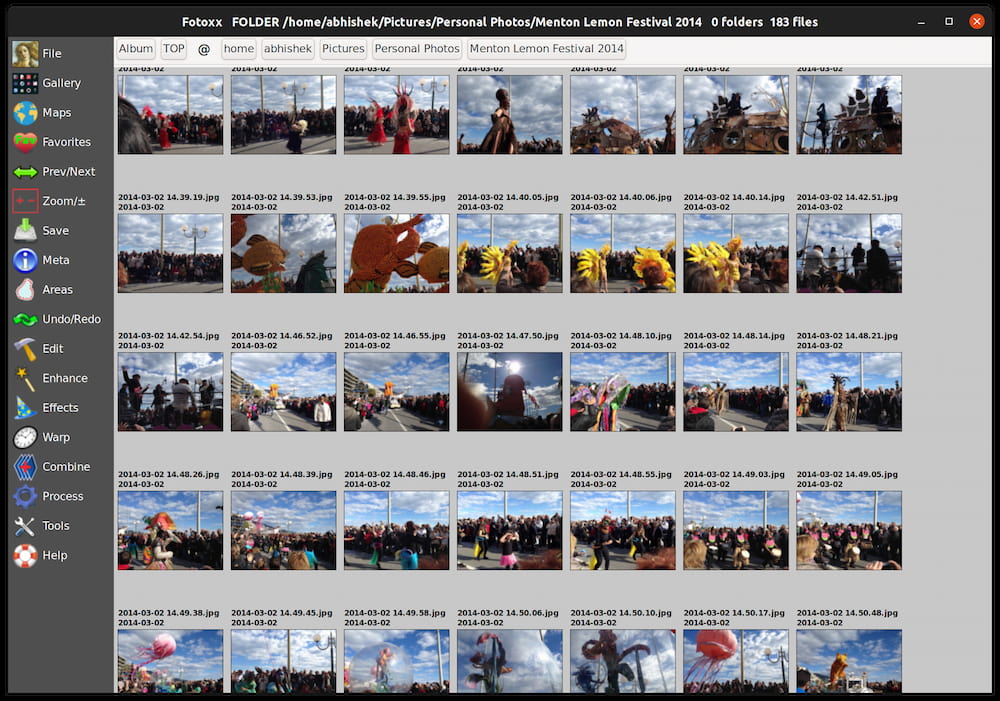 Standout features:
Transform photos easily
Retouch editing features
Artistic photo transformations
---
Aftershot Pro
Aftershot is a proprietary and commercial RAW image processor app suitable for cross-platform and offers a simple interface combined with powerful functionality. The platform is suitable for both beginners as it allows you to quickly learn photo editing at a professional standard by making the entire editing process a lot more convenient. You can make enhancements and corrections or apply the adjustment tools to one or multiple photos simultaneously with the batch processing tools.
The software provides an efficient and simple photo management tool that allows you to view, organize and sort all the pictures quickly in one place with the flexible system. It doesn't even require importing as you can quickly access the photos. Another notable benefit of Aftershot is that it provides a quick loading, selection editing, and output with a quick RAW conversion software that features performances that is a lot faster than Adobe Lightroom.
It also provides a batch processing feature that lets you edit thousands of photos with its powerful controls and presets that allow you to bring the best version of each photo instantly. Overall, the tool is ranked as one of the best photo editors for Linux not just for its powerful editing tools but the other features that make it suitable for professional-grade editing.
Related: Best Linux Distro For Developers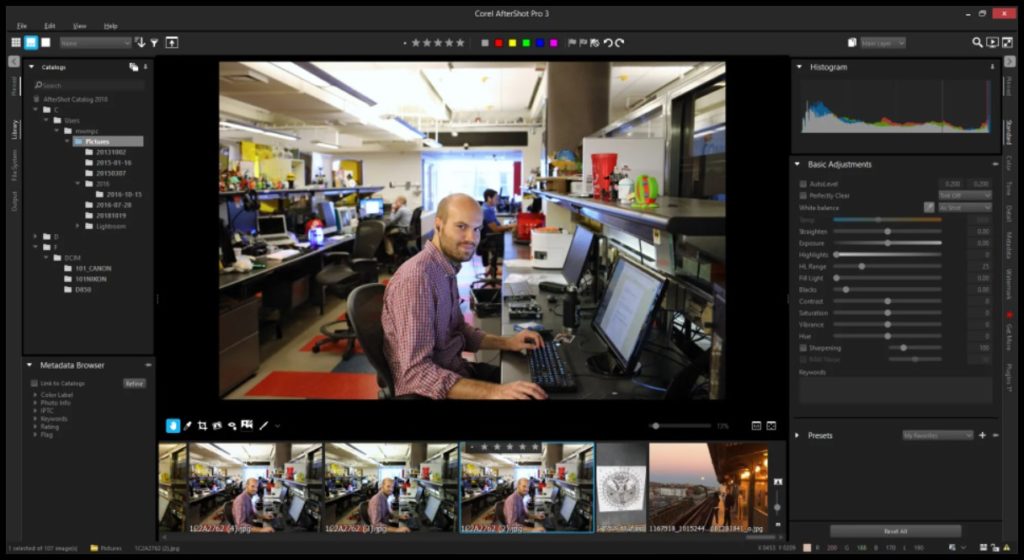 Standout features:
Quick and simple photo management
Swift workflow
Suitable for beginners and professional users
---
Conclusion
Many users find it difficult to download the best photo editor for Linux instantly due to the sacristy of available choices on the platform. Since Linux users are gradually increasing and the application count on the platform is slowly rising as well, finding the best photo editor for Linux can be a hassle if you don't have the insight since most of the popular names that you may find on other platforms aren't available on it.
Hence, our list does the task of shortlisting some top choices in the category. As per our recommendations, the 3 top picks in the category are GIMP, Krita, and Aftershot Pro. The three editors will suit many users, although finding the perfect choice is a matter of preference.
Thank you for reading! Try these out too:
General FAQs
What is the best photo editor for Linux?
Finding the best photo editor for Linux depends on what the user expects and wants. Thus, a lot of users may have different requirements. We recommend GIMP and Krita as two suitable choices since they are feature-rich platforms.
Is the best photo editor for Linux free?
Many open-sourced photo editors for Linux on our list are completely free. However, other choices unlock advanced tools and features that will require a premium subscription to operate fully.
Can I draw a painting using the best photo editor for Linux?
There are certain tools in our best photo editor for Linux list that provide a painting and drawing tool, such as Pinta with a photo editor, making it a great choice for both usages.