Photos are among several other phenomena of innovation and technology. The idea behind photos is not unique but one for ages. Taking the best quality photos will allow one to savor memories for years; thus, one photo can have exceptional significance, mainly when going down memory lane. The best photo app for iPhone does the task of taking high-quality photos efficiently and conveniently.
Not so long ago, the general perception when taking photos was that you need a professional digital camera to assist you in the task. However, the advancement in technology now makes it easier to take photos through your iPhone.
The best Photo app for iPhone will let you take HD photos and edit them by adding filters, portraits, frames, etc. Many of these apps also provide professional-grade tools that will let you customize photos as you like.
However, when choosing the best photo app for iPhone, the biggest concern is WHICH ONE? There are so many choices in Appstore that will leave you confused. The ambiguity mainly arises when you can't make up your mind as to which one will suit your requirements. You asked; we delivered as our list of the best photo app for iPhone will provide you with a comprehensive feature guide.
Excited? So, Let's Get Started.
Benefits of Best Photo App For iPhone
Improve your photography: The best photo app for iPhone will let you take your photography game to the next level. Since the functionality of the applications isn't limited to capturing photos, and instead, you can use it to edit them, it makes it even more helpful. A lot of these apps will let you get a premium membership, providing you access to even more features. Thus, you can edit the photos by customizing the details and saving the photos for years.
Convenience: The best photo app for iPhone will let you edit pictures with a lot more ease through your iPhone. Previously, if you had to edit photos, you needed a specification-compliant PC. Still, the apps now ensure you get all the professional features in your hand, thus increasing the convenience. So, you can sit anywhere and edit the photos quickly and efficiently.
Take High-Quality Photos: At the top of providing excellent and professional-grade tools for editing, a lot of the best photo apps for iPhone will let you take High-Quality photos. It also allows you to add various filters and take photos in different resolutions. The app takes care of the photography needs by providing all the perks and benefits you might need to become a standout iPhone photographer.
Best Photo App for iPhone
---
VSCO: Photo & Video Editor
VSCO is the best photo app for iPhone as the app is the preferred choice of thousands of users. It features an exceptional 3 in 1 characteristic, meaning that this app might be your one-stop solution to serve you while taking photos, editing them, and sharing them on your social media platforms. The User-interface of VSCO is simple, but it provides excellent functionality. The app's main menu is exceptionally clean, and the tools are pretty easy to understand and use.
VSCO offers impressive camera features. It provides an advanced inbuilt camera that will let you manually take pictures. It will also let you adjust the exposure and focus of the images, choose between 3 different flash modes, choose the interface color and enable the gridline, which leads to a more balanced composition. The camera will also let you manually adjust various features like manual focus, shutter speed, or the white balance efficiently.
You can use the adjustment tools manually or opt for one of the app's ten presets. Furthermore, the app offers plenty of editing tools, including saturation, grain, contrast, etc. You can also adjust the filter strength as the paid version will give you access to 130+ filters. VSCO is an app that offers everything from capturing photos to editing and sharing them easily with your friends or on social handles. It makes the app the first choice on our list.
Related: Best Reminder App For iPhone
Standout Features:
Capture photos in different modes such as regular, disco, and Multi settings
Edit photos manually or apply a preset editing option
Easy and convenient user interface
---
Instasize Photo Editor + Video
For regular Instagram users, Instasize is the best photo app for iPhone. The app combines all the features you might require to create standout photos and posts for your social media handles.
The application provides a vast library of photo editing tools, including filters, borders, and photo frames, resize options, retouching tools, and a text editor at the top of a lot more. Instasize is relatively easy to access and navigate as its intuitive design ensures the app is suitable for beginners and more experienced users.
You can get your hands on up to 100+ filters that will instantly enhance your image's appearance. It also offers up to 10+ tools for photo adjustment and six tools for retouching the photos. Another helpful feature includes motion and static overlays.
When it comes to adding borders, the app comes with a pack of 30+ borders for customization. Additionally, it offers a text editor which lets you choose from 20+ fonts as you get to add anything to your images. If you want to reshape your photos most notably to match Instagram story or post dimensions, this app is a perfect choice.
Related: Best Fax App For iPhone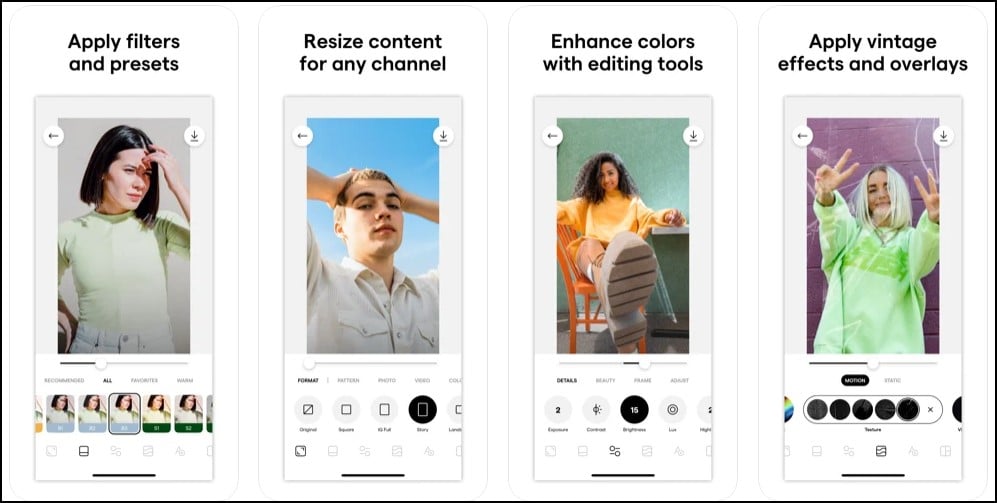 Standout Features:
Web stories feature
Provides access to multiple retouching and adjustment tools
It comes with a grid planner
---
Snapseed
Snapseed is one of the best photo app for iPhone. The application will not only allow you to take photos but also edit them with its professional-grade tools. You can add any photo from the gallery of your iPhone and edit it by using this application.
The app will let you use 29 tools and filters, including brush, perspective, structure, healing, and HDR. It offers various photo editing presets. At the same time, it's also possible for you to save a personal look and apply it to any photo later. Snapseed offers an efficient filter brush that lets you select a part of the photo and edit it accordingly.
It also offers various tools, faces, and filters that you can use to enhance the appearance of your photos. It also offers various essential editing tools. Such as crop, adjust, rotate, etc. You can adjust the color and exposure of the picture automatically by the tune image feature or do it manually with delicate and accurate controls.
Furthermore, the application offers various filters that can apply to the image to make it more attractive. The user interface of Snapseed is pretty simple, which makes it suitable for both novice editors and professionals.
Standout Features:
Up to 29 different filters and tools
Selective brush filter
Precise and fine controls
---
Photo Retouch-Object Removal
If you are looking for the best photo app for iPhone that lets you take pictures and provide you with all the necessary editing options, then the photo retouch is excellent.
The application will let you take photos or choose any one of them from your gallery, and it will let you add them as you like. The app offers features such as a photo eraser; body reshapes, Face shape, B&W colorization, and image clarity restoration.
The app remains the ideal choice for users that want to remove any unwanted objects from the photos. However, you can also use it for other editing options such as removing blemishes, power lines, etc. The application operates by raising the pixels around your selection in the photos it replaces with the pixels of the nearby areas.
TouchRetouch features a simple user interface that provides all the tools on the home screen, so you can choose any one of them and apply as you like. If you want to take photos and edit them instantly using any one of the tools that the app offers, the application will make it easier for you by providing you a choice of either choosing from a gallery or taking a direct picture.
Related: Best Wallpaper App For iPhone
Standout Features:
Photo Eraser and fix options
Ideal for removing objects
Continent and efficient tools
---
Afterlight — Photo Editor
Afterlight is one of the best photo app for iPhone as it provides professional-grade editing tools. Although the app is initially free, you can get complete access to all the editing tools by Paying a subscription fee for the premium valued at 2.99$ per month.
This app will let you move beyond the basic and primary image editing options and tools; thus, you get to use more pro features, taking your editing skills to new heights.
Afterlight offers a vast range of editing options and tools along with artistic features. Although the application will let you edit your pictures professionally, the user interface and tools are pretty convenient and easy to use. It also covers all the basic editing requirements, such as usual color crop tool exposure and sharpness at the top of other more advanced ones, such as selective color and curves.
You can also add overlays and quick filters to enhance the appearance or provide your picture with an artistic flair. You can get your hands on the basic filters through the free version, while the premium will unlock a more significant collection. Adding graphics, artwork, and text is also a convenient task using the app.
Standout Features:
Advanced editing tools such as gradients, curves, selective color, and the blend mode
Basic edit features such as Sharpening adjustments, color, and exposure
Capture high-resolution photos using the camera feature of the app
---
Camera+ 2
Camera+ 2 is a multipurpose app that provides terrific photo capturing and editing features. It is one of the best photo app for iphone that lets you showcase your creativity and editing skills through various tools and features.
The app offers powerful tools for photo editing. You can use it to fine-tune the exposure, boost shadows in the photo, sharpen images, adjust the curves, etc. It also offers a vast amount of filters to provide your picture with that final look.
Camera +2 also offers RAW shooting and editing options that will provide maximum edit flexibility. When capturing the photos, the sensor does a great job of complete precision. The RAW editor tools will let you use various tools such as curves adjustment or white balance picker.
The most significant feature of Camera +2 is its capture presets which will adapt to your desires. for instance, if you would like a system camera, you can use the auto preset, which will provide a straightforward interface that increases the concentration of the particular shot. Additionally, it also provides exposure tools and framing options that will choose the ideal parameters for you.
Related: Best Voice Recording App For iPhone
Standout Features:
Photo capturing and editing presets
Powerful editing tools
RAW photo editing and capturing features
---
Adobe Lightroom: Photo Editor
When it comes to the question of the best photo app for iPhone, adobe is a name that you can't resist. It is primarily a photo editing app that will provide you with professional features and tools to turn your average old photos into something mesmerizing. It is also a camera app at the top of it, which means that you can take pictures through the app in different resolutions effectively.
If you don't feel like using your creativity, you can rely on one of the app's quick and easy presets. If you choose to get the premium version, you will access over 150+ exclusive presets and choose from the ones created by pro photographers. Additionally, you can rely on AI to suggest the most suitable presets.
Apart from offering essential photo editing tools such as crop, trim, rotate, and resize, the app also comes with plenty of more advanced options. The professional-grade tools include adjusting the curves, using versions, applying profiles to change the appearance of your photos, object remover, customized mask creation for editing a particular photo area, etc.
Overall, Adobe Lightroom remains one of the best choices and is also extremely popular among users. You can get the basic version for free and improve your photography. Still, if you genuinely want to access high-quality professional tools that will take your editing capabilities to a whole new level, a premium is the best choice.
Related: Best Offline Music App For iPhone
Standout Features:
Edit photos like pros
High-quality camera for capturing photos
Ideal for professional usage
---
Final Words
One way or another, with the introduction of mobile phones, we are all photographers. While some of us like to explore nature and do more than others, we all take plenty of photos every day. Hence, it all makes sense if you do it properly and stand out from the crowd. The best photo app for iPhone will revolutionize your daily social media posts and provide them with a fresh appearance.
Furthermore, you can also take photos with your family and loved ones, edit and save them from preserving memories. Although our list contains numerous choices for the best photo app for iPhone questions, we recommend Snapseed, Adobe Lightroom: Photo Editor, and VSCO since they are more multipurpose. However, the other choices might serve you equally well, depending on your preferences.
Thank you for reading! Try these out too:
General FAQs
What is the best photo app for iPhone?
There are a lot of apps that you can label under the heading of the best photo app for iPhone. Some of the most famous names are VSCO, Snapseed, Adobe Lightroom, and Camera+ 2. Although, you will have to choose the app depending on your expectations of it
What is the best photo app for iPhone that lets you capture photos?
Camera+ 2 is a paid app, but it's also worth the value, considering its features and benefits. It's one of the best photo apps for iPhone, most notably for taking pictures, as it will let you customize them in various ways to make them more exciting or to ensure they fit your needs.
Can a free photo app provide access to professional tools?
A free photo app might provide you with plenty of options in terms of filters, essential editing tools, and even some professional=grade ones, but if you expect more, a premium subscription is the best choice. Premium membership will genuinely unlock the complete potential of the app