Innovation over time has stretched its roots to every aspect of our daily lives. One of the most significant benefits of technology is the great apps available on iPhones.You can find applications that benefit you in various phases of your life. One category of the applications is the best news app for iPhone.
In his book "Atomic Habits," James Clear says that it's easy to get distracted in the world we live in currently, and one of the leading causes is the news channels on Televisions. It's easy to get carried away when you are in front of the screen. Watching news could turn into a movie night which isn't always the right choice. Another great option is Newspaper, but let it admit, and we don't want to go through that every day.
Thus, the best alternative method to ensure that you are aware of current affairs is to get the best news app for your iPhone. The apps are updated regularly; thus, you will have access to the breaking news and trending topics in the palm of your hands without looking for them. If you are convinced that a news application will serve you well, the next thing is to get one. However, the task is quick and tedious tricky than you might think. The reason? Well, there are hundreds of apps, and not every great app lives up to its hype or expectations.
Thus, we took the challenge and delivered to ensure you don't waste your time and internet data. Our list contains some of the best news apps for iPhone that you can download. We chose the apps based on their performance, accessibility, and features.
Excited? So, Let's Get Started.
Benefits of the Best news app for iPhone
Better classification: – the best news app for iPhone will allow you to access precisely the category of news you want to read. You can arrange the filters as per your requirements, making it easier to find your desired information. The apps will provide you with all the latest updates on Sports, National affairs, Entertainment, Business, etc.
Convenient: – It is one of the most significant benefits of news apps. The applications are incredibly convenient; you don't have to sit in front of your TV all day. Instead, you can set the filters and get to the news you need, whether it's business or a regular one, and read or listen to it on your way to work.
Get the latest news instantly: – Most of these news apps collect blogs and articles providing the latest updates. Thus, they are regularly updated to ensure users can read all the news while it's relevant.
Best News App For iPhone
---
Flipboard

– best business news app
Flipboard is one of the most popular the best news app for the iPhone for countless users. Many people call it the juggernaut of news app, rightfully so when you look at its features and the user interface. Flipboard is like a social magazine, and it will provide you with all the topics in every niche as per your interests.
You will have to start by choosing the type of news you would like to hear. Some of the standard filters you can apply are business, sports, food and cooking, tourism, etc. Once you have it all set, and in place, the app will collect articles and blogs from the internet, depending on your interests.
You can also search Flipboard to look for news articles related to any particular topic. The app will let you follow any specific profiles available and keep updated when they post a news article. Overall, Flipboard is an excellent way to keep yourself aware of national, international affairs. You will have to set the filters as you want, and the app will take care of the rest.
Related: Best Navigation App For iPhone
Standout Features:-
Personalization
Regularly updated to provide the latest happenings
Easy to use
Download This Best News App For iPhone
---
Google News

– best news app for android
Google News is among the biggest and the best news app for iPhone. The search giant's news reader app provides a vast database with the latest national and foreign happenings. You can put an end to Doomscrolling by this app, as it will allow you to read precisely the topics you want. The Google news application leverages the search engine's massive data expertise to provide the most important local stories, news, and features.
You can customize Google news to present you with the news briefing of up to five stories which the app constantly updates throughout the day. The stories you choose based on your interests are updated regularly by the local content, global news, and other related updated available.
One notable feature of the app is the "full coverage" button placed at the end of every headline card, presenting other articles and views on the same subject. Thus, you can get a broader view of the topic from different perspectives. Google News will also let you subscribe to your favorite news outlets.
Related: Best Photo Collage App For iPhone
Standout Features:-
Get up to five headlines at once
Full coverage feature to find related articles
Thousands of online news sources
Download This Best News App For iPhone
---
Apple News

– best news app for iphone
Loyal Apple users don't need to look for the best news app for iPhone as they already have a feature-rich one pre-installed on their device. Apple news offers plenty of news stories from different sources. The app will give you an editor-cured feed that will provide you with the latest updates, headlines, and a particular interest piece. You can make a personalized newsfeed, and choose your favorite topics.
The most significant feature of Apple news is that the feed constantly improves after learning through your reading habits. IOS 14 contains a home screen widget for apple news that provides headlines without even opening the application. Apple also has audio stories feature that will give you an auto briefing every day on trending topics.
If you live Apple News but want to expand its functionality, you can opt for the premium. The premium will give you access to over 300 popular magazines and articles from popular sources such as Los Angeles Times and the Wall Street Journal. 
Related: Best Free Video Editing App For iPhone
Standout Features:-
Provides trending news through an iOS widget
Personalized newsfeed option
Feeds for latest national and international updates
Download This Best News App For iPhone
---
AP News

– best stock news app
AP News is the best news app for iPhone for users that want a more traditional approach to the concept. Associated Press, the application developer, publishes news in various niches such as travel, technology, business, US News, Sports, Entertainment, etc.
The app provides news and stories from the Associated Press's network of national, global, and local news writers. You can follow various topics based on your interests, and the app will create a feed as per your interests. You can also get customized news alerts depending on your chosen interests.
AP News also contains a curated content hub to get a deep insight into major storylines and news events. You can also access the Photo and videos gallery of the app and get news alerts based on your selected topics.  The app also provides local interest stores from broadcasters and Newspapers, thus making it a resourceful application.
Related: Best Call Recording App for iPhone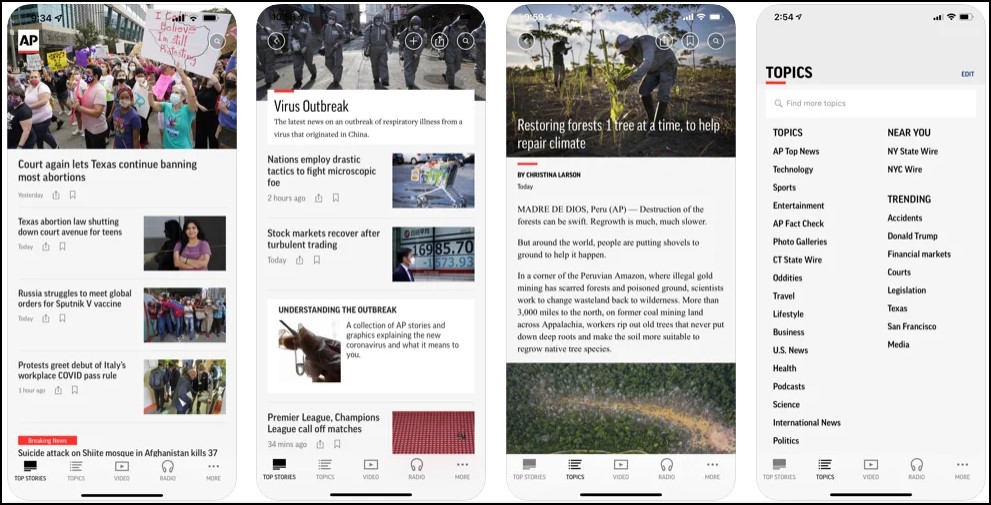 Standout Features:-
Customized alerts
Get the latest updates based on your interests
Easy operation with a traditional design
Download This Best News App For iPhone
---
inkl – best unbiased news app
If you want to get an application that offers unlimited news content from some of the most reputed sources out there, inkl might be the best news app for iPhone, particularly for your choice. The application will provide you access to the credible and latest news from different sources such as Strait Times, The Economist, Bloomberg, The Guardian, etc.
One of the most features that inkl offers is its user-friendly ad-free interface for the readers. Yes, the app offers the latest news stories from up to 100+ trusted sources without any ads. The app will also let you follow your favorite topics based on your interests and other tools to filter news on relevance. It also comes with a related stories feature that will give you various perspectives on the same topic. You can also read Good news and curated collections of the articles to shake things up a bit.
You can get the app at $9.99 per month or get an annual membership for around $99.99. Overall, the application is an excellent choice for people who want to keep themselves aware of current affairs and that through the most credible news sources out there.
Related: Best Free Scanner App for iPhone
Standout Features:-
Get news from 100+ credible sources
Multiple filters and tools for relevance
Related Stories feature to get similar news
Download This Best News App For iPhone
---
Inoreader is the best news app for iPhone to get a customizable feed and news that is most relevant for you. The app offers various features in its free mode, which are further expanded in the premium version. Although Inoreader might seem like a standard news app, it isn't; in fact, it offers a lot more than regular functionality.
Inoreader is a popular choice among readers, whether they are business individuals, digital marketers, content publishers, etc., simply because it offers an attractive and light reading practice. However, it also provides the powerful and latest news accumulation and curation features that will allow you to create the ideal personalized news feed.
Inoreader will let you subscribe to RSS feeds, Social media searches, Podcasts, Blogs along with more. You can also save the news articles in different services such as Google drive and pocket or share them through a scheduling service like Hootsuite and Buffer. You can also opt for the premium version of the application to ensure that it is an excellent value for money.
Standout Features:-
Completely customized newsfeed
Pro mode for added functionality
Save articles through a third-party tool
Download This Best News App For iPhone
---
Feedly

– best app for stock market news
Feedly ranks among the best news app for iPhone by carrying the idea of the traditional RSS (reader-style) applications after the shut down of Google Reader. The best aspect of Feedly is that it provides complete freedom, which means that after logging into the app, you can follow your favorite topics, keywords, social media accounts, websites, blogs, etc. The app will also constantly provide you with the latest stream of topics that you follow and a customizable list based on your reading patterns.
RSS is the main foundation for Feedly. You can also add your favorite feeds manually into the application if it isn't available in the vast library of keywords and topics that the application offers.
You can use the app without any cost, but there is an option to opt for the premium worth around $7. The main benefit is that you will get access to a more substantial article search, app integration to instantly save the content to different services integration, and automatic.
Related: Best Photoshop App For iPhone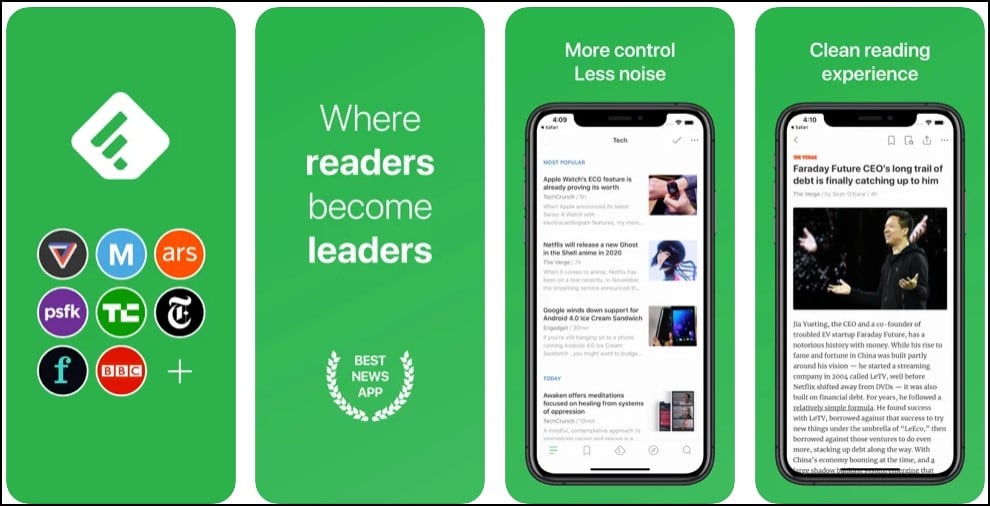 Standout Features:-
Organize all your sources in one place
Filters to display relevant topics
Share the articles through 3rd party tools
Download This Best News App For iPhone
---
Pocket

– best news aggregator app
One of the biggest difficulties these days is that we don't always find the time to read the news. However, it is crucial to keep yourself aware of the best thing to save the news for later. Pocket is the best news app for iPhone that offers this functionality. It is one of the best apps for saving exciting articles, news, stories, links, etc. You can choose to keep any article through the website and read it later at your convenience in a more reader-friendly format.
Once you install pocket and grant it permissions, the app integrates with other share sheets and buttons of different apps on your iPhone along with browsers and email services. Thus, you can instantly save any exciting news and content to read it later. The content you save will sync across other devices, and thus, users can organize it in the reader view; pocket can even read the articles for you.
You can get the premium version if you like to app, as it will remove all the advertisements and let you save the content in the permanent library.  The premium will also provide you with advanced searches and more organization tools to assist you in sorting the articles and stories.
Related: Best Tracking App for iPhone
Standout Features:-
Save the news and read later from anywhere
Listen to the articles
Customizable display and a clean layout
Download This Best News App For iPhone
---
Final words
The Best News app for iPhone is the one that will let you filter out the news as per your interests. Since we need to evolve our knowledge constantly, a news app is one of the best ways to do so, and our list contains the top 8 apps that will help you in the purpose. Although the choices we have listed above excel in their functionality, they come with unique features; thus, it will depend on you which one you find the best for your purposes.  Although Flipboard, Google News, and Apple news are some of the most popular choices that you will find.
Thank you for reading! Try these out too:
General FAQS
Which is the best news app for iPhone?
Although there are plenty of options, one of the most popular choices on Appstore is Flipboard. The app will let you filter out news and articles that suit your interests.
Is Apple News any good?
Apple News is an inbuilt app, and it comes with all the iPhones. If you want to get an app that provides actual headlines and news, the app's free version is an excellent choice. However, to get access to different paywalls, you will need to get Apple News+ (Premium membership of the app)
Can iPhones get Google news?
Yes, Google news is available on iPhones. Furthermore, the app is constantly updated with the latest content and trending topics.