Globalization has connected the markets across the nations and made trade easier ever than before. Globalization plus technology has revolutionized the markets all across the globe. You can buy products and make digital payments in seconds with the best money transfer apps. With one click on your smartphone, you can transfer money to any account in different currencies.
You can make national and international payments using the best money transfer apps. Our listicle of the best money transfer apps assists you in making seamless transactions. Without any further delay, let's dive into our listicle of the best money transfer apps. Before getting started, we will highlight some key benefits best money transfer apps offer to users.
Excited? So, Let's Get Started.
Benefits of Best Money Transfer Apps
Make payments across borders: Not only local money transfer, but you can also transfer money to any country across the border. Whether it's a neighboring country or a far distant country, you can make seamless and secured payments in seconds with your smart devices.
Supports multiple currencies: With the best money transfer apps, you can make payments in different currencies. Money transfer apps can convert the local currency into an international denomination. It will

help you save time

and cut the currency conversion cost to a minimum.
Secure and swift mode of payment: Best money transfer app provides a secure platform to transfer money across the globe. Money transfer apps provide a high-grade encryption platform to users and maintain the privacy of sensitive information. Also, you can make swift payments to clients residing in any part of the world.
Best Money Transfer Apps For Android & iOS
---
Paypal
Paypal could be the answer to your questions if you are making across-the-border transactions. With the help of PayPal, you can send and receive money in different currencies. Just scan the QR code of the receiver, and you are ready to make payments. You only need to type the Email, Phone number, or name of the person you want to make the payment.
You will get instant notification when you make a transaction to keep a record of your spending history. If you are a seller, you can set up your QR code to start getting paid. The app offers valuable financial services that make it one of the best money transfer apps.
Related: Best Guitar Tuner Apps
Standout Features:
Can send money to different currencies
Instant spending notifications
No transfer charges
---
WorldRemit
WorldRemit app has one of the most extensive network coverage, and you can transfer money to over 130 countries in seconds. Cash pick-up is also available in the WorldRemit app, and recipients can pick up the cash from pick-up points. You can make money transfer to banks worldwide, making it one of the best money transfer apps. The app has approval from FCA and monetary regulators around the world.
The app provides three transfer options. You can transfer money to the bank account, mobile account, and cash pick-up point of the recipient. Also, you track your money until it reaches the recipient. Save the recipients when you want to make one click and hassle-free payments. Some countries where you can transfer money are Tanzania, Nepal, the Philippines, Kenya, Nigeria, Zimbabwe, India, Ghana, Colombia, and Ivory Coast. Banking partners of WorldRemit are M-Pesa, EcoCash, MTN, Metrobank, and many more.
Related: Best Home Workout Apps
Standout Features:
Instant airtime top-ups
Mobile money
Extensive banking network
---
Transfer Wise
Transfer Wise app has a reach of over 170 geographical locations across the globe. You can send, receive, convert, and spend money internationally with the Transfer Wise app. The app charges a low fee on currency conversion and offers a real-time exchange rate. Your data and transfer details are safe, thanks to two-factor authentication.
One standout feature is that you can hold 50+ currencies and convert them whenever you want at the best exchange rates. This best money transfer app does not charge any maintenance or monthly fee. You can activate the push notification feature to stay updated with all the changes. Also, you can use the Transfer Wise debit card to withdraw and spend money in over 150 countries.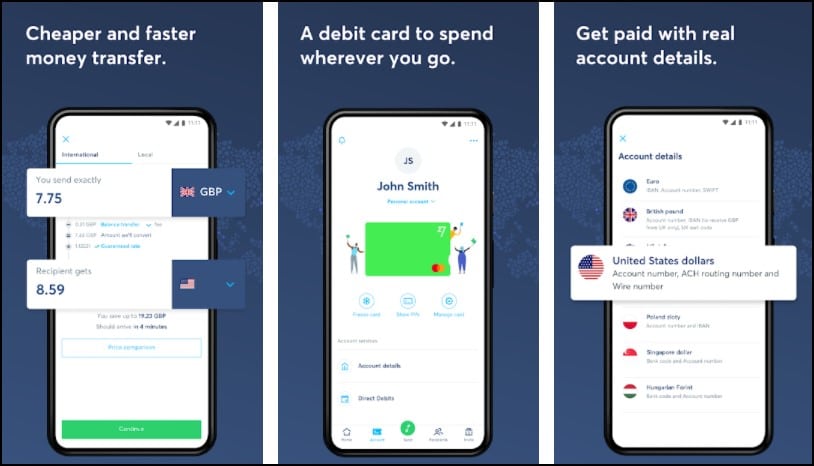 Standout Features:
Best exchange rates
Hold and convert 50+ currency
No monthly or maintenance fee
---
Venmo
Venmo is a peer-to-peer best money transfer app that you can use to send and receive money. You can add notes to every transaction so that you remember the amount and payment terms. Besides making transactions, you can use a Venmo credit card and master card to earn cashback. The app can be handy for freelancers, gig workers, and solopreneurs.
Solopreneurs can create a business profile on Venmo and make all the business transactions in one go. You can create your customized business feed to connect with the clients. Also, you can make payments on apps like Uber Eats, Grubhub, and StockX using the Venmo app. You can also use the Venmo QR code to make payments in your nearby stores. The app offers 24/7 customer support and high-grade encryption to the users. Also, there is an app known as Cash App++ where you can generate money for free.
Related: Best Weight Loss Apps
Standout Features:
Pay in apps and online
Create business profile
24/7 Customer support
---
OFX Money Transfer
We recommend the OFX Money Transfer app to users who are actively trading in the forex market. It enables users to send money to 180+ countries in over 55 currencies. You can get the best exchange rates in the market along with low fees rates on the OFX Money Transfer app. You can register with the app with your Email or mobile number to start transferring money to your vendors, brokers, and sellers.
You can track your payment on your smartphone until it reaches the account of the recipient. With the live rates and currency trends, Forex traders can grab the best investment opportunities. It is a simple, secure, and user-friendly best money transfer app to make international monetary transactions. You can take the assistance of the global support team of the OFX app that is available 24/7 to solve all queries.
Related: Best Sports Apps
Standout Features:
Best exchange rates and currency trends
Send money in 55+ currencies
Secure platform
---
Google Pay
You can add your debit and credit card to the app and make online payments to get started. You can book flights, order meals, find the latest prepaid recharge plans, and get rewarded for doing all this. Make payment simply by scanning the QR code, and you are good to go. Transfer money from one bank account to another hassle-free.
You get exciting offers after using the services of this app that you can redeem to avail discounts. You can also transfer money to those who are not on the Google Pay app. KYC is also not needed to start making transactions, which makes it the best money transfer apps.
Related: Best Credit Score Apps
Standout Features:
No KYC needed
Multiple layers of security
QR code payments
Rewards
---
Samsung Pay
Samsung Pay is a popular payment app highly preferred by users for making transactions. The app has a simple interface and an extra layer of security for your sensitive data. You can integrate your debit, credit, and membership cards with the app to make payments for every purchase.
The app rewards you for every purchase you make through it. You can redeem the reward points to buy any Samsung products from the stores. The app is acceptable at multiple stores where you can seamlessly make payments. All your card information is encrypted in a secured data vault to keep the sensitive details confidential.
Related: Best Personal Finance Apps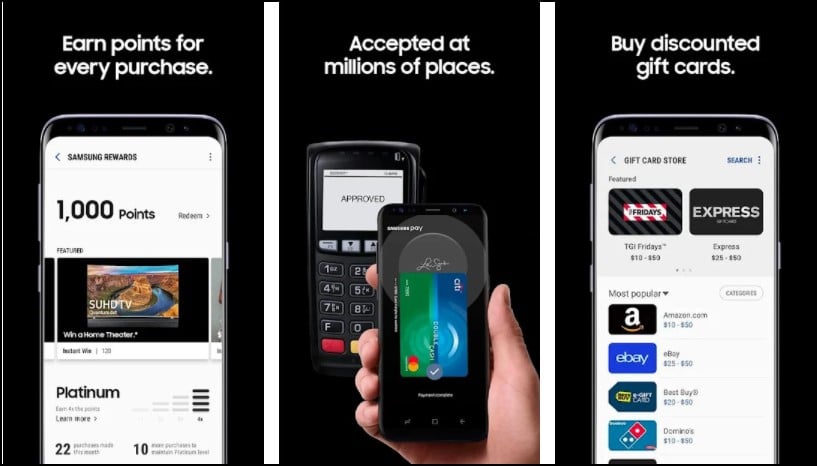 Standout Features:
Acceptable at millions of stores
Points for every purchase
Simple User Interface
---
Azimo
Azimo offers the best global money transfer services to users. You can choose different payment modes to make international transactions. Send money online to a bank account, cash pick-up location, mobile wallet, or directly to the home. The app has a geographical reach in 200 countries and supports 60+ currencies. Also, it has 300k+ cash pick-up points, making it one of the best money transfer apps.
The app has no hidden fee or pricing structure, and you can save up to 75% on international transactions. You can send money instantly or within one hour to 80+ countries on the Azimo app. The countries where you can send money are Brazil, China, Pakistan, Bangladesh, Poland, and many more. You can have real-time updates of your payments.
Standout Features:
300k+ Cash pick-up points
Low fees
Regulated by financial institutions
---
Payoneer
With the Payoneer app, you can make cross-border transactions in more than 100 countries. It is a global business payment platform where you can send and receive money in currencies like USD, AUD, EURO, GBP, and CAD. You can use the Payoneer card to withdraw money from your bank account. Freelancers widely use the Payooner app to make transactions in multiple currencies.
You can track your business payments via an interactive dashboard on the Payoneer app. You can have quick insights into your currency holdings with the help of the dashboard. The app has multilingual 24/ customer support.
Standout Features:
Payoneer card to withdraw money
Interactive dashboard
Multilingual customer support
---
Razor Pay
Razor Pay offers you multiple payment options that make it highly preferable for the users. The app has plugins for all the major platforms that make it easily accessible to users all around the globe. You get instant activation within minutes to start using the app for online payments.
The app has more than 100 payment options like Netbanking, UPI, Wallets, Debit, and Credit card. The Dashboard reporting feature helps you to keep track of your transaction history. The app can be a good option for professionals and business people looking for the best money transfer apps.
Standout Features:
Instant activation
100+ payment modes
Easy integration
Dashboard reporting
---
Final Words
Start making secure and international monetary transactions with any of these 10 best money transfer apps. We hope our list will be a helpful find for you if you are looking for the best money transfer app for your business or services. WorldRemit, Paypal, Venmo, OFX money Transfer app, and Venmo are some top picks of the list we will recommend to the users. Azimo, Payoneer, and Google Pay can be ideal for small businesses and freelancers. You may drop your suggestions and picks in the comment section below.
Thank you for reading! Try these out too: