Golf is a popular sport across the globe. The game is unique as there is no age bar or restriction to play it. You can play it to improve your strength and muscles. Sportspersons of different categories also prefer to play golf to improve their bat swing and stroke-making. There are a plethora of best golf apps on the internet that can help users in many ways. Professionals can use the best golf apps to look for suitable club recommendations.
Also, the best golf apps can be ideal for beginners, as they can track their performance and look for improvements. Viewers can use the best golf app to stay updated with the latest golf events. Without any further delay, let's dive into our listicle of the best golf app. Let us look at some benefits of the best golf app before starting our listicle.
Excited? So, Let's Get Started.
Benefits Of Best Golf Apps
Club recommendations: You can book a suitable golf club to match your playing style and requirements with the best golf app. You can choose from the hundreds of options available. Best golf apps also

provide a discount

when you book any golf club. You can save up to 80% off tee times while opting for the golf apps.
Improve stroke play: You can improve your stroke play by using the best golf apps. The app provides detailed statistics of your performance so that you can look for improvement areas. You can record your strokes and analyze them later. You can access the scorecard to keep an eye on your performance.
Best Golf Apps For Android & iOS
---
Golfshot​
Golfshot app provides targets on over 45,000 courses along with detailed statistics. You can save your time, money, and master your golf playing skills with the Golfshot app. The app has easy to use scorecard that can help you in tracking your performance. For in-depth analysis, the app has greens in regulation and putts per hole. You can also have 3D previews of flyovers and holes that can help you improve your performance over time.
You can get personalized club recommendations based on your statistics. The app provides up to 80% off tee times. You can use the auto-advance and voice hole information to stay informed about everything. Also, you can zoom in on the targets to have accurate shots. The app has a collection of more than 400 videos that you can refer to while playing golf.
Related: Best Step Tracker Apps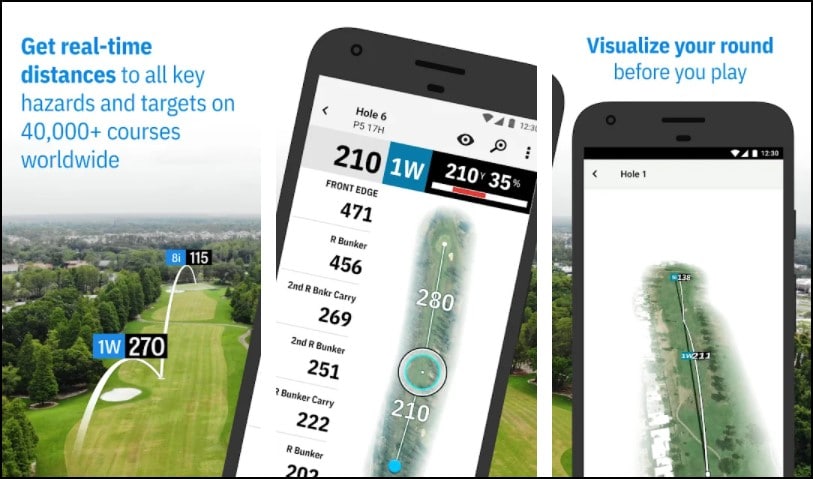 Standout Features:
Dynamic 3D flyover preview
3D video previews
400+ Videos
---
GolfPass
GolfPass app can be an ideal choice for the viewers. The app comprises of GolfPass originals, golf channel programs, and much more for the viewers. You can stream live tournaments and get the latest updates on golf events across the globe. You can catch up with your favorite golfers on the GolfPass app. You can watch episodes, interviews, and insights into your favorite golf personality. This best golf app also contains 400+ hours of instructional videos that can help you improve your game skills. Also, you can make on-demand lessons from your favorite instructors.
Related: Best Guitar Tuner Apps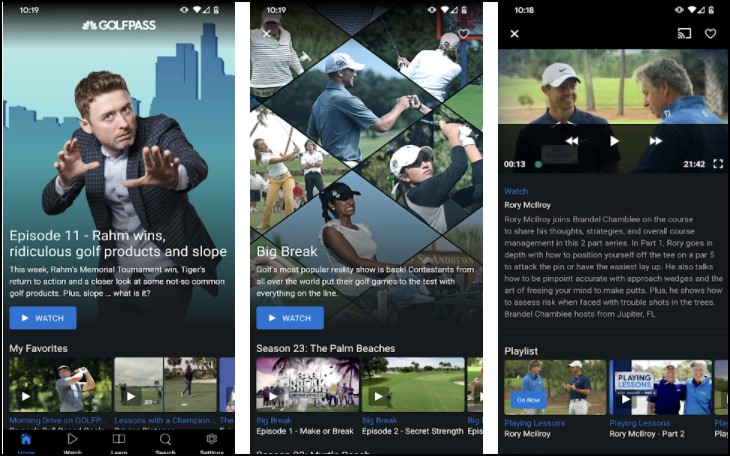 Standout Features:
Interviews of popular golf personalities
400+ Hours of instructional videos
On-demand golf lessons
---
Hole 19
With more than 43,000 golf courses available, the next app on our list of the best golf app is Hole19. It is a free golf app that gives you accurate distance all over the course. The app has a GPS Rangefinder to measure your shot distance in different directions. You can measure the front, back, and center shots of the green golf course. The app can be handy to find the best golf course as it has user reviews and ratings. If you switch to the premium version of the app, it will recommend your course based on your distance.
You can record all your scores in the digital scorecards along with Stroke Play scoring systems. You can compete with the real-time community members of the Hole19 app with the help of a live leaderboard. The premium version of the app has tons of exciting features like club statistics, distance tracker, and premium maps.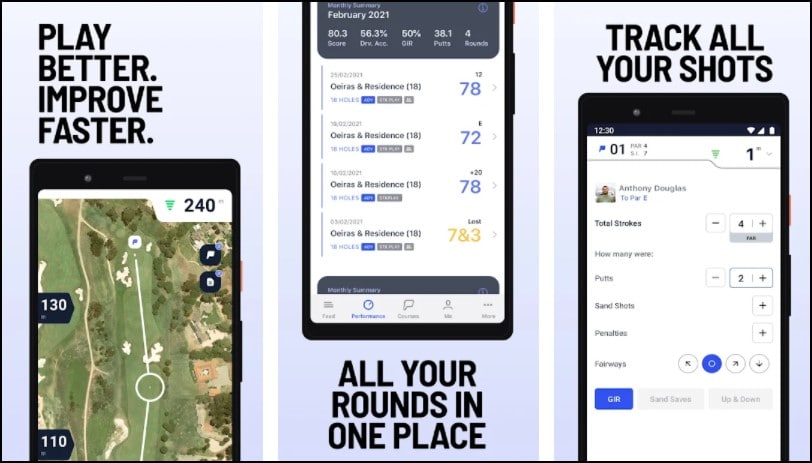 Standout Features:
GPS rangefinder
Digital scorecard
Club statistics
---
Skillest
Skillest can be the ideal choice for golfers who are looking to improve their golf swing. You can get instructions and a coach from the personalized Golf Instructor that will help you improve your golf swing. You can use the Golf Swing Analyzer to record and analyze your golf swing. The app can help you fix your swing, technique, and lower your handicap. Besides this, you can chat with your coach anytime or have a Zoom session if you are struggling with the technique. You can also review each practice session so that you can look for areas of improvement.
Related: Best Home Workout Apps
Standout Features:
Helps in improving golf swing
Chat with instructors anytime
Golf swing analyzer
---
Shot Tracer
Swing Tracer, Ball Tracer, and Putt Tracer, you will be getting all in the Shot Tracer app. The best feature of the app is that you can access it in offline mode, making it one of the best golf apps on our list. It is the only mobile app that can automatically track and trace your golf shot. You can track your swing in strobe motion and analyze every minute detail. You can add Hollywood quality special effects to your shot tracer to enhance the user experience.
The Ball Tracer of the app can measure the flight of the ball during long and shorts. You can also utilize the putt tracer to analyze your putt score. The app is highly customizable and allows you to change the color and width of your trace according to your preference. You can trim and edit your trace videos with the smart video trimming feature.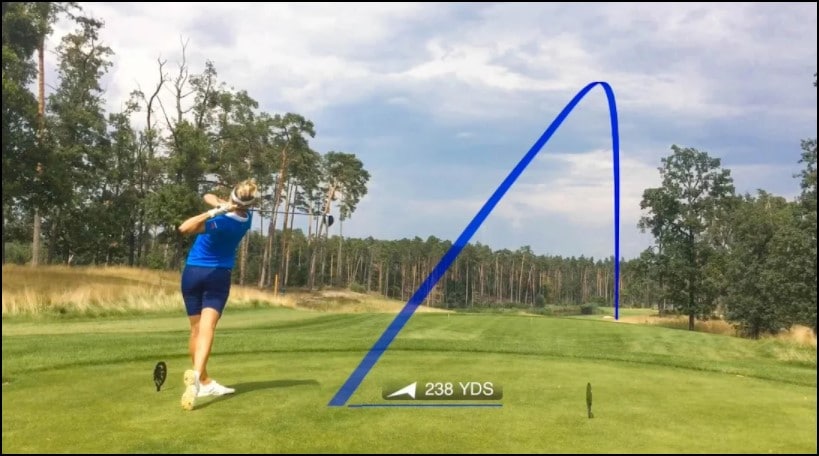 Standout Features:
Automatically track and trace shots
Customizable shot tracer
Strobe motion effect
Works in offline mode
---
The Grint
The Grint is a feature-loaded best golf app that every golfer would prefer. It has a golf GPS rangefinder that helps in shot tracking and distance calculation of your shot. The app provides distance calculation and shot tracking features in almost every course of the world, making it one of the best golf apps. You can also calculate the distance of the fairway from your home and get started with some early morning golf sessions.
You can analyze your performance with an in-depth look into your golf habits, the distance of swings, and past scores. You can track your scores with the live scorecard. Also, you can track your performance on different golf courses. The app also helps you to compete with tough opponents in Ryder Cup Format competitions. You can compete with the other foursomes in real-time. You can arrange golf next tee time session with other golfers on the community page of the app. The app is available in a two-tier plan, that you can choose according to your suitability.
Related: Best Weight Loss Apps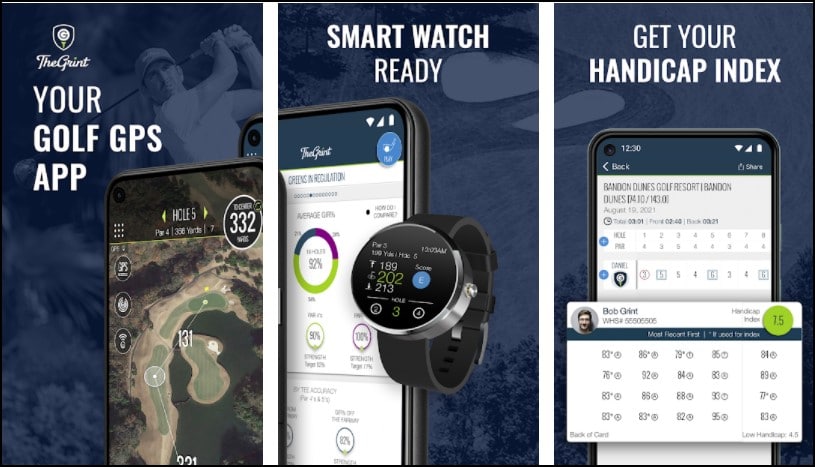 Standout Features:
Track performance at different golf courses
Organize tee time foursomes with other golfers
Track scores and performance stats
---
Golf Handicap
Golf Handicap by My Online Golf Club Services offers complete golf handicaps, scorecards, GPS rangefinder, and scoring competitions to the users. The best part about the app is that you can compete in the international arena to test your skills. You can submit unlimited scorecards in the Golf Handicap app. Also, you can calculate your golf handicap and track your progress. Maintain a recognized handicap in your database with the Golf Handicap app. You can create a golf competition on different parameters and view the live leaderboard.
The app has a GPS rangefinder to calculate distance and make your points on any course in the world. You can alter the default green marker on the golf course as per your requirement. The app provides a detailed scorecard where you can track multi-player scorecards, number of putts, penalties, greens in regulation, fairway bunkers, and much more. You can track the progress chart to see your performance over time in different rounds. This best golf app has in-app purchases that give access to more exclusive features to the users.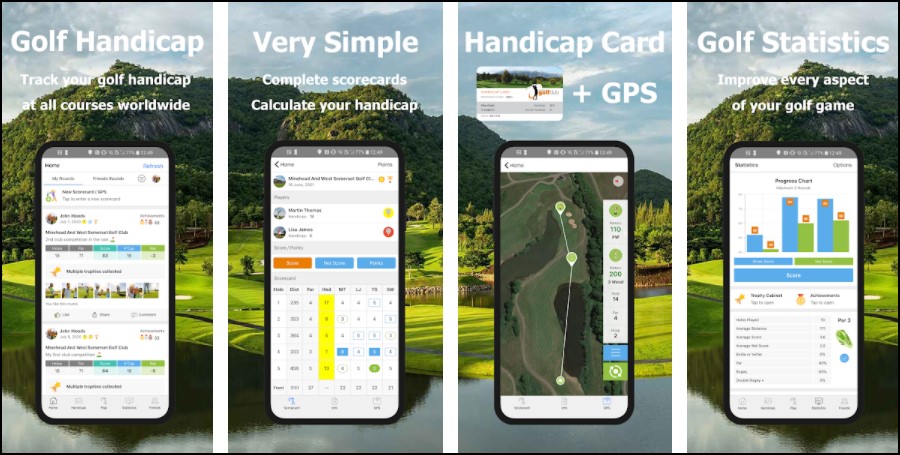 Standout Features:
Detailed scorecard and statistics
Progress charts
International golf courses
---
Golf Boost AI
Get personalized golf swing lessons with the Golf Boost AI app. This best golf app uses a smart AI algorithm that can help you improve your golf swing. The app identifies the golfer's key swing position and syncs it with a universal golf swing algorithm. The app has an advanced AI video and image analysis feature that help you improve the golf swing. The community members of the app rate your golf swing and provide frequent feedback. The premium version of the app gives access to unlimited video lessons, which you can opt for if you want.
Related: Best Sports Apps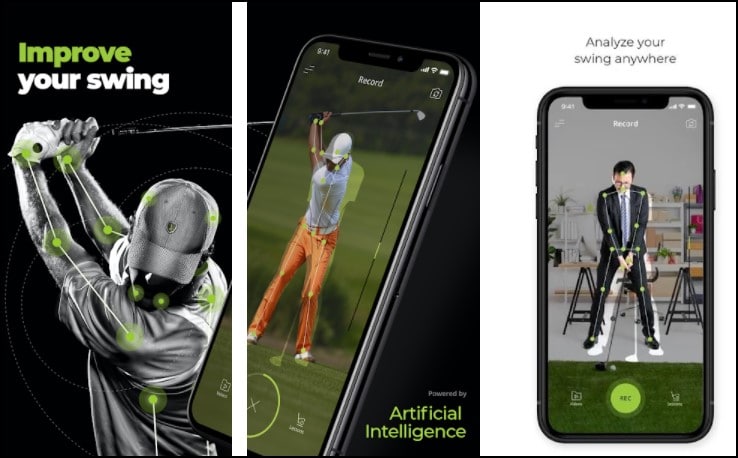 Standout Features:
Free golf swing analysis
Golf lessons and video responses
Compare swing with friends
---
Virtual Pro
Virtual Pro has a comprehensive golf swing video analyzer that will assist you in capturing and analyzing the golf swing. You can also import the golf swing videos from other devices for analysis purposes. The app records your swing and automatically stops after a fixed interval of time. You can play frame-by-frame videos to critically analyze the minute details of your golf swing. You can also adjust and trim the length of each video. You can draw shapes like lines, angles, arrows, and curves of your shots. Also, you can flip videos to analyze your golf swing video from different angles.
Related: Best Personal Finance Apps
Standout Features:
Flip videos
Record golf swings
Play frame by frame videos
---
Final Words
These were the best golf apps that you can install on your smartphones. We hope you would find our list useful if you were hunting for the best golf app. Hole19, Skillest, and The Grint are some highly recommended apps from our list. You can use Golf Boost AI and Golf Handicap to improve your golf swing. Do tell us about your top picks of the list in the comment section below along with your valuable suggestions.
Thank you for reading! Try these out too:
General FAQs
How far do average golfers hit the ball?
The professional player in PGA Tour and other golf tournaments can easily hit the golf ball to a distance of 250 to 300 yards. An average player can hit the golf ball to a distance of 190 to 205 yards.
How can I increase my golf swing?
First, you need to have the good physical strength for a good golf swing. You can develop physical strength via consistent training. You can develop your shoulder muscles and work on your wrist for the best golf swing. Besides this, you can take the assistance of apps like Golf Boost AI and Virtual Pro to improve your golf swing.
​