Linux is a popular open-sourced operating system whose functionality you can witness nowadays on various platforms for running servers, embedded systems, and desktops. You can use the Linux OS to manage different services, including app scheduling, file system, basic peripheral device, etc. Since Linux can perform such tasks, a normal administrative task for the Linux end-users is file management. Hence, you will need the best file manager for Linux to help you out.
There are several files required for use on our system daily. Over time we may not even require many of these; hence the entire file arrangement system became obsolete. The best file manager for Linux acts as an efficient assistant for dealing with all the files.
There are several benefits of finding the right app, starting with the fact that they can manage a heavy workload. Some other tasks that it can perform include deletion, managing the disk space allocation, finding files, moving or deleting files, naming files, and opening files in other apps.
Finding the best file manager for Linux might sound like an easy task, but it's far from it. It is since not all the Linux file managers are equal inability. Thus, we aim to provide you with an insight into the best file managers for Linux. It will assist you in finding the right choice and making a rational decision.
Excited? So, let's get started
Best File Manager For Linux
Dolphin
Dolphin is one of the best file managers for Linux, which is also the official choice of KDE desktop. It comes with a standard configuration that will allow you access to a panel listing located at the left, which contains home, root, trash, and network as the default options. At the same time, its main area will provide a list with all the current directory contents as details, columns, or icons.
The main area bears a lot of resemblance to the terminal window listings. While you are on it, you can choose to view or hide the hierarchy in the directory tree through the expandable folders option. It provides a split button that you can use to turn the two-pane layout ON or OFF, and you can also open various tabs. A major benefit of it is that if you ever feel stuck on what a button might do, you can press shift + F1 while the cursor is on it to get a useful tooltip.
Overall, Dolphin is an excellent lightweight and robust file manager with an attractive design that provides a clutter-free and natural feeling. Its design makes browsing, deleting, and moving files quicker while also providing customization and flexibility.
Related: Best Linux Distro For Gaming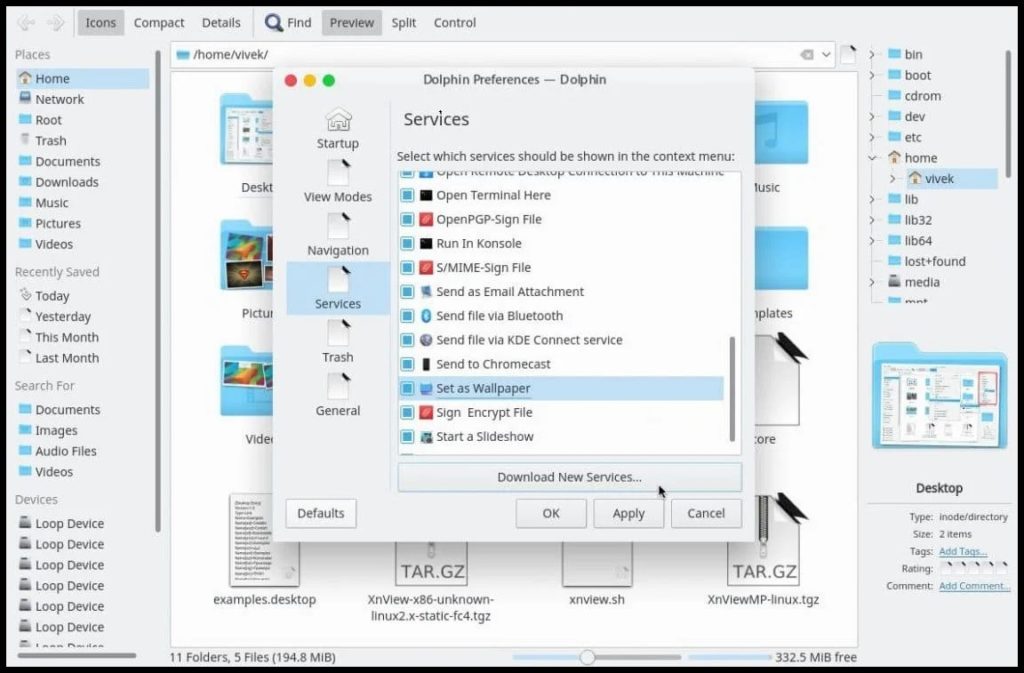 Standout Features:
Built-in terminal emulator to run commands
Enhance its functionality with different plugins
Provides an undo and redo option for forward or backward steps
---
Krusader
Krusader is an advanced twin-panel file manager that is ideally suited to the KDE plasma environment. It is derived from the Midnight commander and thus lets you use identical keyboard navigation and the right command structure. An excellent feature of the app is that it lets you use the trackball or mouse for navigation or performing the standard drag and drop operation. Its user interface is another efficient choice that allows you to view all the files, details, sizes, and types.
The software provides terminal integration features which let you add commands through the active panel. It also supports file transfer with SFTP and FTP, which means that you can easily share them with others without many complications. Furthermore, it also supports the extensive archive file formats, including RPM, ZIP< CPIO, tarball, etc. You can synchronize any directory through it.
Some other useful features that make Krusader one of the best file managers for Linux are related to administration purposes. For instance, it will let you edit the permissions and ownership of the files efficiently; you can make an advanced search module and compare the files' contents. If you feel the features aren't enough, you can always increase the functionality by downloading plugins from the KDE store.
Related: Best Email Client For Linux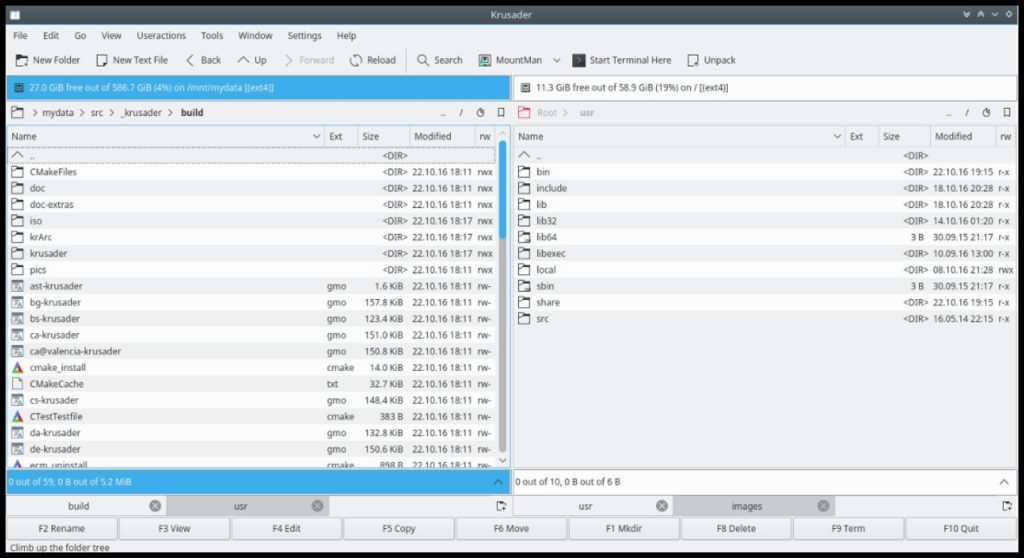 Standout Features:
Easily edit the file permissions and ownership
Compare the file contents
Use plugins to extend the functionality
---
4Pane
If you want the best file manager for Linux that prioritizes speed over visual effects, 4Pane is an exceptional choice. It derives its name from its default configuration, providing a display with two similar pane pairs. Each couple compromises a detailed file list and a directory tree view. However, you can choose to add or remove the panes or even use store bookmarks or tabs as you wish.
Right after you initiate 4Pane, a wizard scans your system to make the basic configuration or lets you import an already existing choice. Once you arrange 4Pane according to your requirements, that setup can be saved as templates. A useful feature that it offers is available shortcuts, and you can configure it for most of the functions. Its manual states that nearly everything can be configured through "Options"> "Configure 4Pane menu" and "[by] pressing F1," you will get context-sensitive assistance.
Its interface contains menus or buttons for mounting or un-mounting drives and partitions. You can easily go back to the recently visited folders as well. Apart from this, 4Pane can handle mass rename or create duplicates of files and manage removable files, Samba shares, or NFS.
4Pane provides an integrated terminal emulator. Although it isn't completely featured, you can't use escape, su, or sudo, nor can you escape the sequences. However, it supports command histories, pipes, and redirections, thus saving you plenty of time.
Related: Best VPN For Linux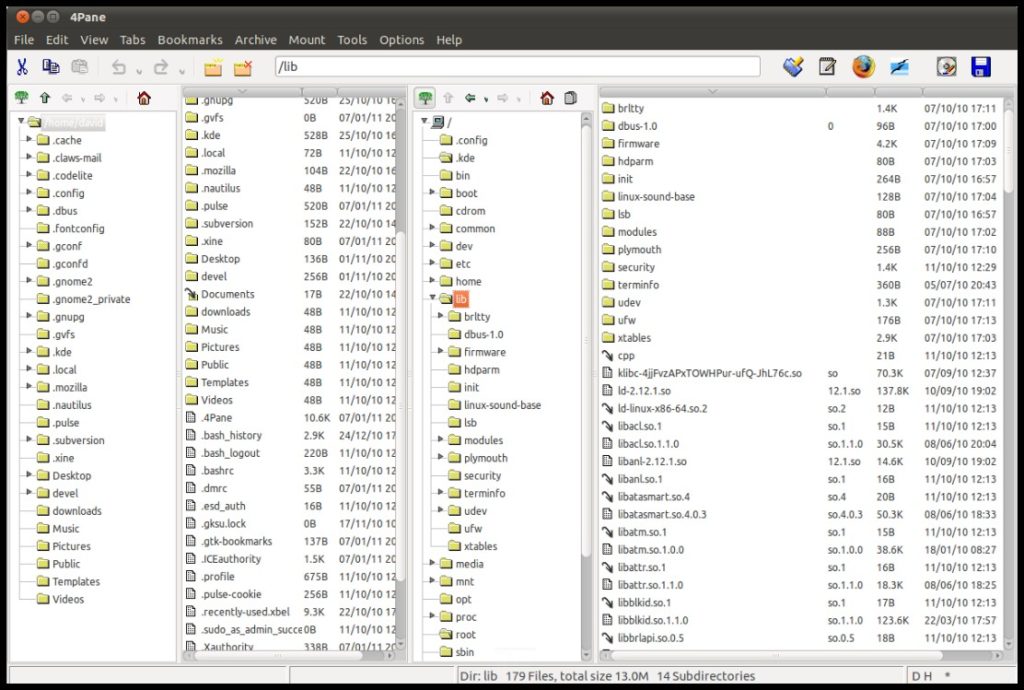 Standout Features:
Features an integrated terminal emulator
Ideal for mass renaming or creation duplications
Easy to operate
---
Nemo
Nemo is one of the best file managers for Linux that you will find in the category. It's a feature-packed app from Linux Mint for the cinnamon desktop environment. It is an open-sourced and completely free app that provides a clean, easy to navigate, and simple Graphic user interface.
A significant benefit of Nemo is that it uses GIO (Gnome Input/Output) and GVf (GNOME Virtual file system) to extract the best performance. It contains dual=pane mode, allowing you to conveniently copy, move, and paste folders or files. Another advantage of the file manager is that you can use it to access both the local files and network from a similar window. It also supports different bookmark management abilities (such as the GTK bookmarks management option) and offers potent navigation choices like refresh, back, forward, and up.
Nemo offers an integrated terminal that you can use to directly execute commands from the files manager. Users can also toggle among the path entry widgets and the breadcrumb widgets. If you want to extend its functionality, adding different extensions is also available.
Related: Best Antivirus For Linux
Standout Features:
Delivers impeccable performance
Supports FTP and MTP
Feature-rich file manager
---
Nautilus
Nautilius is an efficient app that you will find on Fedora 14, and it's suitable for perming all sorts of file managing tasks. When you load the software, you will witness the multi-pane affair by default, with a tree located on the left-hand side and some icons. The space at the top is reserved for viewing any file, and it's called the Browser mode of the app.
It also features a spital mode that opens a separate window for every folder you open. Hence, you can choose to view it in any mode you want. Nautilus is one of the best file managers for Linux in terms of features. It will let you view the directory contents in the compact, icons, and list view as it's all available through a drop-down menu. You can also select between the single or the double-clicking to open the file, while the thumbnails can be set on or off based on your requirements.
Nautilus also lets you have a different view of all the folders inside the window. It also contains other buttons inside the top bar, allowing you to visit the recently visited folders. A small symbol resembling an arrow and the right-hand side of every toolbar can activate its search functionality. A notable feature of the app is that it assists you in finding the files easily by attaching notes or emblems in the form of small pictures.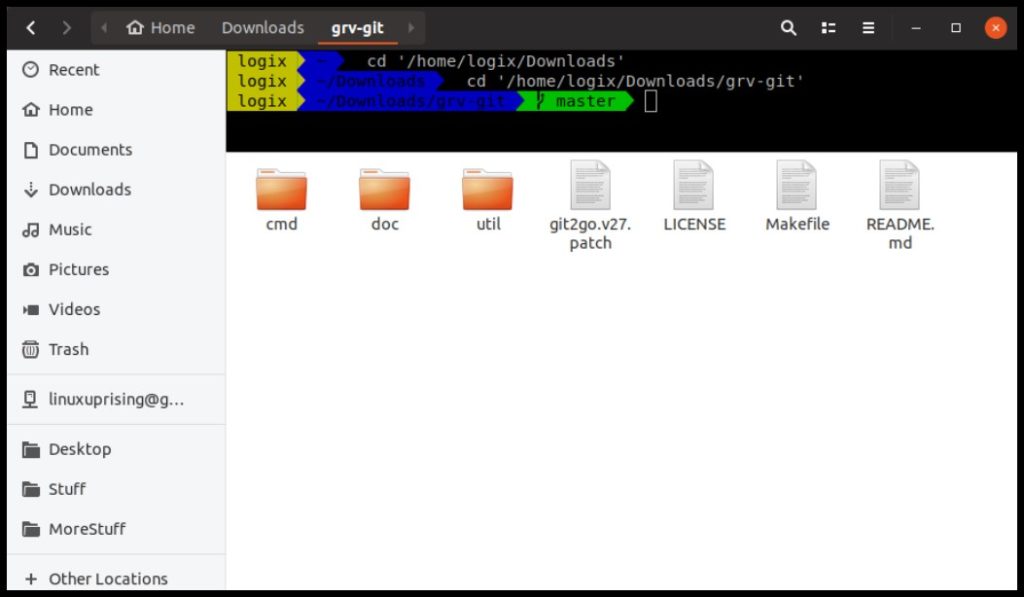 Standout Features:
Use the app in two modes
Assists in locating the files
Search feature to find a particular file
---
Thunar
Thunar is another exceptional choice on our best file manager for Linux list that aims to provide speed and a better response time than most of the choices in the category. The XFCE Desktop environment develops the software with the GNOME accessibility toolkit to provide better accessibility.
There are plenty of benefits to using the file manager; it's an easy-to-use choice that any novice user can benefit from while it provides the functionality that will meet the requirements of experts. Furthermore, if you ever feel that the default features of the app aren't enough, you can enhance its functionality through different plugins. It complies with all the standards, and you can access it through assistive technology. It features a terminal emulator built-in as well for efficient working.
Thunar will let you rename various files simultaneously. It also supports emblems to mark the folders for quicker and improved visual references. The software also features a volume manager that lets you automatically manage the detachable media devices. You can also efficiently send any file or folder using the "Send To" option.
Related: Best Linux Distro For Developers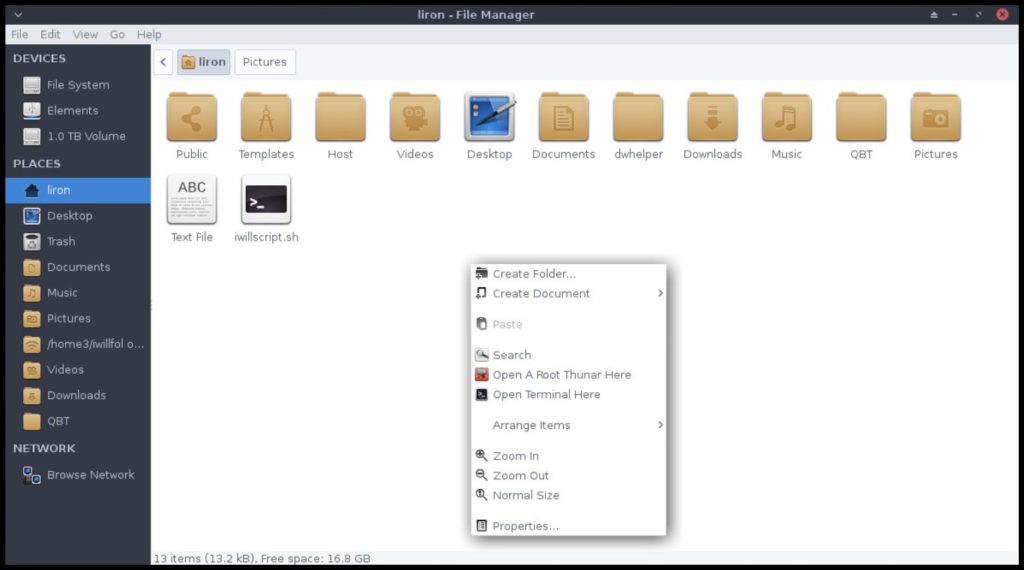 Standout Feature:
Lightweight and easy to use
Volume manager feature
It contains a send to option to share folders and files conveniently
---
Konqueror
Konqueror is an open-sourced and free app that provides some unique features, thus establishing itself as one of the best file managers for Linux. An exclusive feature is providing web access through its unique web browser system. It lets you access all the local files and the network ones from a single file manager. Hence, it is suitable for both a web browser and an efficient file manager.
Konqueror provides a simple yet functional user interface that instantly lets you move, copy, delete, and search for files. Furthermore, it also provides advanced features such as achieving success, SMB shares, FTP and SFTP access, etc. The app is highly customizable to meet all the user's requirements.
The app features an FTP client that splits the view interface to display both the local files and remote ones on a similar window. It is also compatible with many plugins, including KIO, KParts, kdegraphics, service-menus, thumbnails, etc. It lets users browse through the web with KHTML or KDEWebKit as its rendering engine.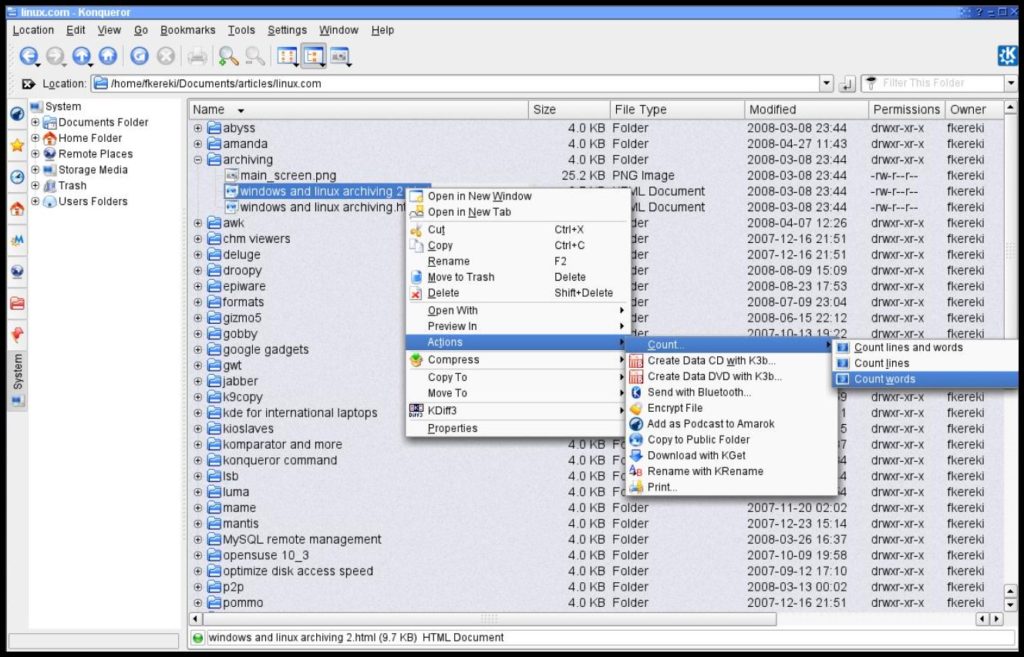 Standout Features:
Supports downloads from various sites
Efficient and easy to operate
Compatible with plenty of plugins to enhance functionality
---
PCManFM
PCManFM is a lightweight but feature-rich file manager created to compete with all the big names in the industry, such as Thunar and Nautilus. It ranks as one of the best file managers for Linux due to the tons of features, which are unlike many other choices. It is a free tool that features a twin panel, multilingual support, picture thumbnails, and bookmarks to ensure you get the most functionality.
PCManFM also provides multiple open views like detailed views, compact views, thumbnail views, and the icon view. The app offers a volume management feature that lets you efficiently mount and unmounts, eject the storage devices, and manage the space.
The app is compatible with Gvf and provides total access to remote files, which lets it handle WebDav, SPTP, and the SMB. The Drag and drop feature makes it convenient to operate while enhancing its accessibility. Finally, you can also customize the software by installing various plugins.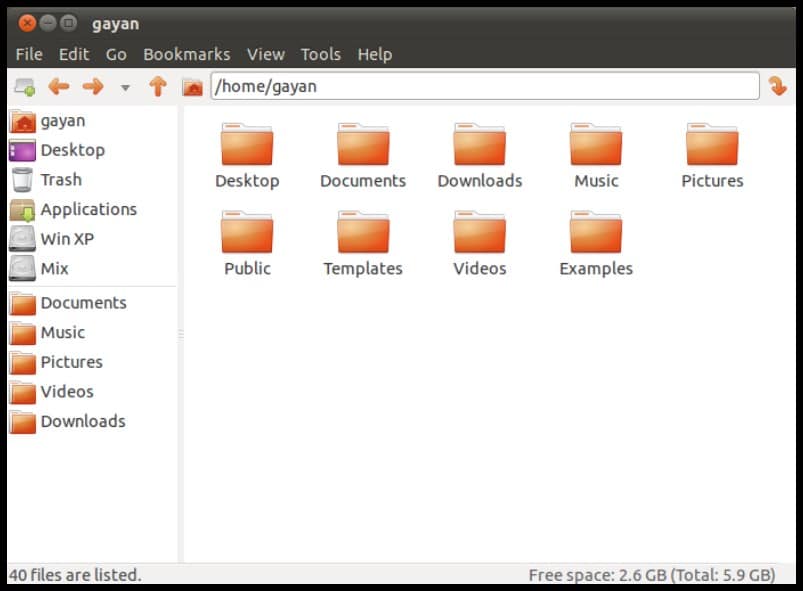 Standout Features:
Lightweight and easy to operate
Gvf support
Feature-rich choice
---
Final Words
Choosing the best file manager for Linux from our list above will depend on your requirements, preferences, and expectations. Since every user may want a different and exclusive set of features from the other, the most rational thing is to select the best file manager for Linux accordingly. Our list provides an insight into nearly all the features and what you will be getting while you download it. As per our recommendations, the top 3 picks in the category include Thunar, Konqueror, and Nautilus.
Thank you for reading! Try these out too:
General FAQs
What is the best file manager for Linux?
You can categorize several choices as the best file managers for Linux. It includes Thunar, Konqueror, Dolphin, and Nautilus.
Is Dolphin the best file manager for Linux?
Dolphin is an excellent Linux file manager which provides robust functionality and is the default choice for the KDE plasma environment.
Is Thunar better than Nautilus?
Thunar and Nautilus are two of the most popular choices in the best file manager for the Linux list. Both of these provide impeccable functionality and features while also being lightweight. It will depend on the user to use the one it finds the best.