Drawing on paper is good, but why waste paper when you have the best drawing apps. These drawing apps will assist you in drawing, sketching, and painting. Explore your creative ideas and draw them on the digital pages of your smartphones. We have compiled a list of the best drawing apps that can be useful for every artist.
Excited? so, let's get started.
Why you need the Best Drawing Apps?
Many conventional artists still prefer paper over digital apps for drawing. Both paper and drawing apps have their benefits, but we will be drawing your attention to some perks of drawing apps.
The error or mistakes can easily be erased and left no marks in the case of drawing apps. If you are drawing on paper, then the eraser marks affect the neatness of your work. Secondly, your piece of work is easily shareable with your peers.
You can save your drawing or illustration and then send it to your team members for approval. You can save all your artwork in cloud storage for later reference. Also, these best drawing apps will save your stationery expenses. You do not need to spend money on the art supplies over and over again. The best part about drawing apps, it saves paper.
Best Drawing Apps For Android
---
ArtFlow: Paint Draw Sketchbook
If you are looking for an application that can provide you with an in-depth tool for drawing, then Artflow is the best drawing app for android to assist you in the purpose. One of the primary reasons for its popularity is that it provides several brushes and options that will help you showcase your drawing potential to the fullest.
Artflow offers up to 70 different brushes along with smudge and various other drawing tools that will provide your artwork with an exclusive shine. A notable benefit of providing so many features is adding details to your drawings. Since the more visible parts of drawings are not the ones that will help you stand out, and it's the detailing that will add a unique touch to your drawing, the diversity of tools that the app offers will help you reach it. It also provides layers along with layer blending features.
Once you have created the artwork, the app will provide you with the opportunity to convert it into various file formats such as PNG, JPEG, PSD, ensuring that you can easily import it into the app later.
The app's other beneficial features include a GPU accelerated and high-performance paint engine, Canvases with 50 layers in up to 6144×6144. It also provides a pressure simulation for the touches and pressure support by Stylus. A feature that attracts a lot of users is customized brushes that you can get from imported images. It offers editing options such as layer filters and features a material designed and accessible, an intuitive user interface to top it all off.
Related: Best Step Tracker Apps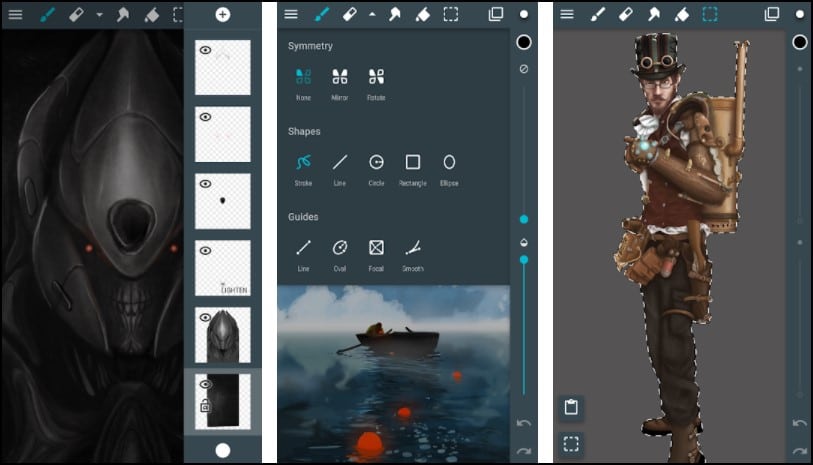 Standout Features:
100+ brushes and editing tools
Create customized brushes
Easy to use and operational user interface
---
ibis Paint X – Best Drawing Apps
ibis Paint X is a highly-functional best drawing apps that provide a wholesome solution to artists. The app offers 2500+ materials, 800+ fonts, 381 brushes, 71 filters, 27 blend modes, and much more. You can draw your piece of work at up to 60fps.
The app has a Radial line ruler and Symmetry ruler that ensures the geometrical accuracy of your drawing. The stroke stabilization feature gives a finishing touch to your work. You can record your drawing process as a video for later reference. You can analyze the recorded video and look for areas of improvement.
You can choose from the different kinds of brushes offered by the app. The app offer airbrush, oil brush, charcoal brush, and flat brush. You can also choose the thickness, opacity, and brush angle before initiating your artwork.
The app has in-app purchases along with premium membership plans. You can also join the YouTube channel of the app to get useful tutorials.
Related: Best Guitar Tuner Apps
Standout Features:
381 kind of brushes
Add unlimited layers
Record drawing video
Stroke stabilization
---
Adobe Illustrator Draw – Best Drawing Apps For Android
Adobe Illustrator Draw is a critically acclaimed app that can assist you in drawing vector artwork. You can create vector artwork with images, drawing layer, and edit it to add a final touch to your work.
The app allows you to sketch with five different pen tips that can be adjustable in size, color, and opacity. Adjust the pen tip to create the exact artwork that is mugging up inside your head. You can zoom up the image up to 64 times to add the finest and minute details to it.
You can work with multiple images and a drawing layer at a time that makes it the best drawing apps. You can also insert basic shape stencils to make your work appealing. If you are looking for some professional assistance, then you can try this app.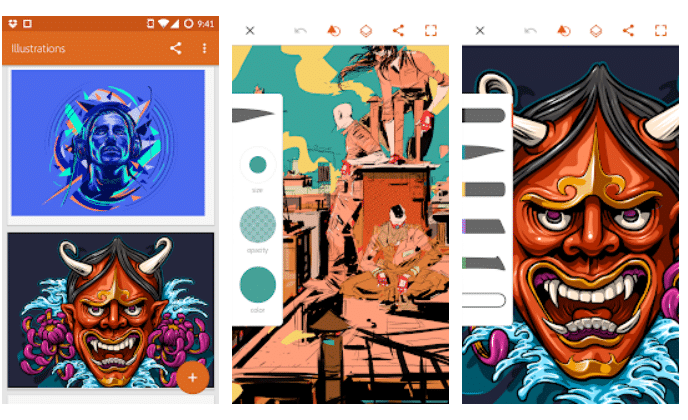 Standout Features:
Adjustable pen tip
Zoom up to 64 times
Work with multiple images and drawing layer
Adjustable drawing layers
---
Adobe Photoshop Sketch – Best Tablet Drawing Apps
We have another app from Adobe on our list of best drawing apps. Adobe is a leading name in digital art that offers the best tools to professional users. If you are looking for the best drawing apps with useful drawing tools, then you can go for Adobe Photoshop Sketch.
The app offers you 11 drawing tools with which you can start your artwork. The size, color, and opacity of the drawing tools are adjustable to suit your preference. You can use pencils, pens, ink brushes, soft pastels, and watercolor paintbrushes.
You can organize your favorite tools and colors in the toolbar for easy access. The app allows you to add multiple images and drawing layers that can be transformed and merged. You can send your work to Photoshop or Illustrator for further finishing.
Related: Best Home Workout Apps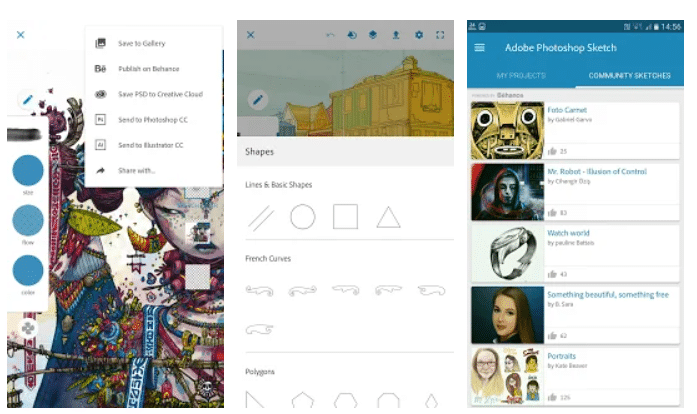 Standout Features:
11 adjustable tools
Use multiple tools for drawing
Add multiple images
---
Sketchbook – Best Android Drawing Apps
Right from the Editor's choice, we have brought Sketchbook app for every artist. From beginners to professionals, everyone can use Sketchbook to draw appealing illustrations. The app has customizable brushes that you can use to draw your creative ideas.
Open the app and start drawing the idea which has struck your mind, while sitting at home, laying on the couch, or traveling to your workplace. The app is highly rated and you must try your hand at this best drawing apps.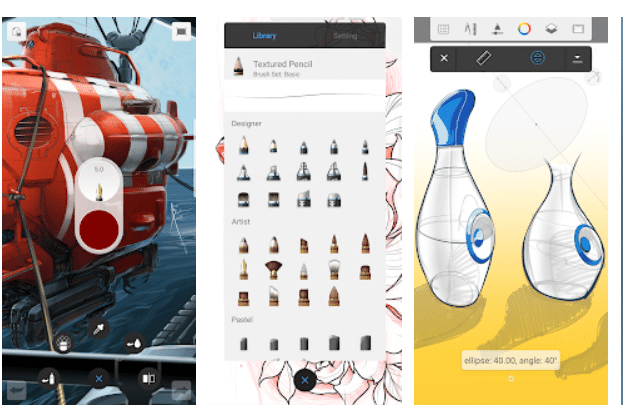 Standout Features:
Powerful sketching tools
Customizable brushes
---
PicsArt Color – Best Digital Drawing Apps
PicsArt is a familiar name for users who are into photo editing. The same developer brings you PicsArt Color, which can assist you in drawing eye-catching artwork. You can draw polished illustrations and add different color textures to them for an artistic look.
You can draw accurate illustrations with PicsArt Color, thanks to the unique symmetrical drawing feature. To add lively colors to your illustration, you can choose a diverse color combination from the color mixer section.
The app has textured customizable brushes that help you to draw your imagination with textures. It is one standout feature of the app that makes it the best drawing apps. You can also add multiple layers and blending modes in your work for fine finishing.
Related: Best Weight Loss Apps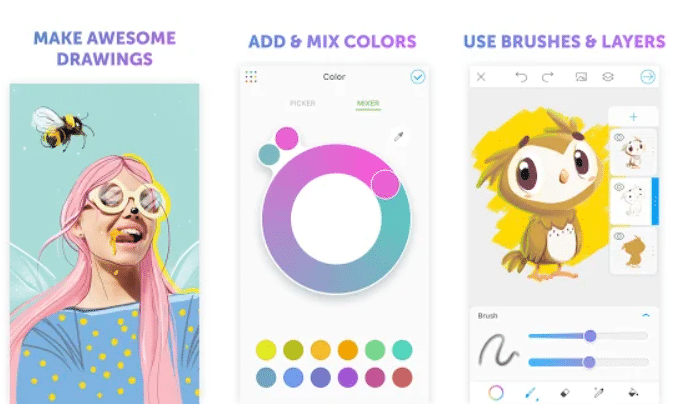 Standout Features:
Unique symmetric drawing
Textured brush
Customizable brushes
Color wheel and mixer
---
Paper color – Best Drawing Apps
Beginners can try their hands on the PaperColor app if they want to start from scratch. Papercolor is one such useful app where you can imitate the paintbrush to start learning the painting basics. You can sit anywhere and open to start imitating the sketch on your tablet or smartphone.
You need to choose the base map and set it to translucent to start polishing your creativity skills. There are many tools to choose from that will help you imitate the paintbrush, ruler, and eraser for you. After you have completed your sketch, you can add a handwriting signature to it.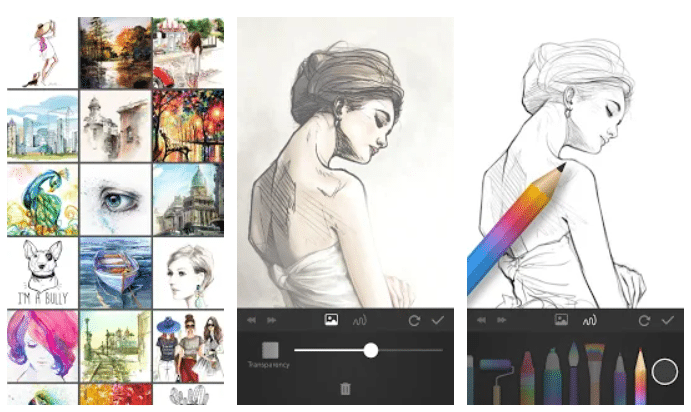 Standout Features:
Dexterous scaling
Draw on picture
Handwriting signature
---
Artecture – Best Architecture Drawing Apps
Artecture is a complete drawing app that will help you sketch, draw, and paint your artistic piece. You can draw architectural sketches, cartoons, illustrations, and oil paintings with this app. The app provides you with drawing tools like Pencil, Marker pen, Oil brush, Watercolor, Airbrush, and palette knife.
You can draw various geometrical shapes in accurate symmetry. The app also allows you to change the center of symmetry for desired results. After done with the drawing, you can add template coloring. You can rotate the canvas to achieve perfection and accuracy in your work.
Besides this, you can add images and text to your illustration. You can adjust, resize, and mirror the inserted image. All your work is automatically saved which ensures your work remains intact.
Related: Best Sports Apps
Standout Features:
Static background
Multi-touch shortcuts
Floating palette color
Tool presets
---
Concepts – Best Drawing Apps
Give your conceptual thoughts an artistic direction with the Concepts app. You can draw product sketches, design plans, and storyboards with this app. The app has realistic pencils, pens, and brushes where you can draw your concept. You can choose from the different paper types and grid canvas Concepts offered.
The standout feature of the app that makes it one of the best drawing apps is Vector-based sketching. You can move and adjust the size, color, smoothing, and scale of your illustration. Fill up your illustration from the Copic Color Wheel where you will get beautiful color textures. Subscribing to the premium membership will give you access to exclusive perks.
Standout Features:
Infinite canvas with many paper types and grids
COPIC color wheel
Flexible vector-based sketching
Customize everything
---
Simple Draw – Best Free Drawing Apps
Simple Draw can be the best drawing apps for kids. With a modern material design look, the app allows you to draw anything on its digital canvas. You can use different brush sizes to paint your imagination on the canvas.
You can also erase the errors or undo, redo any step while doing your work. You can adjust the background color or add an image to the background of your drawing. To add colors, you can choose from the color palette or paste the color hex code.
The app supports different formats like JPG, PNG, and SVG vectors. You can also share your artistic work with your friends in the social community.
Related: Best Personal Finance Apps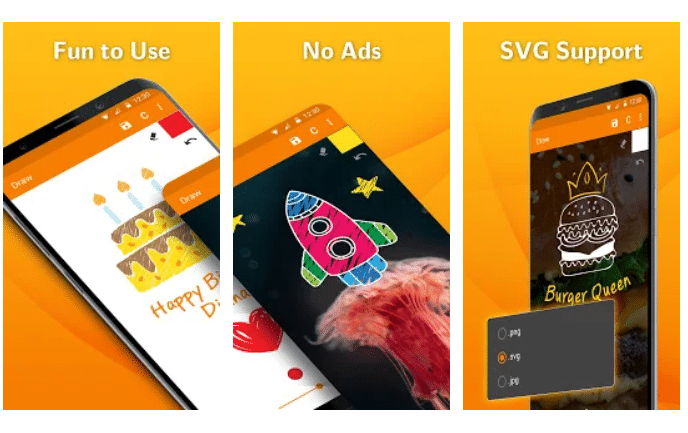 Standout Features:
Quick sketches
Supports different format file
Material design
---
Infinite Painter – Best Drawing Apps
The name might be suggesting to you what you will be getting in this app. The Infinite Painter app contains drawing tools that will assist you in drawing 3D cityscapes. You can try your hands on four symmetries and choose the one you will be starting with.
Create a clean and accurate line with tools like Pen, Lazy, Protractor, Line, and Ellipse. You can also add layers and photoshop blend modes to add an artistic flavor to your work. The app has more than 160 brushes to choose from. You can also create new brushes and customize its setting according to your needs.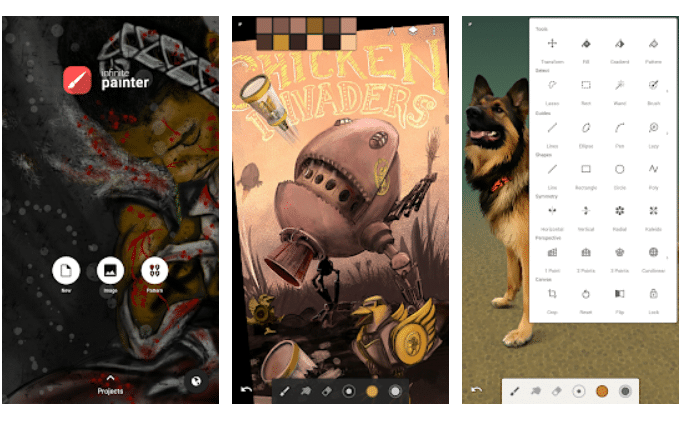 Standout Features:
Create customizable brushes
Four types of symmetry
Layers and Photoshop blend modes
---
Final Words
Download these best drawing apps if you want to explore the artist within you. You can try your hands on any of these apps if you are a beginner or a pro. Do like and share our content with your friends so we keep coming with more awesome content for you.
Thank you for reading! Try these out too:
General FAQs
Is the best drawing app for android good?
If you love drawing and want to take your game to the next level, getting the best drawing app for android is the ideal choice. The application will provide you with the best tools and editing options to enhance your skills.
Is the best drawing app for android easy-to-use?
Many of the applications have user-friendly interfaces that will provide you with all the tools. Additionally, the tools are pretty easy to use. However, a problem arises with more complex detailing, and most of the applications provide videos on how you can efficiently use all the features.