We often witness a lag in our smartphones with time. Junk files or downloading files from an unknown source are some of the reasons that can slow down your device. Consider these best cleaning apps if you are looking to improve the performance of your device.
Make sure to download cleaning apps from trusted sources. Opting for untrusted sources will further decline your device's performance. These are 10 of the best cleaning apps that can land on your app list.
Excited? So, let's get started.
Why do you need Cleaning Apps?
Cleaning apps can be a real savior for your smart devices as it can clean up and enhance performance. Various reasons should be on your check list while downloading the best cleaning apps on your device. The following could be some of those vital reasons to opt for a cleaning app:
Remove Junk and Residuals
With every file downloaded on your device, there are traces of junk that can be tracked by these cleaning apps. These cleaning apps scan and remove the junk accumulated by your device due to downloading files and apps from the browser.
There are various apps installed on your device. Some of the apps installed on the device are rarely used and eats the space of your device. Over time these unused apps create junk in your device that slows down your device. Cleaning apps gives you a brief insight into the apps and recommends you remove the rarely used apps from your device.
Over time our smartphones suffer lag due to the accumulation of junk files in your device. To remove the clutter of junk files, cleaning apps come into play. Cleaning apps detects and removes all the junk in your device to speed up performance.
Best Cleaning Apps For Android
Files By Google
All in one Toolbox
Bitdefender
CCleaner
SD Maid
Norton Clean
Mcafee Security
1Tap Cleaner
Cleaner For Android
Droid Optimizer
Note:
This list is not based on any preferences, this list is basically a compilation of some of the best and most popular cleaning apps that you can try right now. We also update this list every 3 months to keep you updated with the latest apps.
---
Files by Google is a popular app that helps you manage all your files and maintain the device's performance. The app filters your files into categories that can be easily accessed later. You can sort the files by their size that gives you an idea about the space each file is consuming.
You can then transfer a big file from your SD card to your phone's storage to free up space and make your device junk-free. The app gives you insights into what you are removing from your device. You get smart suggestions from the app to remove unimportant files from the device.
To save space on your device, you can opt for the cloud storage provided by this app. It is a 3 in 1 tool app which can clean up and boost your device's performance. You can use the app to share the files in quick time with a speed of 480mbps.
You may also like to read about Best Google Play Store Alternatives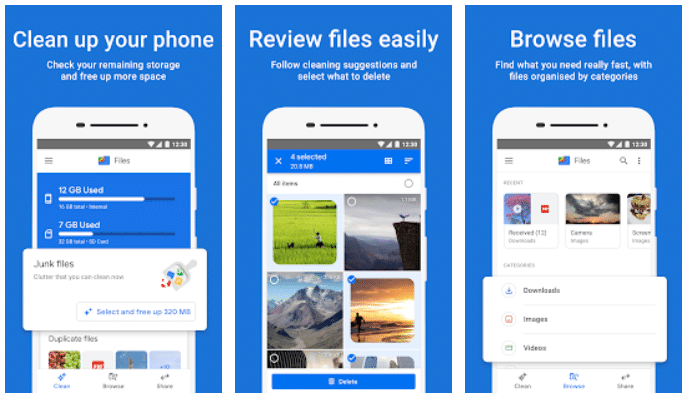 Standout Features:
Encrypted file sharing
Easily manage files
Efficient and effective storage management
---
All in one Toolbox is a compilation of useful tools that can optimize the performance of your smartphones. The app has tools like junk cleaner, battery optimizer, app manager, CPU cooler, and a mini launcher. The app shows phone storage status where you can track your RAM and ROM capacity.
Click on the clean junk button to remove the unnecessary files from your storage. You can free up to 400MB of memory every time you click on the boost speed button of the app. The CPU cooler will give tell you about the temperature of your processor. If it is above normal then the app will automatically close the apps running in the background.
The app lets you add plugins to manage your functions efficiently. You can add find direction plugin, boost game plugin, detect ad plugin, and other useful plugins. The app has in-app purchases that range between 65 INR to 790 INR. Plugins make this app the best cleaning apps for Android devices.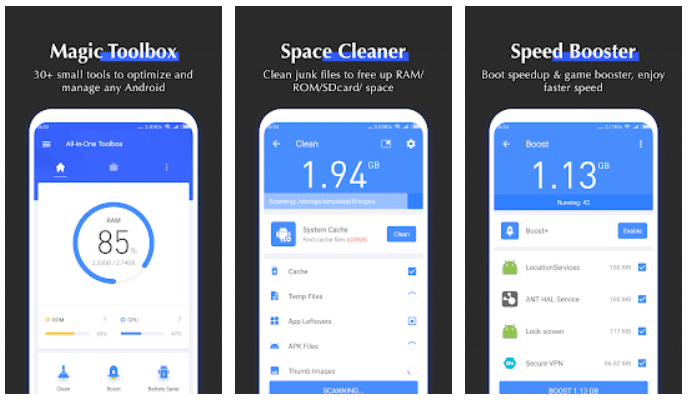 Standout Features:
Useful tools to speed up the device
Plugins to customize your device
Easy switch
---
---
CCleaner – Best Cleaning Android Apps
CCleaner has over 50 million downloads that which indicates its popularity amongst the users. The app is developed by the popular PC and Mac cleaning software that makes it highly preferable. You can safely clean the junk from your device by removing cache files, browser history, and clipboard content to optimize the speed of your device.
The app has a RAM booster to kill all the background tasks to restore the speed of your device. Analyze application impact helps you to keep track of each app installed on your device. You can check and delete the least used apps to free up space from your device.
Photos consume a lot of space in our device that slows down the performance. The app removes similar and low-quality photos from your storage. It also sorts the images according to file size and transfers them to cloud storage.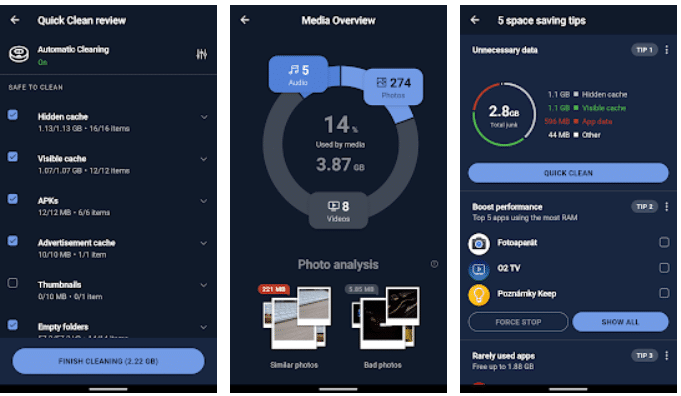 Standout Features:
Analyze application impact
Monitor your system
Optimize photo storage
---
Bitdefender – Premium Cleaning Apps
Bitdefender mobile security and antivirus is a popular antivirus app that has been topping the charts for many years. It is one of the most advanced and best cleaning apps that has an advanced security system against malware and viruses. The app comes with a Malware detector that alerts you about all the threats.
Protect your online privacy with the Bitdefender VPN that gives free 200 MB traffic per day. You can unlock all the restricted content in your country and get access to multiple virtual locations. The app has an Autopilot feature that gives insights into your device's security.
You can check whether your Email and account details are protected or not by running a check with Bitdefender Mobile Security. The fingerprint sensor support ensures that no unwanted or third party has access to your personal information. The app also detects harmful content from popular websites and keeps you updated with potential threats.
You may also like to read about the Best Writing Apps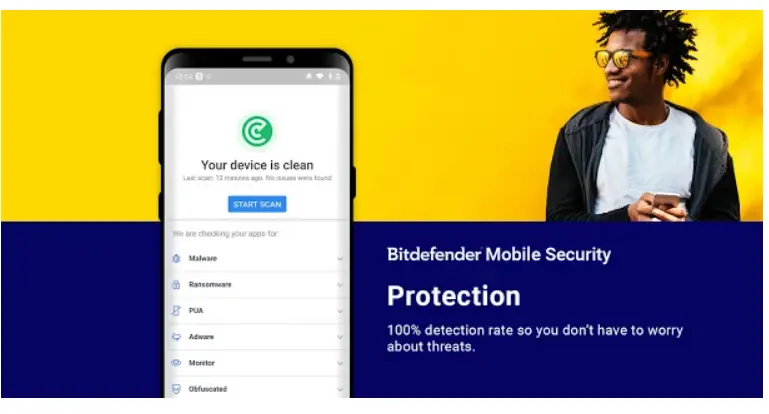 Standout Features:
Web protection
Anti-theft
Fingerprint sensor support
Account privacy
---
SD Maid – Best Cleaning Apps
The deleted apps on your device leave some residual on your device that all the cleaning apps cannot detect. That is where SD maid proves to be the most useful and best cleaning apps. The app has a full-fledged file explorer that check and remove the unnecessary files from your device.
The app can detect files belonging to the uninstalled apps and remove them to speed up the performance of your device. Run app cleaning feature to remove the junk and expendable files from your device. The app is free to use with some in-app purchases ranging between 25 INR to 820 INR per item.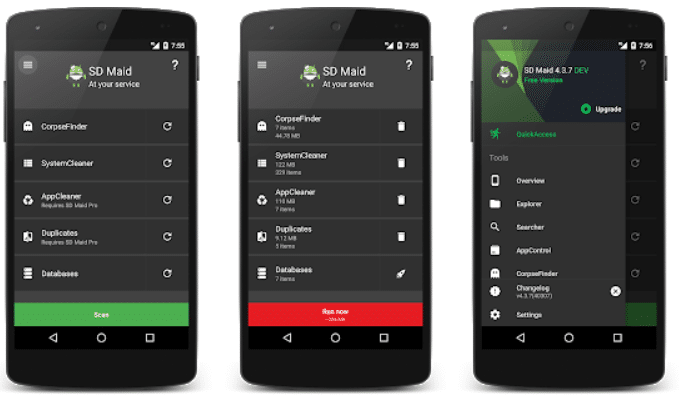 Standout Features:
Full-fledged file explorer
Detect files belonging to uninstalled apps
Run tools automatically on a schedule
---
Norton Clean – Best Overall Cleaning Apps
Norton is a known name that also offers quality antivirus software to protect their device from harm. Norton cleaner is another useful tool by the developer that save your device from internal harms like cache, junk files, and residuals.
If you are looking for a reliable name in the best cleaning apps category, Norton clean app will do the job for you. The APK file remover removes large APK files to optimize the speed of your device. The app analyzes the junk creating behavior of the apps and removes the cache and residual files out of your device.
The app uninstalls bloatware and memory consuming apps running in the background to offer you a smooth user interface. The app helps you to remove the clutter of unwanted photos from your device making space for useful data. The app is free to use and you can avail the features without paying a penny.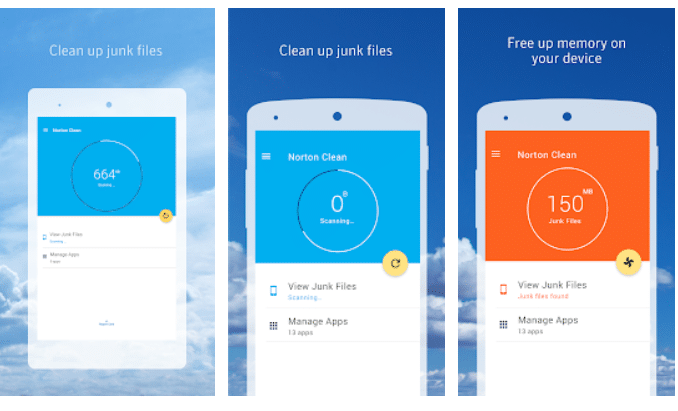 Standout Features:
Cache cleaner
Optimize memory space
Residual file remover
App manager
---
---
McAfee is a popular name in the Antivirus industry that offers useful tools to tackle online threats. The app offers you everything that you need to keep your device intact. The app has a Spyware detector, Wi-fi scanner, and mobile security features that are handy in removing all the unwanted foreign elements.
The app comes with phone performance optimization tools like battery booster, memory booster, and phone cleaner to retain the speed of your device's RAM and enhance the performance. The app alerts you when you visit any malicious website and protects you from becoming a phishing victim.
The spyware removal feature makes sure that you are away from the reach of frauds and hackers. The app offers a free wi-fi scanner to check and verify the security of the network. The Plus version of the app comes with all the standard and basic features that you look for in the best cleaning apps.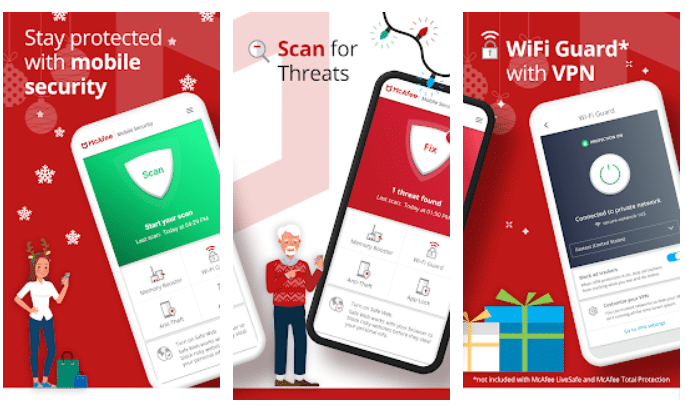 Standout Features:
Safe web
Backup contacts
Antivirus app scanner
---
1Tap Cleaner – Best Free Cleaning Apps
1Tap cleaner has 5 cleaner that helps you to clean sweep all the junk out of your device. The app has a simple UI where you can manage all your files and clean the residuals in one click. The app has a cache cleaner, history cleaner, call cleaner, default cleaner, and SD cleaner that erases all the unwanted files from your device. These overall cleaner tools make it the best cleaning apps.
The app has a home screen widget that shows you the cache on your device and the available space on your storage. The app sorts the application according to cache, data, code, and total size which gives you detailed insights into each app. The app will auto clean the device when there is a slow down in the performance. The app has a pleasing overall look that gets your things done in seconds.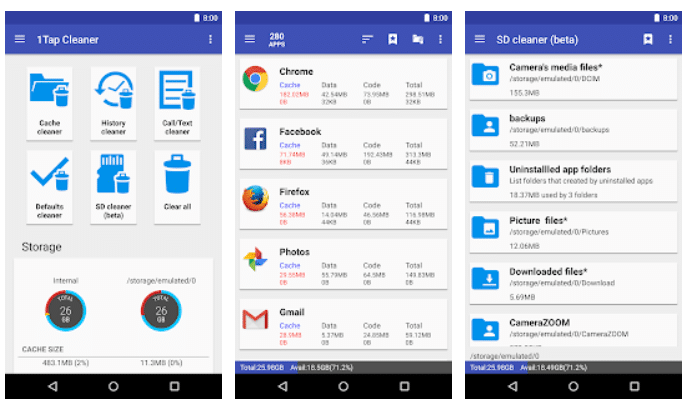 Standout Features:
1 tap to clear all cache
List all default apps
Auto clean when device slows down
---
Cleaner For Android is an anti-malware cleaning apps that fight and removes the tiniest of junk from your devices. The app has a file explorer to manage your files and extract the residual files from them. App manager display apps that are eating much of a space on your device. You can remove or clear the cache from those apps to maintain the speed.
The anti-malware feature makes this app the best cleaning apps. The app scans for the possible malware in your apps that can affect the performance of the device. We all receive media files mostly via WhatsApp and it becomes impossible to manage them. The app does this job for you by managing all your WhatsApp media files in one place.
The app hibernates the apps that help you to extend the battery performance of your device. The in-app purchases of the app are affordable that will not put much of a load on your pockets.
You may also like to read about the Best Augmented Reality Apps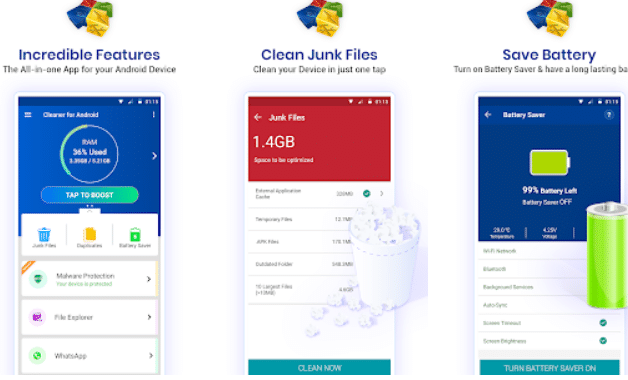 Standout Features:
WhatsApp module
Hibernate apps
Anti-malware
---
Droid Optimizer – Best Automatic Cleaning Apps
One of the smartest cleaning apps, Droid Optimizer is next on our list of best cleaning apps for Android. The app has a pleasant looking dark theme look coupled with some useful cleaning tools. The app can clean and accelerate the performance of your device in seconds.
The app carries out cleaning tasks automatically that saves your time and effort. The app smartly manages all the apps installed on your device and removes junk from them. To keep this boring task of cleaning interesting, the app has a ranking system that rewards you with funny pictures you clean your smart devices every time.
The app has an integrated Good Night Scheduler which conserves the battery of your device during the night. You can use this feature to extend the battery life of your device.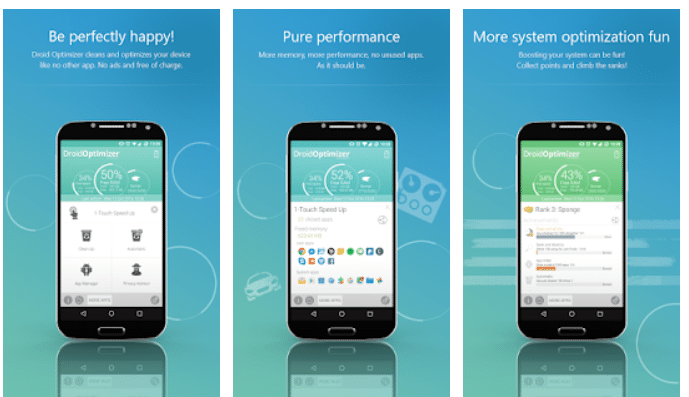 Standout Features:
Dark theme
Ranking system
Good night scheduler
---
Final Words
Install your favorite app from our list of best cleaning apps right away on your smartphones. Comment and let us know about your favorite app on the list. Also, suggest to us some other topics on which you would like to see an article on.
FAQ
Which are the best free cleaning apps for Android?
Norton Clean
1Tap Cleaner
Droid Optimizer
Is it safe to install cleaning apps?
Yes, but you need to make sure that the apps you are installing is done from a trusted source. Downloading APK files from untrusted sources will slow down your device.
How can I protect my phone from virus?
You can either use Antivirus software or Cleaning apps to secure your device from virus.