Top companies in the world at this moment provide the best after-sales service to their customers. When the customer gets the assistance he needs after buying your product or availing of your service, his satisfaction is enhanced. The same goes for the virtual buying and selling platforms. If you are looking for the best chat plugins for WordPress, then you have landed on the right page.
Best Chat plugin for WordPress provides personalization and prompt response to every query of the customers. It can equip you with the best feature that you need to solve queries of your customers after the sales. It can also enhance your business workflow and create a harmonious balance within the ecosystem. Before delving into our listicle of the best chat plugin for WordPress, let's look at the things which make it a must-have for your business.
Excited? Let's Get Started
Benefits Best Chat Plugin For WordPress
Helps Building a Healthy Customer-Seller Relation: When your support team provides prompt resolution to the customer's queries, it can help build a healthy customer-seller relationship. With the help of the best chat plugin for WordPress, you can provide fruitful support to the customers and retain them for longer periods. 
Higher Customer Retention: When the customer is satisfied with the after-sales service of your brand, there is a high degree of possibility that he will prefer your brand again. Moreover, he is likely to recommend your products to his friends which can also yield fruitful long-term prospects for your business. WordPress chat plugin is capable of providing quality after-sales service to the customers and can help you maintain high customer retention.
Best Chat Plugin For WordPress
---
Zendesk
Zendesk's best chat plugin for WordPress provides comprehensive solutions to manage your customer's query. You can set some preset conditions based on which the support agent of your team will promptly respond to the queries. Action-based prompts provided in the Zendesk platform will help you maintain a smooth workflow in your sales cycle. Besides this, Zendesk tracks some of the vital metrics that can help you improve your product and services.
You can assess all the customer-related data in one place with the Zendesk live chat support. Zendesk has an interactive dashboard that will help you manage all the queries instantly. Also, you can add knowledge base articles to your website to further enhance the overall experience of the customers. The free version of Zendesk has limited features while the paid version gives access to more useful features. In the paid version, you get access to Automation and Workflow, Ticketing systems, Social Media Messaging, Reporting and Analytics, and much more.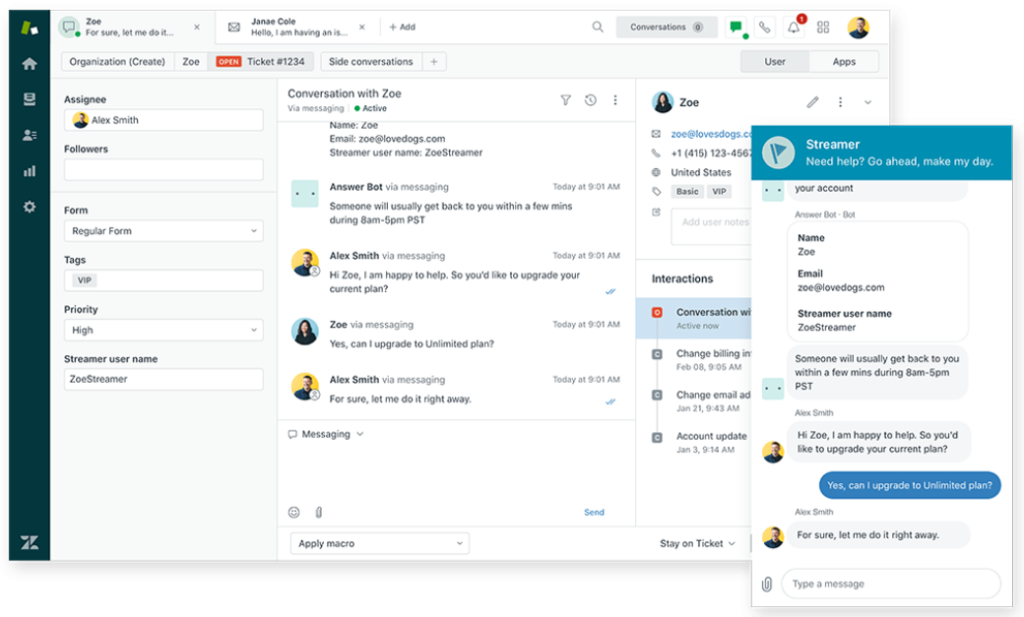 Standout Features:
Action-based prompts
Add knowledge base articles 
Ticketing system
Smart triggers
Try This Best Chat Plugin For WordPress
---
Live Chat
Trusted by more than 34,000 companies worldwide, Live Chat is the next best chat plugin for WordPress on our list. It has some cool features to go with due to which we highly recommend it to the users. There is a live chat pop-up available at the screen's bottom of every customer. Customers can access the live chat box with one click and mention their query.
Salespeople and agents can also customize the chat window based on their preferences. Every conversation with the customer is marked with colorful circles. The colored circles indicate the wait time of the customer to get the response for their query. The Live Chat WordPress plugin has a single dashboard that helps you access all the metrics in one place. Also, you can analyze the detailed reports of the support you provided to keep a record of your performance. You can have the 14 days free trial version before taking the paid plan of this best chat plugin for WordPress.
Related: Best Budget Apps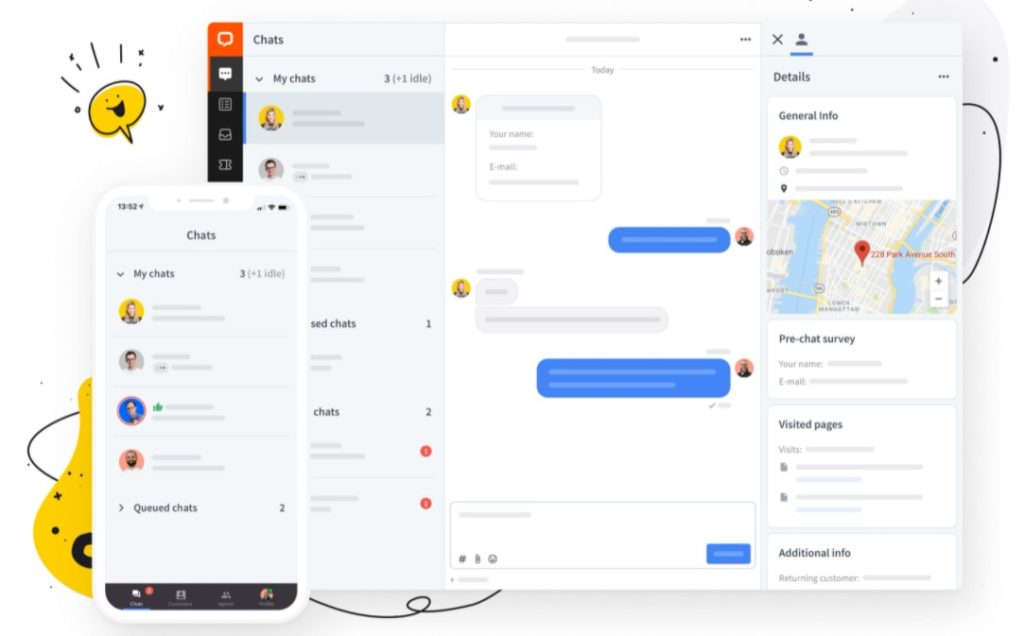 Standout Features:
Live chat popup
Keep track of your performance
History of previous charts
Customizable chat window
Try This Best Chat Plugin For WordPress
---
Olark
Olark provides the best features at the best prices in the industry which makes it the best chat plugin for WordPress. It is ideal for any team size and can manage all the after-sales service efficiently. It has chat tools where you can have visitor details and track the URL of each visitor. Chat tools also provide desktop notification features so that you are never late to respond.
The Chat Analytics features can help you determine and monitor the chat volume. You can have Emailed reports, visitor history, and transcript archives with the Chat Analytics feature. You can also assign chats based on per-user conditions with the Olark live chat support. Canned responses will help you provide swift responses to the customers with keyboard shortcuts. Some other features that you will be getting in the paid plan of Olark are Unlimited chat history, Customizable chatbox, Advanced real-time reporting, Targeted chat, and Agent groups.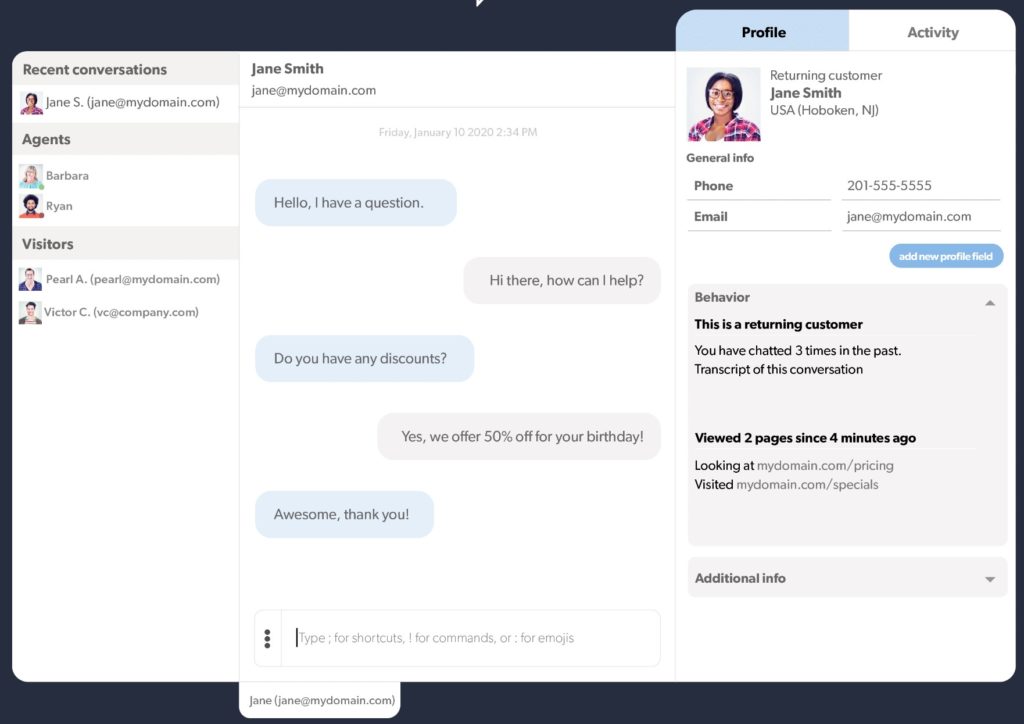 Standout Features:
Rich in customization
Automation
Integrations
Unlimited chatbox
Try This Best Chat Plugin For WordPress
---
SendinBlue
You can set up a personalized chatbox for your visitors on the Sendinblue platform. The best part is that you can modify the color and add your business logo so that the visitors can identify you easily. Besides the chat room perks, Sendinblue also offers Email and SMS marketing that can be beneficial for your online business.
After you are done configuring your chatroom, all you need is to copy the code snippet and paste it into your website's header. The platform also offers the benefit of a shared chat inbox. It will help all the members of your team to have access to the chat history of visitors. To give swift responses and resolutions, you can directly track the current web page that the visitor is browsing. This best chat plugin for WordPress lets you track all the visitor-related details in one place.
Related: Best Route Planner Apps
Standout Features:
Create a customizable chat room
Track the current browsing webpage of visitors
Share inbox with your team
Try This Best Chat Plugin For WordPress
---
Formilla
You can use the Formilla plugin to improve the retention rate of your visitors. Formilla provides simplified multi-channel communication to solve the queries of your visitors instantly. You can create custom chatbots that can book meetings and handle queries of your potential customers. This WordPress chat plugin is AI rich that can automatically respond to the common queries of the visitors.
You can also use the chat room to target the visitors to become your future customers. The chat room can automatically display custom messages to catch the attention of the visitors. This best chat plugin for WordPress is also accessible on Android and Apple operating systems.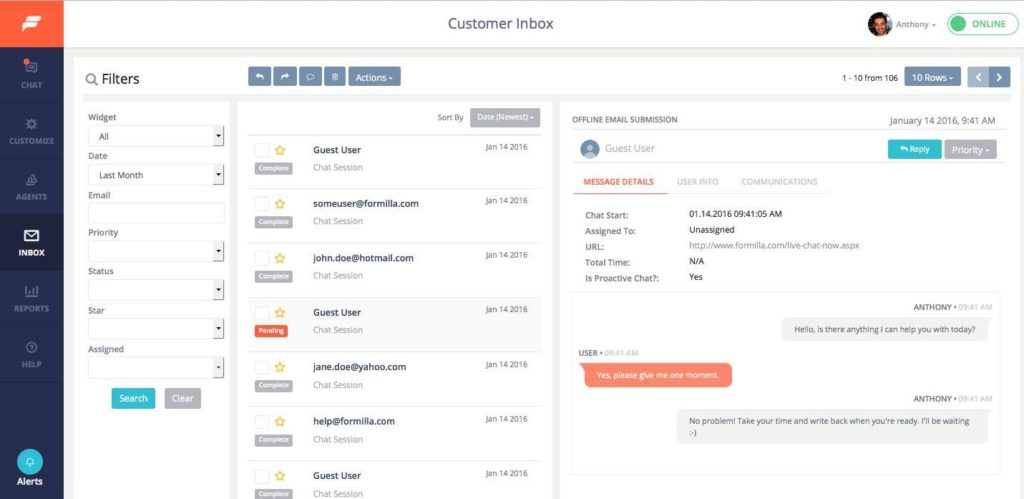 Standout Features:
Simplified multi communication channel
Create custom chatbots
Automatically display custom messages
Try This Best Chat Plugin For WordPress
---
Support Board Live Chat Plugin
SupportBoard Live Chat Plugin is a visually appealing platform where you can interact with your visitors in real-time. The platform provides loads of support to the web page owners which makes it the best chat plugin for WordPress in this list. You can translate the queries of foreign visitors in seconds with this chat plugin. Also, you can set saved replies for specific messages that will enhance the overall experience of the visitors.
The chatroom of this best WordPress chat plugin is also accessible in offline mode. You can generate reports to analyze the support your agents are providing to the visitors. Visitors can also rate the agent's performance and how he handled the queries. This platform is also automated and you can use the SmartBot to improve the efficiency of your business. This best chat plugin for WordPress is compatible with Facebook, Telegram, and other social media platforms.
Related: Best Keto Apps
Standout Features:
Real-time translations
Agent ratings
Offline message
Automated communication
Try This Best Chat Plugin For WordPress
---
Tidio
Tidio is a free live chat plugin that provides a wide array of services to web page owners. You can find out about the frequently visiting customers on your website and engage them to make your permanent customers. The chat room is highly customizable and you can modify it according to the suitability of your webpage. Tidio offers dozens of chatbot templates that can automatically collect and qualify leads. If you are a beginner, you can use the drag and drop feature to create a chatbot from scratch.
Besides being desktop friendly, you can access the visitor's live chat on your smartphone directly. You can also collect emails proactively with the help of the automated bot replies on Tidio. To further enhance the CRM, you can send necessary and valuable information related to your product and services in the chatbox. You can manage all your chats, emails from one panel on this best chat plugin for WordPress.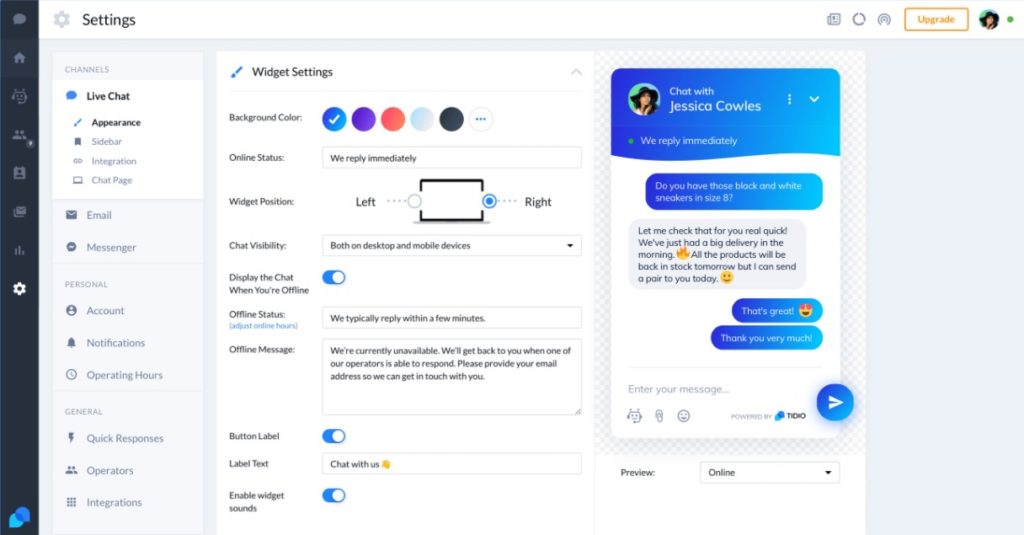 Standout Features:
Customizable live chat widget
Dozens of chatbot templates
Tailored content for visitors
Try This Best Chat Plugin For WordPress
---
WP Telegram
Telegram is a popular digital communication channel where hundreds and thousands of content creators interact. WP Telegram provides live support to the visitors on Telegram. It can be a good option for you to use this plugin if you are new in the industry. It is free and easy to set up a chat plugin for the admin on WP Telegram. This best chat plugin for WordPress offers multiple channels and chat options to the admins.
The platform has a Message Template composer with emojis that you can use to make interactions with your visitors more interactive. It also supports conditional logic that you can place inside the message template. Volunteers can also participate and translate the content for the other users in their native language.
Related: Best Manga Apps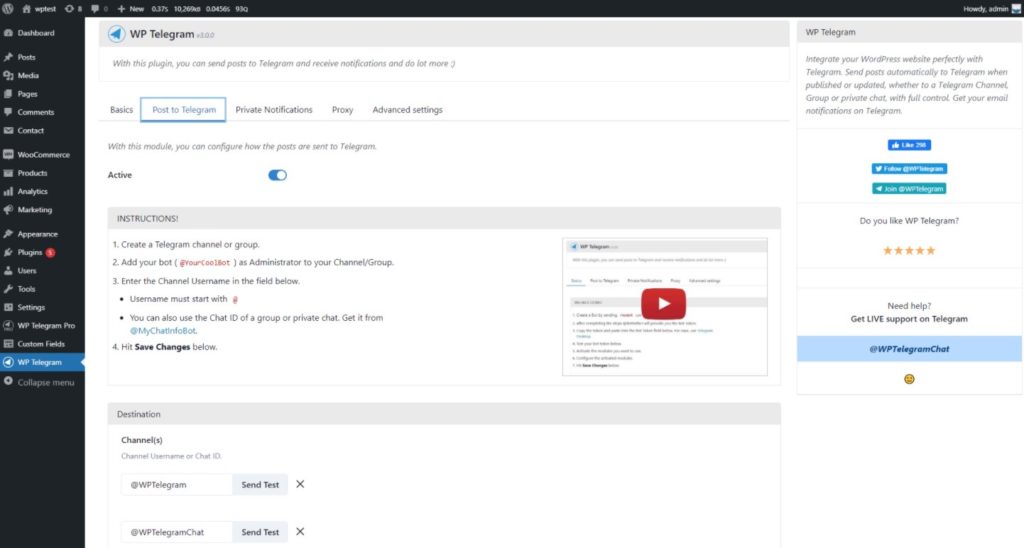 Standout Features:
Template composer with emojis
Supports conditional logic
Translations available in multiple languages
Try This Best Chat Plugin For WordPress
---
3CX Live Chat
Moving further on our list, the next best chat plugin for WordPress is 3CX. It is an easy-to-use live chat plugin that can help you build rapport with potential customers. You can set up unlimited agents or transfer chats to other agents easily on 3CX chat. In order to improve the efficiency, you can set up departments for visitors' queries. You can customize and apply live animations to your chat window while interacting with the visitors.
Offline messages can be stored and accessed later on the 3CX Live Chat plugin. You can add surveys and polls to the chatbox to have a healthy interaction with the visitors. 3CX provides a comprehensive list of live chat options that you can choose from. You can set multiple data triggers like scroll trigger, page trigger, and on-page leave trigger to gain a better understanding of the visitor's behavior.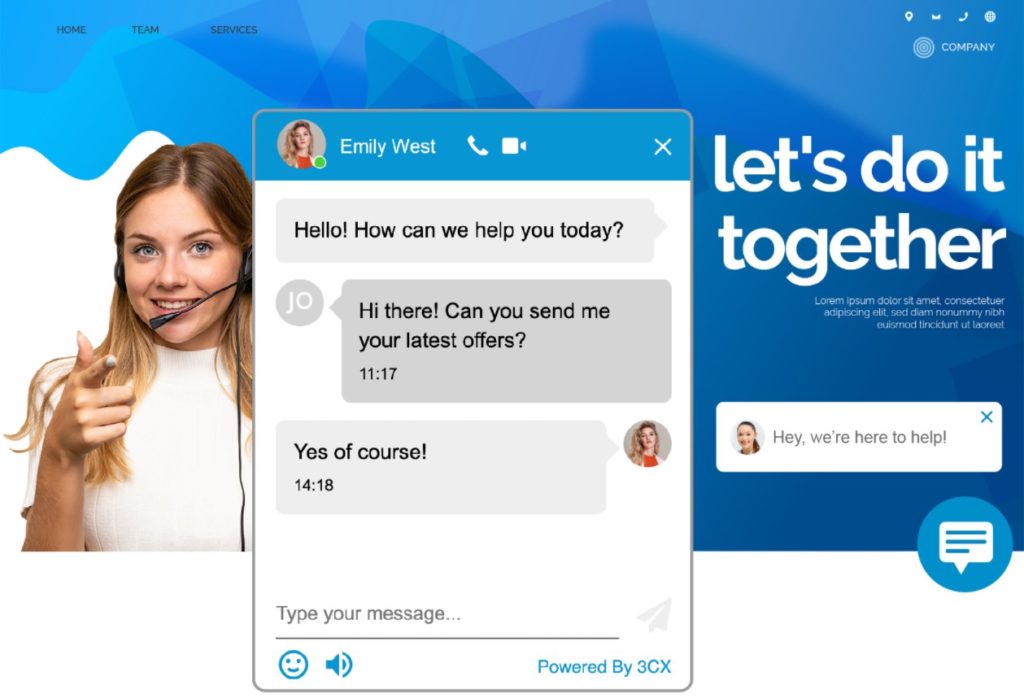 Standout Features:
Apply animations to chat window
Set data triggers
Insert predefined responses
Try This Best Chat Plugin For WordPress
---
Crisp
Instantly provide resolutions to your visitors with live chat support on the Crisp chat plugin. You can track what visitors are typing in real-time so that you can provide answers to your responses. The platform provides detailed information about the visitors like name, picture, location, and browsed web pages. You can add smileys and animations to make chat interactive with your visitors. This best chat plugin for WordPress provides an unlimited live chat service that you can benefit from.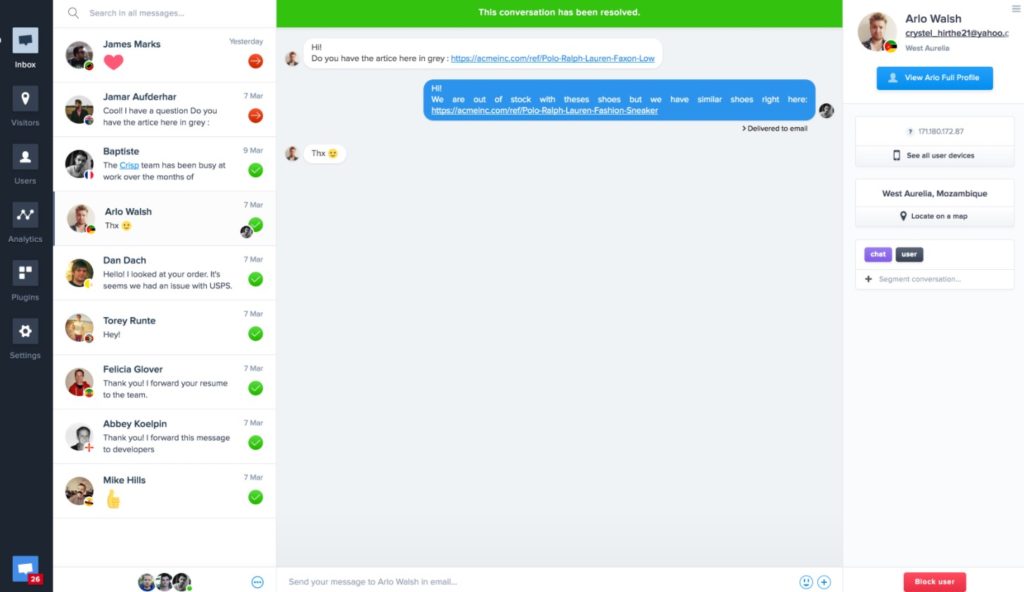 Standout Features:
Automated chatbot
Sales live chat
Multiple plugins
Try This Best Chat Plugin For WordPress
---
Final Words
We hope this list would be useful for you if you were looking for the best chat plugin for WordPress. We have diligently compiled this list to cater to your needs. Our top recommendations on the list are Zendesk, Olark, Livechat, and Formilla which you can pick for your online business. You can also mention your top picks of the list in the comment box below along with your valuable suggestions.
Thank you for reading! Try these out too: