Numbers are the most baffling concept for every student. From the science to the commerce field, numbers exist everywhere. Over the years, Acamedics have seen unique patterns behind numbers that led to the discovery of mathematical branches. To solve simple and complex mathematical operations, we are presenting a listicle of the best calculator app.
Best calculator apps can be handy for students, teachers, researchers, and number lovers. With the best calculator apps, you can solve mathematical, finance, and other problems. Without further delay, let's dive into the benefits, and second, a comprehensive briefing of each app on our list of the best calculator apps.
Excited? So, Let's Get Started.
Benefits Of Best Calculator Apps
Scientific calculators are readily available: Earlier, scientific calculators were not readily available, and they were expensive. With the advancement in technology, pocket scientific calculator apps are now readily available for free.
Saves time: Best calculator apps provides both standard and scientific calculator. You can solve a complex mathematical and derivative problem in seconds with calculator apps. Without any need for a pen, paper, and manual effort, you can calculate any equation in seconds, saving time.
Plot graphs: One prime benefit of the best calculator app is that you can also plot 2D and 3D graphs. Apps like Desmos Graphing Calculator and WolramAlpha are handy in plotting graphs. You can zoom in on graphs, show the point of interest, and use sliders to adjust the graphical value.
Multi-utility: Besides calculating and solving mathematical equations, the best calculator apps are handy in

currency conversion

, unit conversion, and plotting graphs. Standard and scientific calculators are readily available in calculator apps and provide multiple utilities to the users.
Best Calculator Apps For Android & iOS
---
Calculator Plus
Calculator Plus is one of the most "25 Essential Apps", according to USA Today. The app has a beautiful design and user-friendly interface that help users perform simple and complex mathematical problems. It shows calculations in a clear, elegant way with appropriate commas to separate the periods. You can use the swipe memory keys to access mathematical functions and solve them.
The app also has multi-window support where you can open multiple windows and solve maths problems. You can solve arithmetic, geometrical, and other maths problem conveniently. It is a highly-rated app which we will recommend to the users looking for the best calculator apps.
Related: Best Guitar Tuner Apps
Standout Features:
Swipe memory keys
Multi-window support
Elegant design
---
CalcNote
CalcNote app comes with a notepad-style interface that makes solving complex calculations an easy task. It gives a real-time result of the mathematical expressions and operations. You can combine text lines with operations or perform multi-line combined calculations with the CalcNote app. The app has a swipe interface that will help you switch between different keypads in no time.
You can solve mathematical operations and trigonometric functions using the CalcNote app. Also, the app has a unit and currency converter that can convert different mathematical units. The currency converter can convert over 156 currencies. You can customize the keypad background theme, size, and layout, making it one of the best calculator apps. Besides this, you can calculate power, factorial, permutation and combination, square and cube root problems.
Standout Features:
Notepad style interface
Currency and unit converter
Customizable keypad
---
Calculator++
You can solve simple, complex, and engineering problems with the Calculator++ app. It is a multi-purpose app that can solve any mathematical problem instantly. It produces automatic results when you put the mathematical operations. You can choose portrait and landscape orientation while solving the mathematical problems. The app has a standard and engineered keyboard layout that you can change based on your preference.
You can also plot 2D and 3D graphs with the Calculator++ app, making it one of the best calculator apps. The app has a floating window widget that you can place on the home screen while multitasking. Calculator++ has built-in functions, and you can also create custom functions to solve specific mathematical problems.
Related: Best Home Workout Apps
Standout Features:
Produce automatic results
Floating window widget
Built-in and custom functions
---
HiPER Scientific Calculator
A scientific calculator can be one of the handy tools for academics and students in the research phase. For that purpose, the latter app on our list of the best calculator apps is HiPER Scientific Calculator. You can perform arithmetic operations like percentage, modulo, and negation with this scientific calculator.
You can repeat any operation an unlimited number of times and use unlimited braces while solving the problems. Also, you can solve derivative and integral problems and plot 3D graphs. The app has more than 90 physical constant and 250 unit converters, making it stand out from its peers. The overall feel and design of the app are top-notch, thanks to high-quality themes. The app has a MultiLine display that helps you access the calculation history.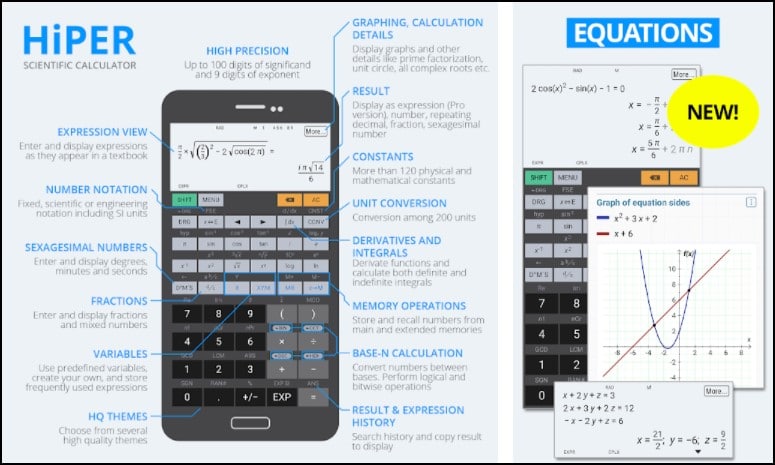 Standout Features:
Perform complex arithmetic operations
Solve derivatives and plot 3D graphs
High-quality themes
---
My Script Calculator 2
My Script Calculator 2 uses a drag and drop interface to solve mathematical problems. You can copy the problems by dragging and dropping them into the app to solve the problem. Also, you can write several calculations on multiple lines to solve complex problems. The app supports maths functions, power root, and exponents, Trigonometry, and Inverse Trigonometry functions. You can save the results in the memory of the app for later reference.
Related: Best Weight Loss Apps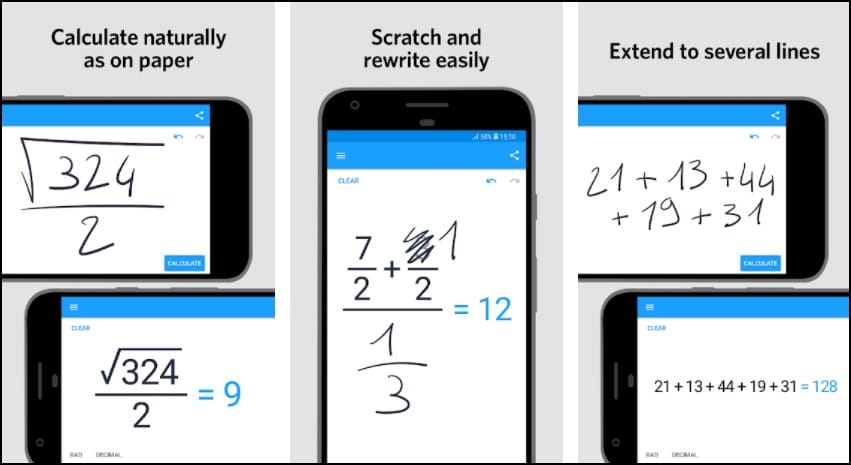 Standout Features:
Intuitive interface
Save calculation in memory
Support complex mathematical functions
---
CalcKit
CalciKit app can be an ideal choice for users looking for a multi-utility calculator. It is a calculator that users can use in maths, electronics, and finance fields. A customizable scientific keypad eases the task of solving complex problems. You can set the floating widget of the app on your home screen while multitasking.
With the help of the advanced calculation history, you can recall the steps of calculation to verify the results. The app can convert more than 180 currencies into local currency alongside crypto conversion. You can create a shortcut on the home screen for quick access. This best calculator app has a custom tool builder to create up to 25 variables per calculator.
Related: Best Sports Apps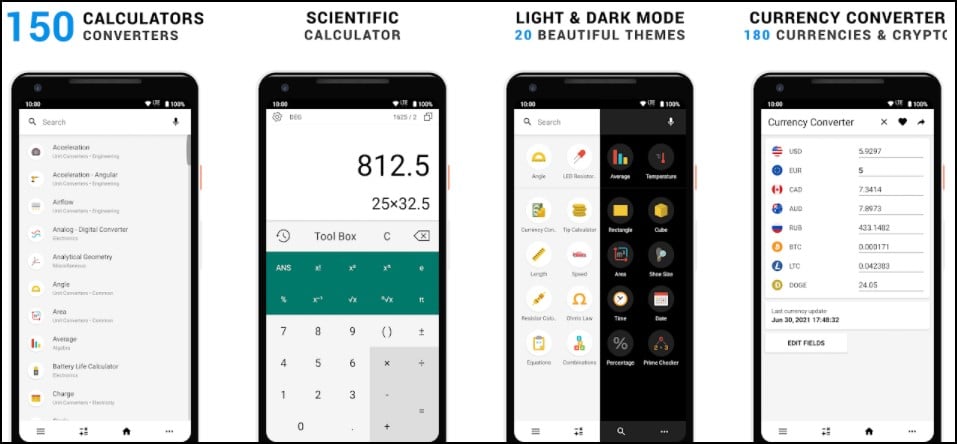 Standout Features:
Floating widget
Fast search engine
Customizable scientific keypad
---
Scalar
Scalar is a blend of the simplicity of a standard calculator paired with the flexibility of scripting. The app has a standard and advanced scientific calculator to solve complex mathematical problems. It has user-defined arguments, functions, and random variables that will be handy in the calculation. You can reuse the previous calculation to solve equations quickly.
The app has in-built and personalized scripts that users can use based on their preferences. Also, you can take the assistance of the in-built examples to solve mathematical problems. Besides this, the app has set variables, function graphs, expression, and range.
Related: Best Credit Score Apps
Standout Features:
Standard and scientific calculator
User-defined arguments
In-built set of examples
---
Photomath
Photmath is a free best calculator app, specially designed for solving Mathematics problems. It will help you solve Algebra, Calculus, Linear Equations, Fractions, Decimals, and integers problems within a click. The app can be a perfect learning app as it solves the equation and gives you a step-by-step procedure of the solution for conceptual understanding.
Not only that, but the app also will give you more than one method to solve any problem. The app is free, while the premium version includes some additional benefits that include more helpful study material and tools.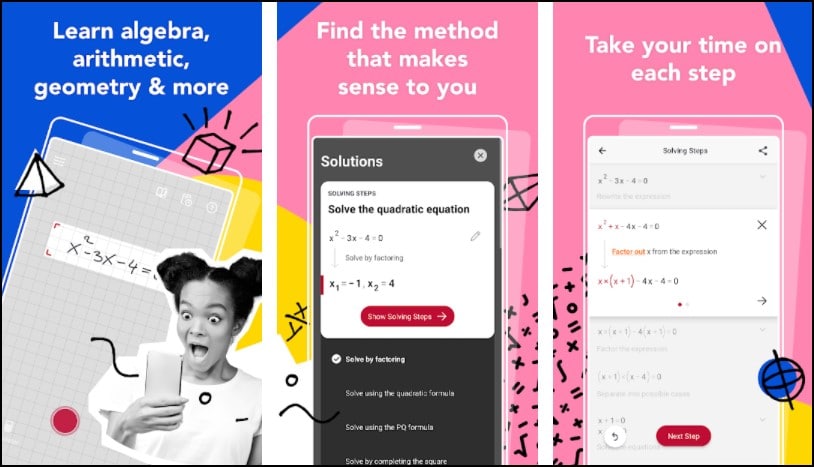 Standout Features:
Suggest multiple solving methods
Step-by-step procedure
Easy to use
---
Mobi Calculator Pro
With high accuracy results up to 30 digits, Mobi Calculator seems to be the right choice for the students. It has big buttons that assist you in quickly performing operations. The app has customizable buttons on the main screen that you can assign accordingly. You can use different calculation modes like operation priorities and rounding.
The app is available in multiple languages, making it one of the best calculator apps. Some mathematical functions of the Mobi calculator app are trigonometrical function, logarithmic, and other functions. You can choose from the multiple dark theme options available in the app.
Standout Features:
Customizable buttons
Available in multiple languages
Dark theme
---
Desmos Graphing Calculator
Visual learning is always fun and interactive. Mathematics paired with graphs is the best combination to learn any concept. It is where Desmos Graphing Calculator comes into play. You can plot polar, cartesian, and parametric graphs in seconds with the Desmos Calculator app. The app has a scientific calculator that can solve square root, logs, and absolute numbers.
You can use sliders to adjust the graphical value to create a visual effect. Also, you can find the best-fit lines and parabolas with the help of the statistics feature. The app allows you to input and plot data in tabular form for any function. Zoom in while making critical observations of the graphs with the help of the Zooming feature. You can easily portray the points of interest to show maximum, minimums, and intersection points.
Related: Best Personal Finance Apps
Standout Features:
Sliders to adjust the value
Plot different types of graphs
Zoom in feature
---
Wolfram Alpha
WolframAlpha is a must-have Android app for all aspiring leaders. The app helps analyze data and interpret them. The app lets you analyze data in the field of Mathematics, Data Science, Earth Science, Materials, Physics, Chemistry, Engineering, and many other relevant fields. The UI may be complex for the new users, and it might take some time to understand the mechanism of the app. The app is available in the paid version, and you need to pay some bucks to purchase the app.
Standout Features:
Ideal for analyzing data
Many mathematical fields
---
GeoGebra Graphing Calculator
GeoGebra Graphing Calculator is another handy app to plot mathematical equations. You can plot functions, polar, and parametric graphs with the GeoGebra Calculator app. Also, you can plot special points for functions like roots, minimums, maximum, and intersection. The app has free learning material to make you an expert in graph plotting. You can share all the results with your fellow members for analysis purposes.
Related: Best Baby Tracking Apps
Standout Features:
Plot parametric graphs
Show special points
Learning material
---
Final Words
With this, we will be wrapping up our list of the best calculator apps. These 12 were some of the best calculator apps we have diligently listed on our list for the users. We hope you will find our list helpful, and if you do so, do share it with your friends. For academic purposes, HiPER Scientific Calculator, Scalar, Calculator++, and Wolfram Alpha are great choices. CalcNote, Calculator Plus, Mobi Calculator Pro, and CalcKit can be ideal for elementary and secondary school students.
Thank you for reading! Try these out too: