Budgeting, most commonly known as creating a plan to spend your money, is an integral part of an organized individual's life. Since it's easy to lose track of various aspects of your lives in an ever-growing and developing world, the best budget app for iPhone will help you take care of financial planning needs. Whether you are an individual looking to create a financial budget and stick to it or an entrepreneur, there is a high probability that you need to keep track of all your money. It will ensure that you don't run out of cash and thus restrain from finding yourself in subconscious buying habits which might force you to spend more than you have.
The best budget app for iPhone will let you get a hold of your income and overall spending, so you know what's coming in and going out of your wallet. Many of the apps you find on the Appstore also come with the feature of connecting to your bank accounts or other cash apps. It will let you automate the task of monitoring your spending directly from the card or bank payments.
However, the background is the easiest part; the difficult one is choosing the correct application. When you open Appstore to download the best budget app for iPhone, you will come across a variety of choices, and some paid while the others are free. It will leave you scratching your head. We have a solution to your problem, and it's our list that will help you find the best budget app for iPhone.
Excited? So, Let's Get Started.
Benefits of Best Budget App For iPhone
Monitor your finances conveniently: Perhaps one of the most significant benefits of the best budget app for iPhone is that it will let you monitor all your finances. Plenty of features will help you set up the app correctly and according to your requirements. Another significant benefit is that these apps are incredibly convenient and portable since you can quickly get them on your iPhone and use them wherever you are.
Keep track of your money: James Clear in Atomic Habits emphasizes the importance of habit tracking. The idea behind the best budget app for iPhone is quite similar as it lets you monitor and control your spending. Since marketing tactics designed to trigger our subconscious buying habits surround us, it's essential to redirect your mind, and the apps are the ideal way to do it.
Reminders: When we are busy, we often overlook important dates and among many others are due to bills dates. You can make an entry in the app and set a reminder to notify you about the

bill payments

.
Best Budget App For iPhone
---
YNAB (You Need A Budget)
You need a budget (YNAB) is one of the best budget app for iPhone. It also gets the top rank on our list because of its budgeting reputation and ideas. The app will let you gain complete control over your money; thus, you can manage your finances like never before. Furthermore, the tracking of the funds will let you save more so you can plan a vacation in the future or start a business.
As per YNAB, a novice budgeter saves around $600 and around $6000 in the first year. It comes with plenty of features that, for many, make it the best app on Appstore. One of the most notable features is ban syncing, which will let you connect the bank account in a particular place to all the transactions. It also has a debt Pay down tool that lets you create an easy plan to get out of debt.
You can set saving and spend targets and ensure you reach your financial goals quickly and efficiently. The app also offers constant real-time updates and data privacy, which means that you can trust the app to not sell or share data with any 3rd party. Although the app is initially free, you will have to get a premium to get advanced functionality and more features.
Related: Best Reminder App For iPhone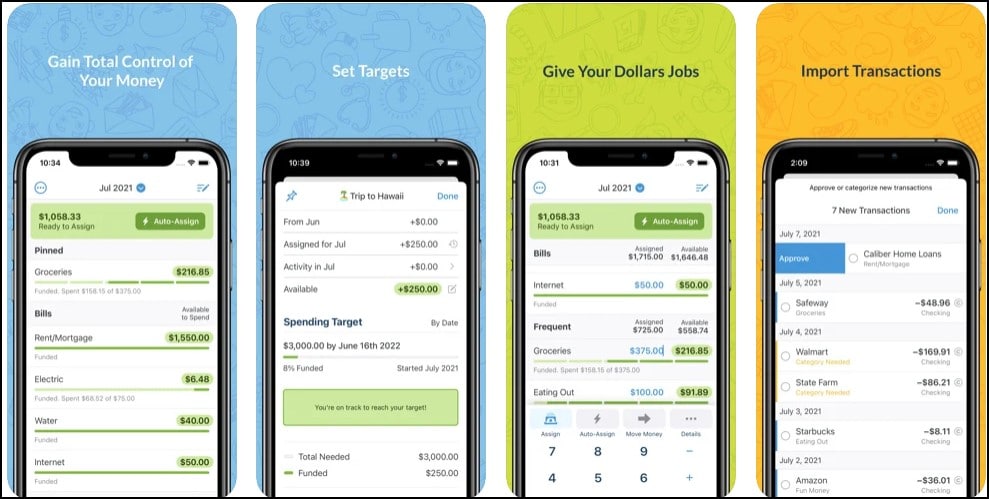 Standout Features:
Full budget makeover
Debt pay tool
Efficient customer service
---
Mint: Budget & Expense Tracker
Mint is another standout choice in the best budget app for iPhone lists. To begin with, the app is free; thus, you won't have to pay anything to download it, and it's why 25 million users regularly use it. Furthermore, the application has an easy-to-use and intuitive user interface, making it a suitable choice for users at every level.
Mint is packed with features; you can easily track spending, bills, and budgets while creating a customized plan, thus ensuring you stay within the budget. Furthermore, you can also create a personalized insight that notifies you about important details, such as your Netflix subscription rates.
The app will let you manage your finances through three main categories: bills, subscriptions, and payments. It's one of the best ways to keep things categorized and detailed. You can sync the app with your bank account, monitor your transactions history, or protect your financial requirements with credit monitoring.
Related: Best Fax App For iPhone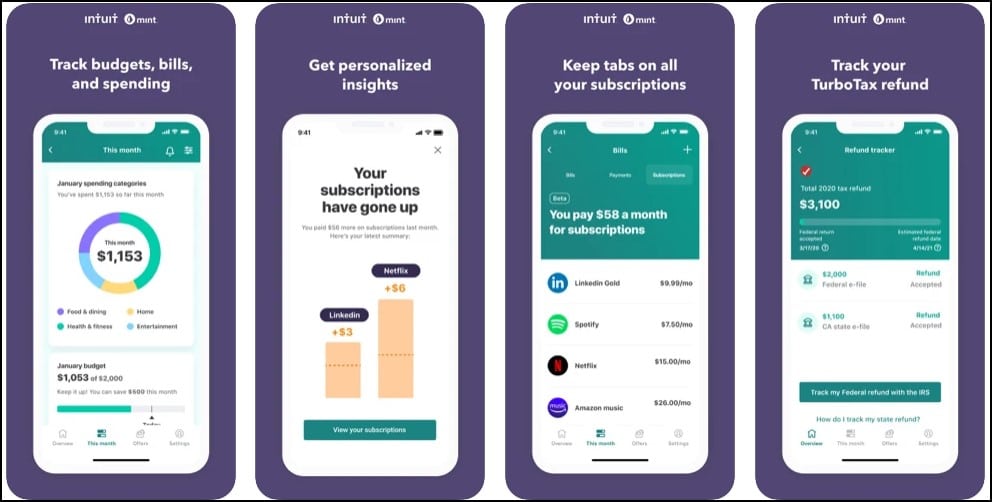 Standout Features:
Provides Transunion credit scores details
Personalized tracking and creating financial goals plan
Track the TurboTax refund
---
Zeta Money Manager
Zeta is the best budget app for iPhone, particularly for couples looking to get hold of their financial spending. Zeta remains the most preferred choice among couples due to many impeccable features, but the most notable one is the categorization. You can divide your goals into four main categories: All, Shared, Personal, and your partners. Thus, this feature makes it easier for both partners to track their responsibilities and contributions.
You can also create essential budgets; however, you can make both personal and shared budgets for both. It will ensure that you don't go out of budget individuals or when you are together. It also features an option to enter splits. Thus, you can enter the sums that need division between you and your spouse.
Zeta is an excellent choice to help you manage your bills together while remaining at the top of all your money tasks. Since the app will let you add important tasks at the top of monitoring your spending is an added benefit. Finally, you can add goals that you want to achieve in the app, including debt repayment or saving money for renovations, etc.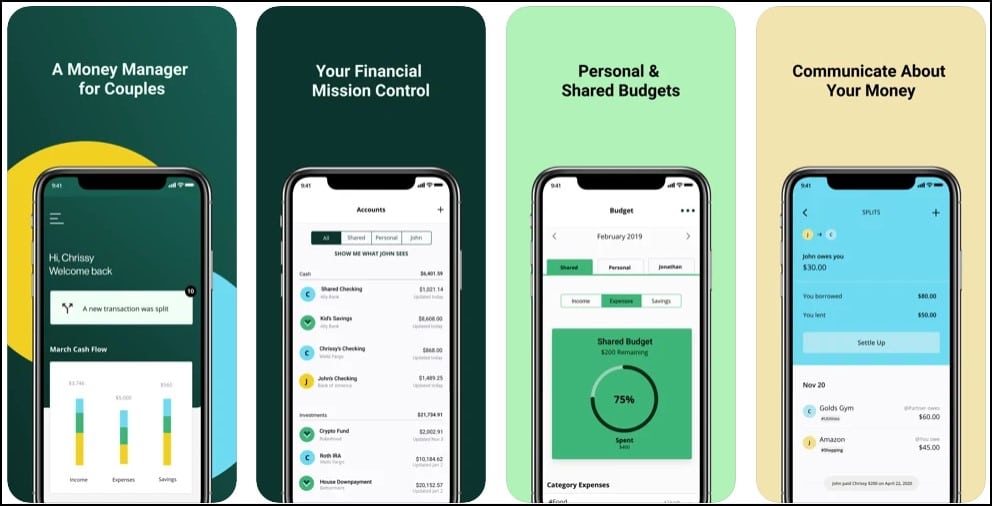 Standout Features:
A free app that also supports sign up for a joint (no fees) banking account
Ideal for couples
Sync various accounts to monitor the spending
---
To create a personalized spending plan and get real-time constant reminders about it, Simplifi by Quicken is the best budget app for iPhone. A custom spending program makes it easier for the user to tailor it according to their requirements. However, that's only the tip of the iceberg. You can sync all your bank accounts with the application to demonstrate your current standings and the progress on the financial goals.
Simplifi by Quicken can also monitor all the monthly subscriptions and bills, thus adding them to the budget. Since you can automate this task, it will ensure that you don't forget anything when updating your budget. The key notification aspect of the app will show the crucial changes along with information about your capitals.
The app provides excellent cash-flow tools which will let you monitor all the money that flows in your bank account or moves out of it. It is packed with features that will make your life easier and put you on the right path to financial freedom.
Standout Features:
Powerful cash flow tools
Watch lists for attentive expenditure
Personalized budget plan
---
PocketGuard: Bills & Budgeting
For overspenders and people that find it hard to stay within the budget, PocketGuard is the best budget app for iPhone. For budgeters, this app offers a solution for all of their concerns, and if you are one of them, this application is a golden opportunity to get your financial life back in control.
The application comes with a unique algorithm that tracks all the expenses, savings, and income while comparing it with your financial goals to give you a number you can spend each day. The calculated sum will allow you to track your spending limits and keep the situation under control, especially the subconscious overspending habits; thus, you can strive for your ultimate financial goal.
The app provides a budget categorization that includes all the little to massive expenditures during the month. Furthermore, a bill organizer and a debt pay-off planner are also essential tools for regaining your footing. The spending chart will put everything in a pie chart to show your total amount spent and overall income along with where you have spent it.
Related: Best Wallpaper App For iPhone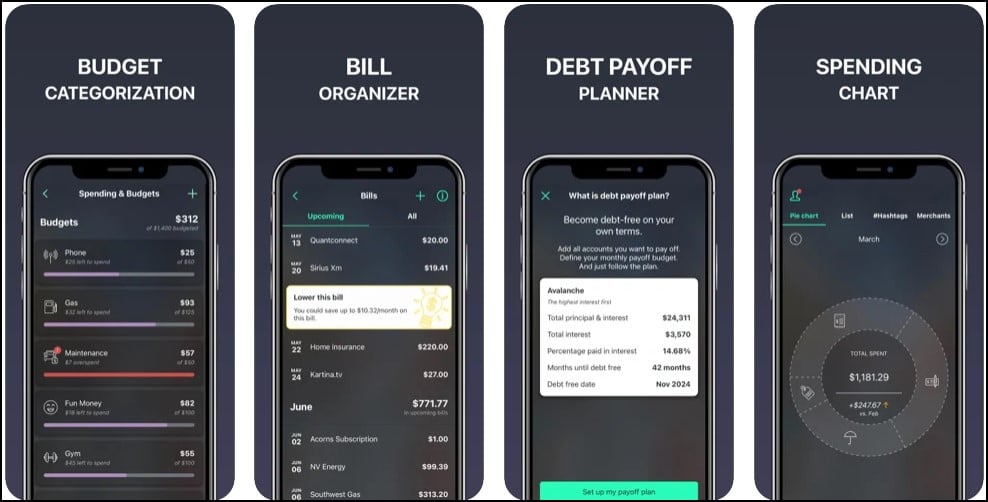 Standout Features:
Debt pay-off tools
Detailed categorizations
Easy to use the app
---
Best Budget
The best budget is ideally suited for people that like to keep things simple. It is the best budget app for iPhone for users who don't want to indulge in more advanced features. Instead, it would prefer an application that provides a simple user interface and functionality.
It will let you check the budgets at a look with its simple interface. Furthermore, various categories are located at the bottom that you can swipe to and get relevant information. It includes budget, reminders, reports, search, and settings.
You can make various lists in the application to add different sub-tasks to it. For instance, you can create a list for groceries and add all the transactions as they happen. Furthermore, it offers an expenses vs. income comparison chart that will provide a clear standpoint view of your finances. You can also get detailed budget information to look at more comprehensive stats.
Related: Best Voice Recording App For iPhone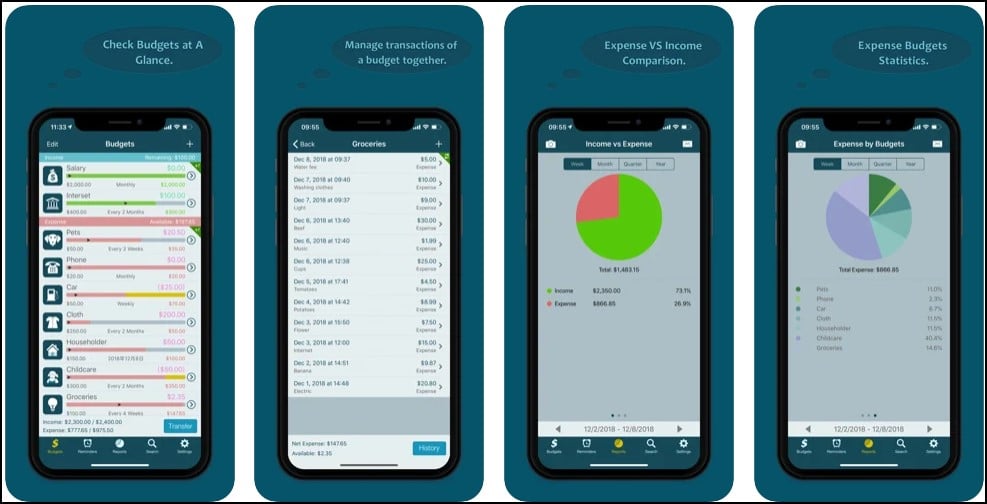 Standout Features:
Simple user interface
Weekly, monthly, quarterly, and yearly budget options
Expenses and income comparison charts
---
Prism Pay Bills, Bill Reminder
Among all the best applications on our best budget app for iPhone list, Prism is a little different, but it also serves the same purpose. It is the ideal choice for people that find it challenging to keep track of their bills. Let's face it we all hate paying fines for passing the due dates, and the best to get around the situation is Prism.
With this app, you will never miss a bill as it automatically tracks the bill dates and sends reminders for due dates without any cost. Furthermore, you can also view your account balance, total income, and monthly expenses.
You can also choose to pay any bill through the application as it provides numerous options and payment methods. Additionally, it has easy to interpret graphics, and you can also view your payment history efficiently with only a few simple taps. In terms of security, this app excels as it has been responsible for processing a massive amount of over $1 billion in bills during its past six-year tenure.
All the upcoming and pending payments are encompassed in a calendar form and provided to you to make it convenient for you.
Related: Best Offline Music App For iPhone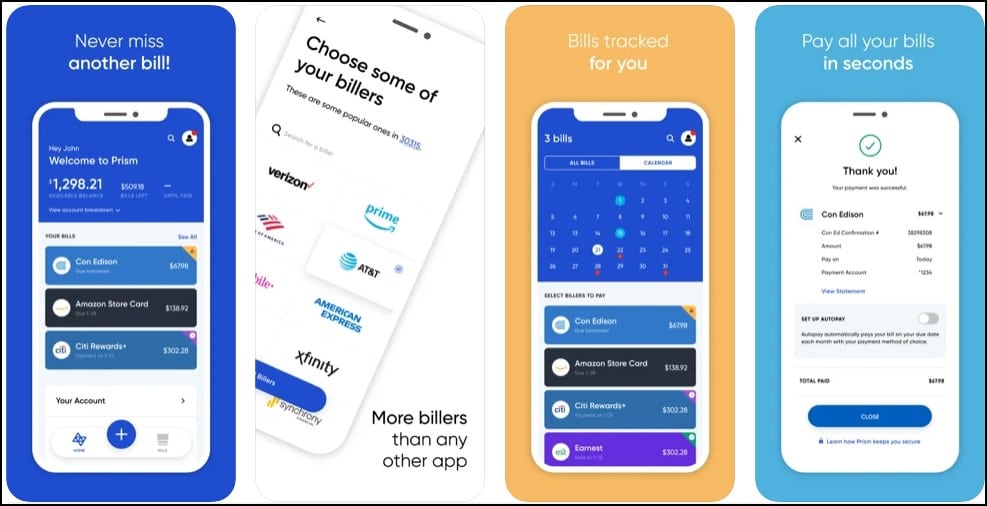 Standout Features:
Pay any bills using the app
Easy to monitor the bills and their due dates
Message the developers and moderators in case of a query
---
Monefy: Money Tracker
If you are facing problems tracking your expenses, Monefy can be an ideal solution. The reason? The app offers everything, including an attractive yet simple to operate intuitive user interface, excellent functionality, and convenience. All the aspects of Monefy make it our final selection on the best budget app for iPhone list.
One of its best features is the detailed overview along with a powerful chart view. It will arrange all the expenses in a detailed list, thus giving you a clear view of where and how much money you have spent. You can also add any new records quickly and efficiently by only pressing a few buttons and making the relevant entry.
The app also offers multi-currency support that lets you operate Monefy in the money of your choice. Although the app offers plenty of default categories, you can manage it anytime you want. Likewise, it's also possible to store all your data by synchronizing it with your Dropbox account or Google drive.
Through, Monefy, you can attach various accounts with the application and keep your transactions in check. It also has an integrated calculator, and it's secured by passcode protection so no one can access the application apart from you.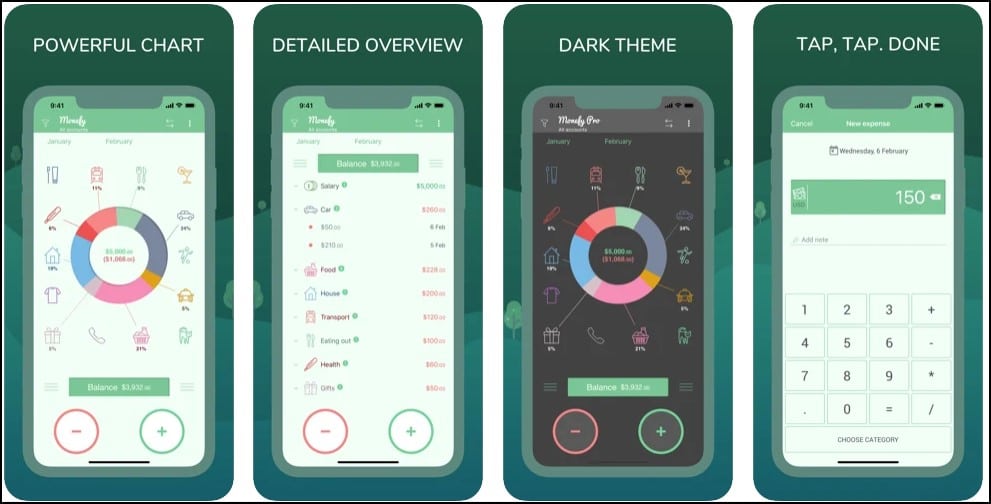 Standout Features:
Detailed financial stats
synchronize your bank account with the app
Easy to add new records
---
Final words
Hopefully, by now, your search for the best budget app for iPhone will be in a better stage than it was initially. Our list provides some of the best choices that will prove to be a value for money if you opt for the premium version. Despite the list containing multiple choices, the best way to select a budget app is to keep your preferences in mind before downloading one. It might include your expectations with it and requirements, such as whether you would like an app with a simple or a bit complex interface, to begin with. As per our suggestions, YNAB (You Need A Budget), Mint: Budget & Expense Tracker, and Monefy are the best choices.
Thank you for reading! Try these out too:
General FAQS
What is the best budget app for iPhone?
There are various choices in the category that are considered as the best budget app for iPhone. However, it depends on you and what you expect from the application. Although. YNAB (You Need A Budget) and Mint: Budget & Expense Tracker are the two most popular ones out there.
Can I get the best budget app for iPhone free?
Most of the apps are free to download, but a premium subscription will be a better choice if you want advanced features and better functionality.
Is the Mint Budget app safe?
Yes, Mint is entirely safe. The app contains the latest and state-of-the-art security techniques and measures to keep the financial data and customer's personal information completely safe