There are infinite marvels of technology and innovation. It rightfully governs every aspect of our lives, making things a lot more convenient, thus saving us plenty of time and effort. However, one central area that opens up a gateway of benefits provides improved learning opportunities. Whether you want to learn a new language or a digital skill, there are many ways to do it online. The best apps to learn Korean is one of the many that can help you build a strong foundation over the language.
As Robert Greene said, "The future belongs to those who learn more skills and combine them in creative ways." Learning a new language can open up opportunities for you, whether you want to seek employment in Korea or communicate with the locals.
In his book "The Intelligence Trap," David Robson states that learning about different cultures can help you develop open-minded thinking skills, which can improve your overall communication and situation handling ability.
Your networks are significant since we are now part of a multilingual world. Since the world is on its way to becoming an increasingly global market, knowing a second language can put you at an advantage. Furthermore, Korean is one of the most popular Asian languages out there.
The best apps to learn Korean can provide you with many benefits, equipping you with all the drills and exercises to improve your foundation over the language. However, it's not easy to choose the best app due to the diversity of choices. Nonetheless, we have you covered with our list some of the best applications you can discover.
Excited? Let's Get Started.
Benefits of the Best Apps to Learn Korean
Flexibility: Learning a new language is an attractive idea; however, a lot of us never really enroll in a course due to one main reason, shortage of time. Especially if you have jobs, family, and other commitments in your lives that make it difficult to spare some time, the best apps to learn Korean provides the benefit of flexibility. You won't be restricted by time or proximity; instead, you can open up the app whenever and wherever you like and continue right where you left off.
Easy Revisions: When learning something new, it's easy to slack off and lose track of the material you have studied. Thus, it is a constant problem in traditional learning to lean back and re-open all the notes for revision. The best apps to learn Korean will let you open up any particular lecture or slide for revision. Furthermore, some apps provide a summary to recall the information quickly.
Well-tailored exercises: One common concern among people opting for the best apps to learn Korean is that they often think these apps aren't strategic enough. Instead, a course is preferred because its exercises learning mechanism is more suitable for beginners slowly progressing their way up. It's a false conception that the best Korean app contains learning levels that ensure steady and proper progress.
Best Apps To Learn Korean For Android
---
Duolingo: language lessons
If you want to learn multiple languages, Duolingo is a popular name. It is an educational application that is a trusted choice of thousands, and at the top of all that, it's free and fun. The app is a top pick in our best apps to learn Korean because it supports up to 35+ languages through fast, accurate, and strategically designed lessons. It will help you improve your listening, speaking, writing, and reading skills to assist you in building the grammar foundation along with the vocabulary.
Another significant benefit of DuoLingo is that It features a straightforward user interface that will let you get to where you want to be within seconds. The app will start by letting you choose the language you want to learn before moving on to the next step, creating a customized course. The course overview will provide you with an overall idea about the words it will teach, along with sentences and some practical learning tips that can help you build the foundation for the language. You can then choose a learning goal that includes the time you can spend days on the app. Finally, you can start from scratch or at a slightly advanced level.
Duolingo provides different exercises that will help you test your initial knowledge of the language. It will teach you words strategically through different exercises. After initially teaching some words, the app will then provide an exercise to match the words in your preferred language to the one you intend on learning. For instance, if you want to learn Spanish, the app will choose which Spanish word matches its English counterpart. It then proceeds to a listening test. Slowly, you proceed and improve your grip over the language.
Related: Best Budget Apps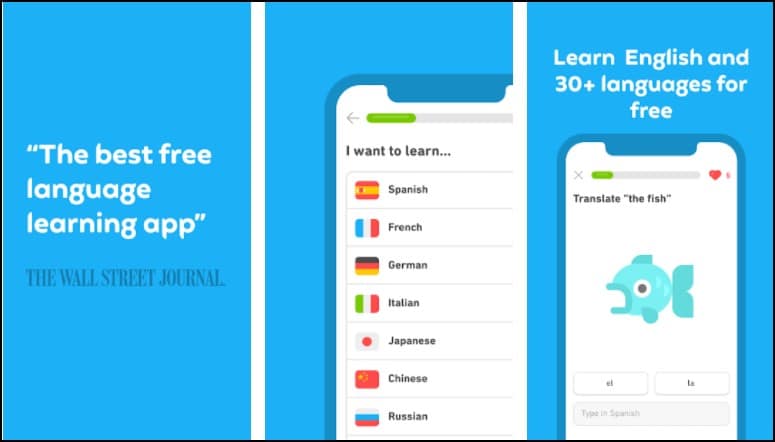 Standout features:-
learn up to 35+ different languages
Strategically designed exercises by experts
Easy to use UI
---
Learn Korean Language Offline
Learning the Korean language might sound lucrative, but it's not easy, especially when there are sounds and pronunciations that you have never heard or used before. The Learn Korean language offline app is one of the best apps to learn Korean because it lets you build a grip over the language and work offline. Thus, regardless of wherever you are, whether you want to revise what you have already learned or start something new, the app will have you covered.
The app contains an intuitive, simple interface that contains all the exercises and features on the home screen. It includes a Quiz test, listening test, numbers, greets, general conversations, directions, places, time and date, transportations, etc. The app will let you learn all the daily conversation words and pronounce them; thus, you clearly understand them. You can choose any topic and instantly learn words and sentences on it to develop your grasp of the Korean language along with its pronunciation.
Overall, the app is an excellent choice that can help you build knowledge of Korean. You can conveniently learn the basics of linguistics as you progress and slowly build your way up. The benefit of it is that you can easily distinguish between essential learning, which includes starting from daily used basic words to more advanced ones.
Related: Best Route Planner Apps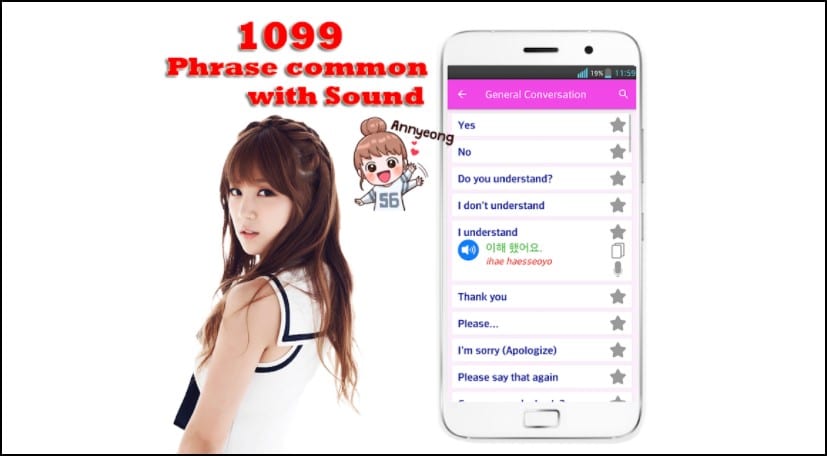 Standout features:-
Learn from 24 different topics
Pronunciation and vocabulary learning
The ideal choice for beginners
---
LingoDeer – Learn Languages
LingoDeer is another popular educational application on our list, and it's also our other Top pick in the category. The app is popularly known among thousands as one of the best apps to learn Korean due to its features, effectiveness, and clarity.
The app's most notable feature is its exclusive alphabet system, which will equip you with the learning and understanding of the language. It will allow you to start from a particular setpoint and maintain order as you slowly make progress to a higher level of learning. The advantage of following the structured course is that you can start without any knowledge beforehand and slowly form sentences. Furthermore, you can also use the app to learn the essential grammar and vocabulary from basic to intermediate levels.
A lot of learners often suffer at one thing and its pronunciation. Lingodeer provides HD recordings of different words by native speakers that will let you improve pronunciation and listening ability. Additionally, another significant feature of the app is that it lets you reinforce all the learning through different review activities, including target training, flashcards, quizzes, and more. You can track your progress through statistics. However, many apps require a stable internet connection, which isn't the case with LingoDeer, as you can easily save all the lessons and learn offline anywhere.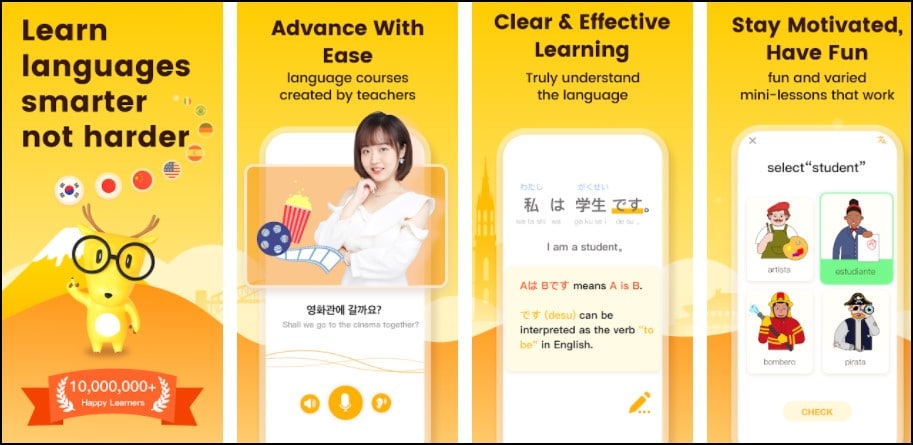 Standout features:-
Learn a language through an exclusive alphabet system
Improves vocabulary, pronunciation, and grammatical knowledge
Reinforce the learning with different activities
---
Learn Korean Phrases
For novice learners and users, Learning Korean phrases is the best app. The application offers a practical way of teaching phrases and words. It organizes them into proper categories, including sentences you might use when shopping, such as "What is the price" etc. The benefit of this method is that you can instantly use the app if you find yourself in a situation where you have to use the phrase but can't remember the words. Furthermore, learning the language in this way offers a practical approach.
For every part of vocabulary you want to learn, the app will present you with Romanized/handful spelling, an audio clip, and a choice of listening to the audio at a regular or a slower speed. You can also record your voice and compare it to ensure you are saying the words right. You can also copy the accent of a native Korean speaker if you want through the feature.
One beneficial feature of the app is that you can instantly search any word using keywords. The customizable font size will make it easier for you to read anywhere, while the offline mode is a cherry on the top, which lets you access the app anywhere.
We recommend the application for beginners and people who want to learn basic phrases, including standard, emergency, romance, greeting, shopping, numbers, eating, etc. The detailed categorization and ways of learning will ensure you eventually build a strong foundation over the language.
Related: Best Keto Apps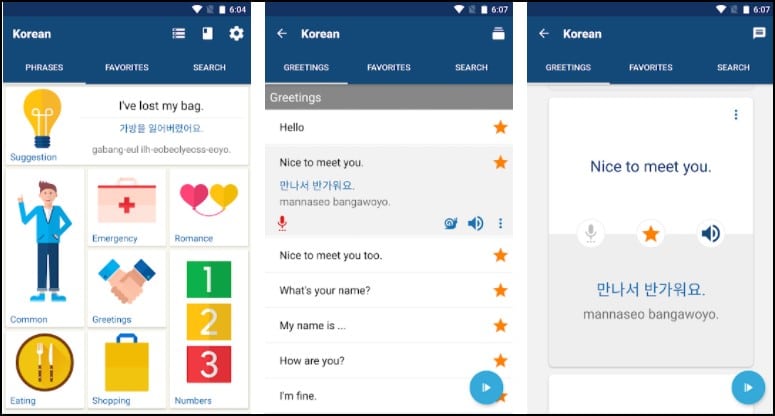 Standout features:-
Learn phrases and words
Pronunciations from native Korean speakers
Convenient UI makes it ideal for novice learners
---
Mango Languages
Mango languages are our Top final pick in our list of the best apps to learn Korean. It's a multi-purpose and versatile app that gears towards a practical teaching experience and can assist you in learning different phrases in Korean and others that you use in daily life. The app encompasses auditory-heavy content and clear recordings by native speakers of each phrase. You can also record and repeat yourself to ensure you correctly say the words or phrases.
If you want to learn vocabulary or get grammar lessons, these are combined in units known as "asking opinions," "getting around," or "similar phrases." It also features a timer on the quiz lessons, which adds a competitive aspect to the learning, and studies have shown that people are more likely to learn more efficiently when there's urgency.
Mango language lets you start with basics, including the alphabet, sound, and sentence composition. You can then learn hundreds of different lessons on the relevant topics, and if you ever find yourself confused or stuck, you can click on each word to assist you in pronunciation. You can also build a daily review to ensure you are making good progress.
However, there is one downside to mango languages. You will require a group subscription for signing up with the app. The app serves different educational institutes like public libraries, educational institutes, and community centers. You can get information about the public school or the local library to check if you can get the subscription.
Related: Best Manga Apps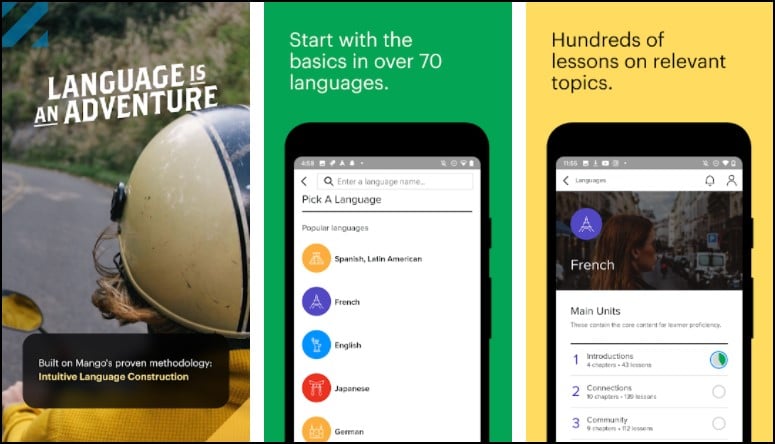 Standout features:-
Learn 70+ languages with the app
Detailed and strategically designed learning exercises
Learn grammar and vocabulary of the language
---
Learn Korean- Grammar
If you want to learn Korean comprehensively, Learn Korean – Grammar is ideal. It is one of the best apps to learn Korean that encompasses more than 5000 phrases and divides them into 60 different categories. The primary concern when learning grammar is often similar between different languages and its difficulty in identifying or learning. The Learn Korean app splits the grammatical structures of the sentences into small, relevant, and intelligent units that will help you continue learning conveniently.
The app will initially start by teaching you the alphabets of the language. It is the building block of the sentences; thus, it is essential to ensure complete clarity of knowledge. All the phrases and sentences are categorized into groups, including greetings, meetings, restaurants, etc. You will access the parts you want to learn the most.
In each category, there are different sentences that you can learn. There is another benefit of it, and it's that you can easily search for any word. The learning process is unique and extraordinary. Every phrase you search will provide you with its pronunciation, its counterpart written in the Korean language, and the English pronunciation of the Korean word. You can also use the voice pronunciation feature that contains speeches from Korean natives to learn a particular word or phrase in their accent.
The grammatical aspect of the app is genuinely exclusive. You can use it to learn sentence structures, tenses, negative expressions, particles, nominalization, listing & contrast, ability & possibility, expressions, etc. Each topic you want to learn will contain its description, structure, and example. Finally, it also offers a quiz feature that lets you test your knowledge.
Related: Best Dog Walking Apps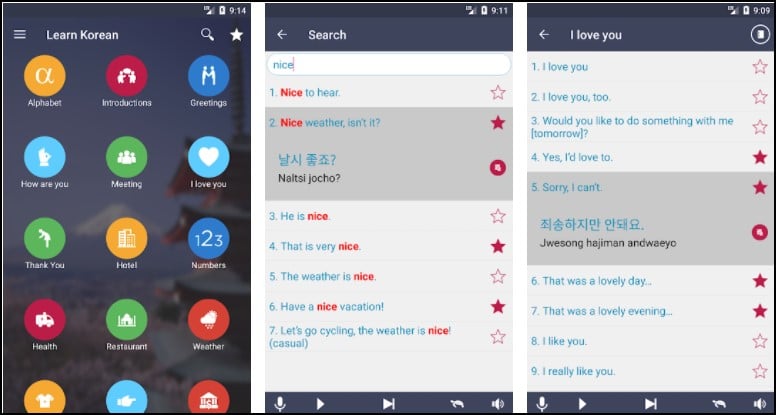 Standout features:-
Learn alphabets, phrases, and pronunciations
Learn Korean language grammar
Quizzes to test your learning
---
Final Words
Our list above contains detailed insight into the best apps to learn Korean. We have compiled multiple choices for you to reduce the ambiguity and assist you in finding the best one to assist you in learning. However, the final decision falls on you since the preferences vary among the users. Our top 3 picks in the category are DuoLingo, LingoDeer, and Mango Languages.
Thank you for reading! Try these out too:
General FAQs
What are the best apps to learn Korean?
There are multiple apps on our list. However, the two best apps to learn Korean are Mango Languages and DuoLingo.
Are the best apps to learn Korean free?
There are plenty of free applications on our best apps to learn Korean list, such as Duo Lingo. However, there are also paid choices such as Mango Languages that can help you learn efficiently.
What are the best apps to learn Korean for grammar and composition?
The best app to learn Korean with grammar is Learn Korean- Grammar. The application will help you break down the grammatical aspects of the language to pursue more detailed learning.