Android is one of the most famous platforms across the whole globe, it is known for its easy functionality and speedy transitions. However, this platform struggles within the default settings while dealing with the issue of privacy but the apps have got it covered.
There are tons of apps available in the market that provides users with different kinds of features, it would be challenging for a user to research all the apps and then find out the best. This is why this article would be of great help to you.
So, here are the best Applock for Android to improve your privacy.
Excited? So Let's Get Started.
Benefits of Best Applock for Android
More Privacy:- Mobile phones are an essential part of our daily lives, and we often have to save some stuff that we don't want everyone to see. An Applock will ensure that no one can access your private files, documents, pictures, and videos even if they unlock your phone. Furthermore, these apps will let you lock on different applications, requiring the user to enter a password before accessing it.
An added layer of security:- The best Applock for Android will protect all your files with an added layer of security. You can choose a pattern, a pin, or even a fingerprint key. It will ensure that nobody can get through it quickly.
The intruder alert:- One of the most popular features for the best Applock for Android is the intruder selfie. If someone tries to break into your phone, the app will show a lock, and If entered wrong, the app will take a selfie, so you know who has been trying to breakthrough.
Best Applock for Android
---
Applock (by ivy Mobile) – Best Applock for Android
An app lock is crucial for a person who has sensitive information stored in his/her applications, it can be photos, videos, or even Facebook messages. The intruder selfie feature helps the user to capture the image of the person who is trying to unlock the phone.
Moreover, its advanced protection helps the user to protect the app lock in settings so no one can uninstall it. It offers one more crucial feature which is to clean all the junk files of your phone hence creating a lot of space.
Related: Best Smartwatch Apps
---
Norton App Lock – Best Screen Lock App
This app is a one-stop destination to protect all your private information from intruders. It has the ability to lock more than one app at the same time by using a 4-digit passcode.
Also, it acts as an extra layer of security if your mobile gets stolen or lost. Parental control is a great feature that one can make use of it in order to allow what your kids can access.
Related: Best Apps For Secret Texting
---
LOCKit – Best AppLock Apps
With the ultimate features of the intruder's selfie and photo vault safe, this app is a must-try on this list. Its notification cleaner is unique and amazing which lets the user block out and clean all the junk notification updates, moreover, it has various lock systems which prevent the apps from getting uninstalled.
Related: Best Vocabulary Apps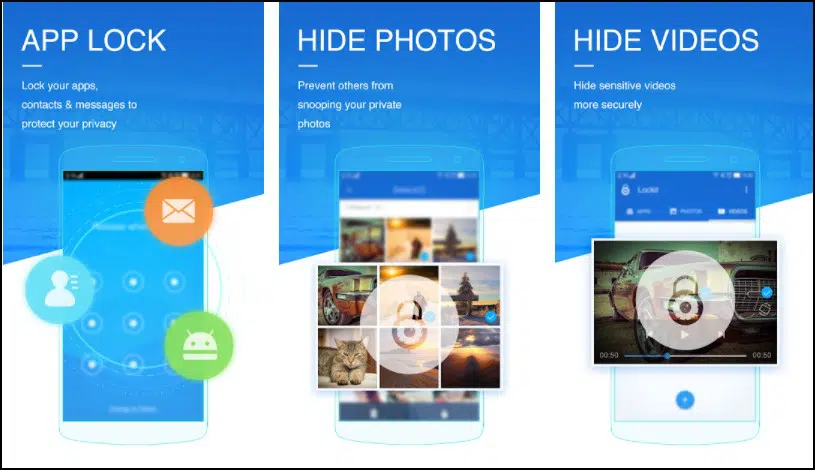 ---
Applock (by SpSoft)
This is indeed the best app lock for Android for those looking to catch intruders, what it does is take a selfie photo and then mail that photo to your registered email.
It has many other unique features too that you wouldn't find in any other app like Fake lock, this feature allows the user to hide the lock with a fake dialogue box, moreover, this app size is just 3MB so it wouldn't be much of a load on the memory disk.
Related: Best Journal Apps For Android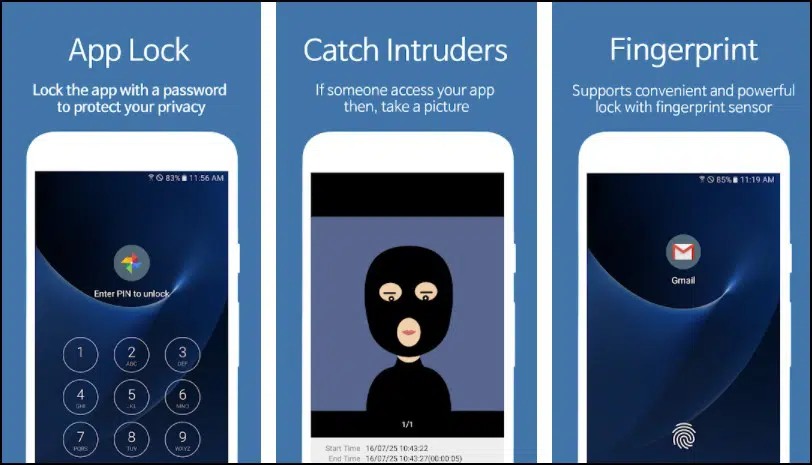 ---
Applock (by DoMobile Lab)
With over 400 million users this app supports 45 languages and is rated number one in over 50 countries around the globe, this is for sure a great contender for the best app lock for Android.
By using this app, you won't ever have to worry about your parents finding your secret photos, you can create a fake duplicate gallery and keep all your private stuff in your own gallery. This app also provides the user with a Private SNS through which you can log into multiple accounts.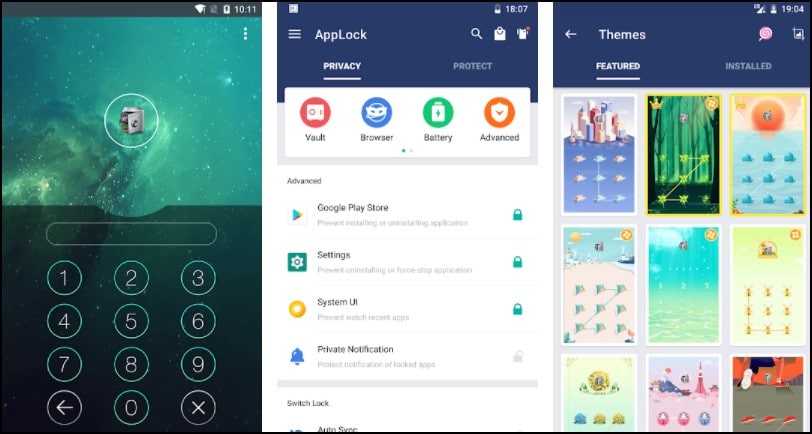 ---
Finger Security (by Rick Clephas)
This app was released on July 16, 2014, and it was the first app that ever allowed the user to use a fingerprint sensor. With its recent updates, it has upgraded a lot in terms of its user interface and features.
If you install the app, it automatically protects your newly downloaded app from strangers. Additionally, it has the function of a fake dialogue crash to fool strangers who are trying to access your phone.
Related: Best Ridesharing Apps
---
Private Zone – Best Applock for Android
By using this app lock, you can ensure that no one is going to find out your secrets. By using its dynamic features, you can hide your photos and videos in a secure vault where no one could find them.
You can also clone apps in order to fool people into believing that this is your real application. Very few apps offer an inbuilt free VPN and this feature makes this app the best app lock for Android.
---
AppLock Master – Best Phone Lock App
AppLock Master provides you with unmatchable security standards because of the presence of features, like random keyboard, invisible password as well as time password.
If you're looking for the best app locker for Android, here you'll find a handy option to lock your recent tabs along with incoming calls. Applock Master ensures your smartphone's security by letting you make use of a temporary lock so that you don't have to unlock apps every single time.
Related: Best Investment Apps
---
LOCX – Best Applock for Android
LOCX is one of the best app lock apps where you get a material design along with some appealing themes and wallpapers. You can lock your apps, Emails, Photos, Videos, Contacts, Messages, and phone settings and assure your device's safety. The app is now available in an APK file size of 1.8MB that takes less space on your device.
You can choose a pattern lock or PIN to lock all your important data inside the phone. The app has a customized lock screen and wallpapers that help you choose the different passcodes. The app fake cover tricks the snoopers from the real lock screen page. You also get a fake force close dialog that will hide the real lock screen.
You can also set the invisible lock for your apps to keep them away from prying eyes. You get multiple exquisite themes to try your hands on in this app which makes it one of the best in this segment.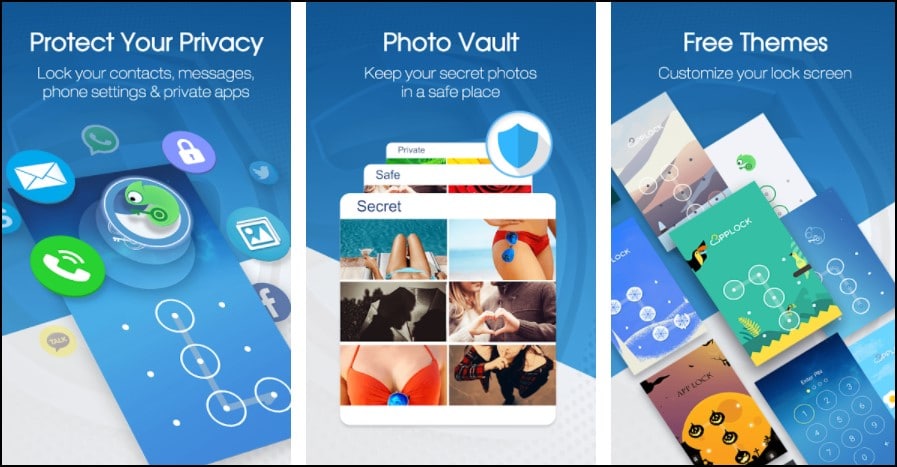 ---
Perfect AppLock
Perfect Applock is one of the best AppLock for Android, and it comes with a variety of features that provide reliability and functionality. The app will let you put a pattern, gesture, or PIN as your password, thus ensuring that everything you protect with the app remains safe and free from intruders.
Additionally, one of the most significant features of the app is that it also lets you put a lock on internet data, Wi-Fi and Bluetooth. It also provides a Screen filter that lets you manage various applications' screen brightness. Furthermore, the features also assign a rotation lock to prevent the screen from rotating unwantedly.
The application also comes with an intuitive and user-friendly interface; thus, you can use it conveniently. Even novice users that don't have any prior experience with AppLock can use the app and benefit from its features. The app's pros make it an excellent choice for protecting your data from any unwanted person. The app also takes intruder selfies after three attempts after failing to unlock the app. The application is entirely free, although plenty of ads pop up inside it.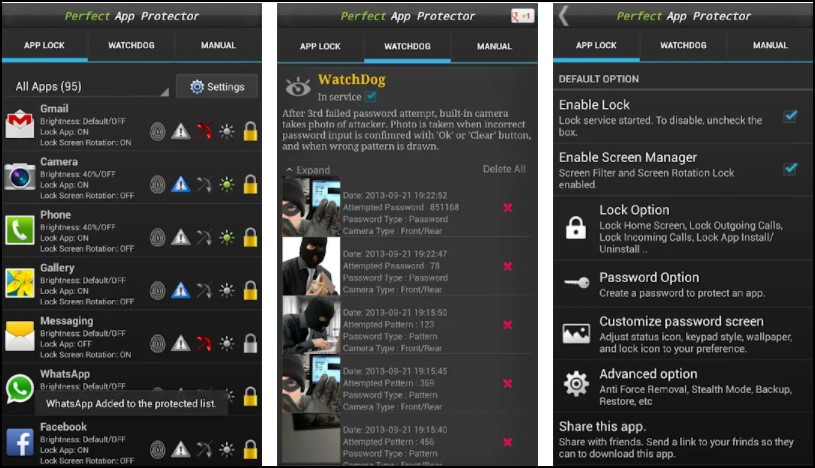 ---
Final Words
So, which of the above app do you like the most? Do you know any other useful App Lock that we should have added to this list? Do let us know your thoughts in the comments down below.
Thank you for reading! Try these out too:
General FAQs
Is the best Applock for Android completely free?
Many of these applications remain entirely free, while others offer a premium to enhance their functionality. Although, for regular users, the free version is the best choice tho it does support ads
Can I lock my messages?
Yes, the best Applock for Android will let you lock all the messaging applications. Whether WhatsApp or a text messaging app, you can secure it with a password and prevent people from accessing it.
Will the best Applock for Android let me save Images and videos?
If you don't want to put a password on your entire gallery and would instead like to save some pictures and videos, the app has you covered. It comes with a private, secured built-in gallery that will let you select particular photos and videos from the gallery and lock them.