A life without an alarm clock would be difficult. It is one of the most beneficial inventions that has helped people for years. Besides traditional alarm clocks, there are the best alarm clock apps for the modern era. You can install the best alarm clock on your smartphones and manage your day accordingly. Alarm clock apps have multi utilities that we seldom negate and overlook.
We are coming with a list of some of the best alarm clock apps that help you manage your daily routine and keep you updated with your day-to-day schedule. Before starting our listicle, let's look at some benefits these best alarm clock apps offer.
Excited? So, Let's Get Started.
Benefits Of Best Alarm Clock Apps
Manage your day: You can use the best alarm clock apps to manage your day. Kick start your day by setting a morning alarm and staying on top of your day. You can also use the alarm clock app as a stopwatch to count laps and duration while running.
Manage your sleeping patterns: Insomnia or sleep paralysis is one of the common problems of this modern age. Alarm clock apps can help you overcome this problem. You can set bed and wake up time to manage your sleep. The app sends reminders of bedtime and activates greyscale mode.
Best Alarm Clock Apps For Android
---
Alarmy 
Alarmy tops our list of the best alarm clock apps. It has a user rating of 4.6 by over 1 million users. You can kick start your day by solving a simple maths problem or scanning the barcode to dismiss the alarm. It has loud ringtones for heavy sleepers and a gentle alarm clock for mild sleepers. You can customize the alarm sounds by adding your music and changing the background color as per your liking.
You can also check the current temperature of the day and decide the outfit for the day. Set snooze and gradual volume increase alarm to wake you up on time. You can get an ad-free experience with tons of features in the free version of the app.
Related: Best Guitar Tuner Apps
Standout Features:
Ideal for heavy sleepers
Solve maths problems to start your day
Customize alarm sound
---
Easy Rise Alarm Clock 
Easy Rise Alarm Clock has a meditation alarm tailored to wake you up from deep sleep. It has a soothing alarm sound, and the voice will help peaceful kickstart the day. The personalized sound effects give a pleasing experience to the users and help you stay focused throughout the day. You can also import and use customized music files as your wake-up alarm sound. The app contains guided visualizations that guide you for breathing and meditation exercises.
Related: Best Home Workout Apps
Standout Features:
Soothing alarm sounds
Add personalized sound
Guided visualizations
---
AlarmMon  
AlarmMon is the next best alarm clock app that offers unique features. The app has various character alarms like tiny farm and adventure time that you can use to your liking. You get different types of alarms in this app, making it one of the best alarm clock app. The app has a noisy alarm, game alarm, quiet alarm, video alarm, and idol band alarm. Also, the app has a weather alarm that provides you with the weather forecast for the day. You can record the alarm history to know your sleeping patterns.
Standout Features:
Character alarm
Record alarm history
Video alarm
---
Early Bird Alarm Clock 
The early Bird Alarm Clock app offers a plethora of themes that you can switch to match your personality. You can set alarms based on your schedule, and the app will loop it for you. Also, the app plays different alarm sounds on alternate days, so you are not bored with repeated sounds.
You can choose from the various options to dismiss the alarm. Scan the QR code or use voice recognition to dismiss the alarm and kickstart your day.  The app also reminds you of the upcoming events and plans for the day. You can forecast and know about the weather for the day with the Early Bird Alarm Clock app.
Related: Best Weight Loss Apps
Standout Features:
Various themes
Various alarm stop method
Weather forecast
---
Loud Alarm Clock 
With over 3M downloads, the Loud Alarm Clock app lands next on our list of the best alarm clock apps. The app offers some of the loudest alarm sounds you can choose as your morning wake-up alarm. You also get volume boosted sounds that can wake you from a deep sleep. The app is highly customizable where you can add backgrounds and photos to your liking. Also, the app has in-built background and themes that you can apply.
You can switch between the random alarm sound for every morning so that you are never bored with the same sound for your morning routine. You can customize and set a time where you no more snooze an alarm, which makes it one of the best alarm clock apps to choose. It also has fun and motivational voices that will help you wake up on time.
Related: Best Sports Apps
Standout Features:
Customizable alarm clock design
Dismiss snooze time
Weather for your location
---
Sleep as Android 
Sleep as Android, besides being the best alarm clock app, is a sleep tracker that can help you achieve sound sleep. The app has a smart alarm clock with sleep cycle tracking that will gently wake you up with pleasant sounds. You can set bi-weekly and shift work schedule alarms to manage your whole day. You will never oversleep again, thanks to the CAPTCHA wake-up verification. The app has multiple methods to dismiss your alarm and you will never oversleep or be late for the office.
You can solve maths problems, shake your phone, scan QR code or NFC tag to dismiss your morning alarm. The app has gentle volume nature increasing sounds and online radio alarm sounds. This best alarm clock app has a super reliable and configurable alarm that you can use to manage your morning schedule.
Related: Best Credit Score Apps
Standout Features:
Nature sounds
Shift work schedule alarms
CAPTCHA wake up verification
---
The Clock
The clock is a beautiful alarm clock app that offers a plethora of handy features to users. It has an in-built timer, stopwatch, world clock, and a stylish bedside clock. You can edit or add alarms in one touch, thanks to easy-to-use widgets. The app can be perfect for heavy sleepers as it has loud alarm tones paired with vibration. It also has features that will eliminate excessive snoozing. You can wake up to Spotify music or choose your favorite tunes
The unique feature of this best alarm clock app is that you can set a nap alarm to take a short nap during the daytime. The app has an alarm widget, digital clock widget, analog clock widget, and calendar. It also offers some exquisite themes that you can apply during the nighttime.
Standout Features:
Beautiful widgets
Nap alarm
Exquisite themes
---
Alarm Clock For Me
The Alarm Clock For Me app is a gorgeous-looking and feature-loaded app that users will lobe. You can set unlimited alarms and wake up to your favorite tones with this app. You can also set beautiful alarm widgets on your home screen and dismiss them via different methods. You can choose the math alarm clock option or shake your device to wake up on time.
The app has a PreAlarm feature where you can enjoy easy and gentle awakening sounds in the morning. You can adjust the screen brightness or set a bedtime reminder. Set the shortcut of the app on your home screen if you want to quickly access your alarm clock. You can buy the in-app purchases for more exclusive features.
Related: Best Personal Finance Apps
Standout Features:
Set unlimited alarms
Alarm widgets
Set app shortcut
---
Hodoz Alarm Clock
A simple and appealing alarm clock, the Hodoz alarm clock is the next app on our list of the best alarm clock app. The dark honeycomb-shaped theme of the app enhances the overall appeal of the app. You can wake up to music, sounds, and tones you love to listen to. The app has a loud alarm tone for heavy sleepers. You also get the snooze notification feature in the app. It is an ad-free and simple app that has the potential to meet your morning routine needs.
Related: Best Anime Apps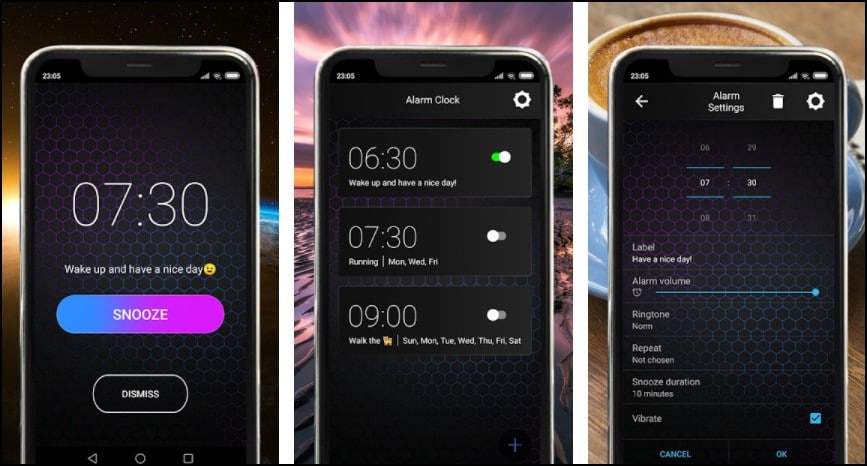 Standout Features:
Appealing theme
Loud sound for heavy sleepers
Simple and free
---
Caynax Alarms
Caynax Alarms is a multi-utility best alarm clock app that can be an efficient time management tool for users. You can set different types of alarms based on your requirement and suitability.  You can create a quick alarm for notes or reminders or opt for a cyclic alarm for specific days of the week. Also, you can set recurrent alarms with the Caynax Alarms app. There are standard buttons to dismiss the alarm along with some unique ways. You can solve a math problem or complete a quotation to dismiss the alarm. The pro version of the app gives access to more exciting features which are worth trying.
Related: Best Free VPN Apps
Standout Features:
Cyclic alarm
Easy to use
Multi-utility
---
Final Words
With Caynax Alarms, we will be wrapping up our listicle of the best alarm clock apps. We hope you would find this listicle useful In managing your morning routine. Alarmy, Alarmon, and Early Bird Alarm Clock are some top recommended apps on our listicle. You can also drop your comment and tell us about your favorite pick of the list. Do not forget to drop your valuable suggestions in the comment section below.
Thank you for reading! Try these out too:
General FAQs
How do I can have a good sleep?
You can achieve a sound sleep if you plan and stick to a schedule. We have also compiled a listicle app where you can take the assistance of the apps to manage your sleeping patterns. Sleep apps will help you in creating a bedtime schedule and attain a deep sleep during your sleeping cycles
Are naps good for you?
Yes, studies in the past suggest that a brief nap in the afternoon, just after having lunch can have many benefits. It can refresh your mood and help you to perform well for the remaining part of the day.
How do I make sure that I wake up on time?
It is the sole purpose of creating our listicle of the best alarm clock apps. You can install any of these apps and can set an alarm that will help you wake up on time. The app provides unique ways of dismissing alarms that ensure that you do not snooze or delay your alarms. If you do not prefer apps, then we would suggest you follow and stick to a schedule and commit yourself to wake up on time.
​
​