Few days' back Sony launched its truly wireless earphones. After Sony, today Xiaomi have launched it Mi Air 2s truly wireless earphones which is minimal in design and maximum in performance. Earphones comes with a quality noise cancellation system which enhances the audio experience. So let's head towards the specification of Mi Air 2s earphones.
The device comes with a dual core chip which is fitted inside the earphones and will help to improve the stability and to reduce sound stability to the wireless earphones. The device gives a battery life of 5 hours when once charged and can be further to 24 hours with the charging case which have been provided by the company. The charging case supports Qi-standard wireless charging.
Xiaomi has also provided an assistant with XiaoAI integration which helps you to control all the functions of your earphones easily. Through voice command you can play, pause the music and can listen to the stories. The device also has an optimized LHDC Bluetooth system which is compatible with Xiaomi devices.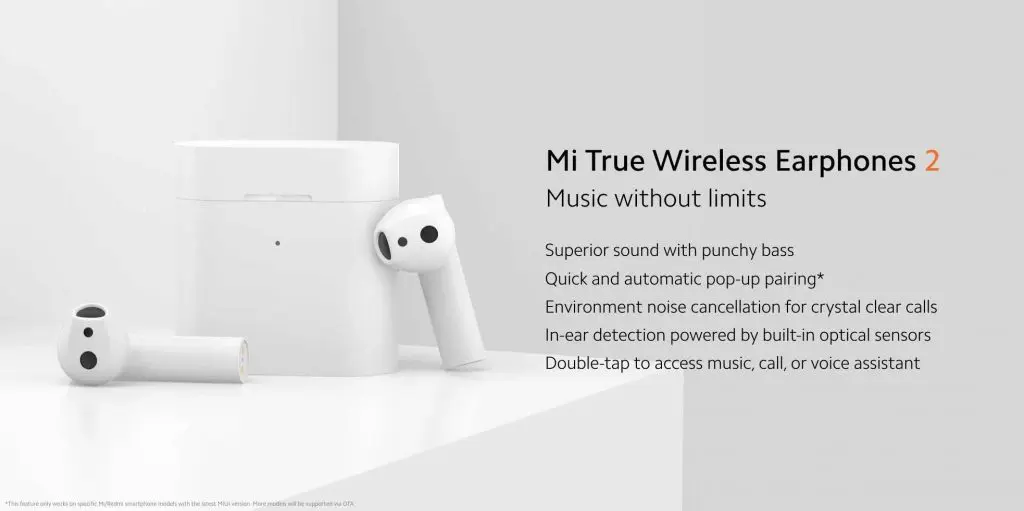 Mi airless 2s wireless earphones comes with a Bluetooth v5. o connectivity which let you quickly connect the ear in earphones with your device. The earphones are compatible with both Android and Apple users which is a good news for all smartphone users.
The most impressive feature of the earphones is that the company has fitted the device with a built- in infrared sensor which quickly senses the whether the device is out the ear or inside the ear. Your device will automatically pause the music which the ear buds are taken buds, thanks to the Built-in infrared sensor.
The Mi Air 2s is weighed somewhere around 4.5 grams which will be available in white color. You can buy the earphones at a price of 4200INR